After the success of the Mi Band 6, Xiaomi has finally released its Mi Band 7, also known as Mi Smart Band 7. With its release, people are going crazy over its new improved features and functionality, such as continuous heart rate and blood oxygen tracking, as well as support for breathing exercises, etc.
If you have already got your hands on the new Mi Band 7 or planning to, then it's time to explore lots of nifty tips, tricks, and cool things to do with the Xiaomi Mi Band 7. There's no doubt you'll love these!
11 Cool Things to Do With Xiaomi Mi Band 7 (New Features)
Install 100+ Watch Faces
Previously, you could only choose from around 60 watch faces on Mi Bands. With the Xiaomi Mi Band 7, you can install over 100 watch faces from its companion app.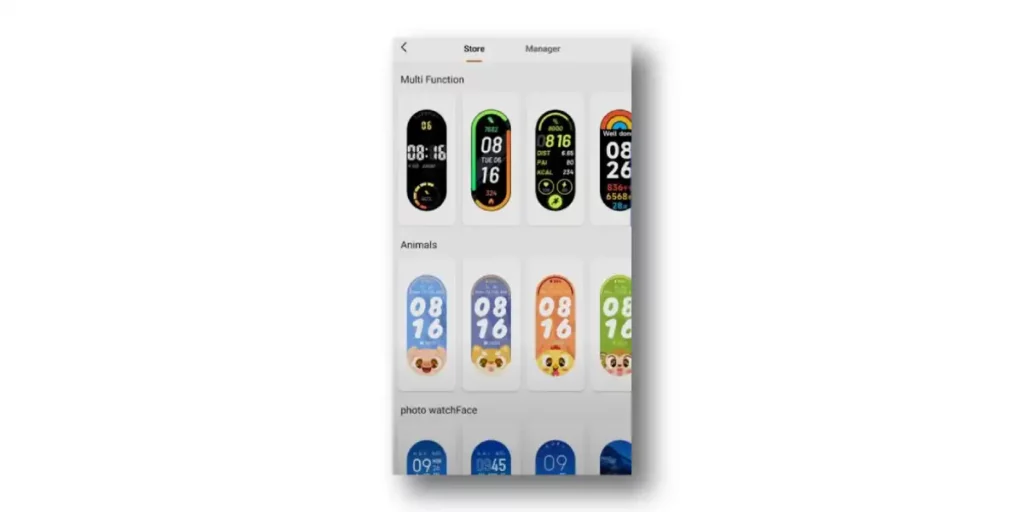 These watch faces look absolutely stunning. You can select from various categories, including multi-function, animal theme, mechanical style, official theme, etc, which can be installed in a matter of seconds.
Interestingly, you can edit those watch faces to your preference. You can change the color schemes, complications, or whatever information you want to see on your watch screen.
Enable Always On Display
You might know that previous Mi Band models didn't support the Always On Display feature. An always-on display feature allows the user to see the time and other information without turning on the screen.
Thanks to Xiamoi, the Mi Band 7 now has Always On Display functionality built-in, a handy feature for people who are constantly on the go and need to know what time it is at all times.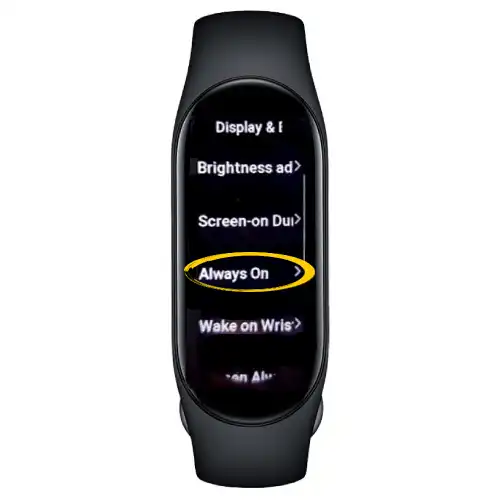 Here's How to Enable Always On Display on Mi Band 7:
From the band, Open Settings > Tap Display & Brightness > Select Always On Display option.
Improve Breathing Quality
With Mi Band 7, you can also monitor your breathing quality while asleep. Your breathing will be automatically monitored by the band when you are sleeping. The band calculates your breathing while you were asleep and gives you a score after you wake up.
By looking at your score, you can find out where you stand and how you can improve. Here you can also read how poor breathing while sleeping can cause you to feel tired and sleepy throughout the day.
To enable it, Go to the Sleep Widget > Tap Settings > Enable Sleep Breathing Quality Monitoring.
Monitor SpO2 Continuosly
The use of SpO2 monitors in fitness trackers is becoming increasingly popular with people who need to monitor their oxygen levels regularly. With Mi Band 7, you can now continuously monitor your blood oxygen levels, which was not available on the previous Mi Band lineup.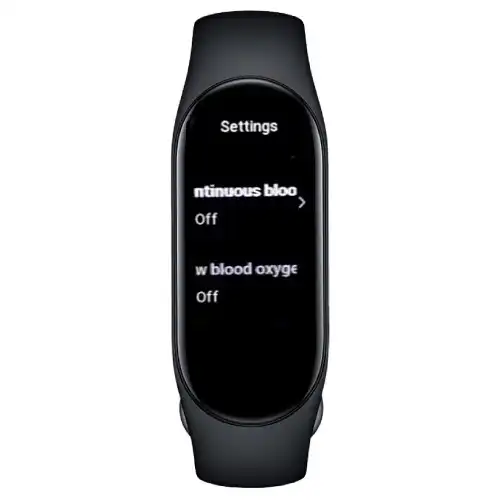 To enable it, Go to the SpO2 widget > Scroll to Settings > Turn On Continuous SpO2 Monitoring.
Once enabled, the band will automatically measure your blood oxygen saturation when it detects you're resting for a long period, syncing them with your band and companion app.
Moreover, you can also enable low blood oxygen reminders by selecting a limit. So when the level drops below the limit, the band will alert you.
Track 100+ Workouts
With Mi Band 7, you can now track up to 120 workouts, which are categorized by activity type. What's cool about this is the category list is huge. For example, you have dance activities, combat workouts, ball workouts, water workouts, leisure workouts, winter workouts, and more.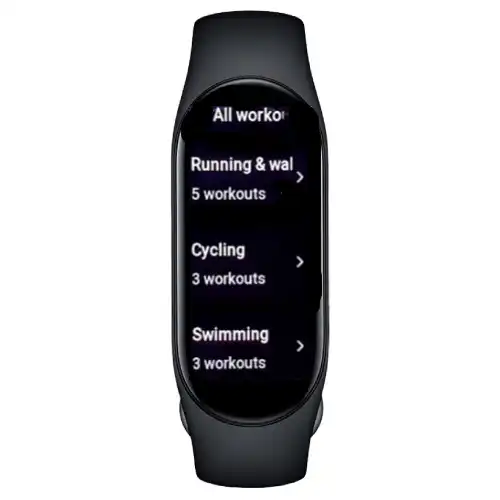 You can set workout goals and receive workout alerts for each of these activities. However, for activities like walking and running, you can select the auto-pause option.
Set Lock Screen Password
Technology should be used with the utmost privacy. If you're not wearing your Mi Band 7 band, you can set it to lock to prevent people from spying on you.
To set up the lock screen password, Go to Settings > Scroll to Lock Screen option > Select Device Password > Then, set up your six-digit pin lock.
When finished, your band will be locked as soon as you remove it from the wrist, and when you swipe on the display, the keyboard will appear for you to enter your six-digit pin code.
Keep Additional Watch Faces On Band
Switching watch faces is easier when they are saved on the band itself. On older Mi bands, you could only keep up to six watch faces on the band itself. On the other hand, Mi Band 7 has stepped up the game by allowing you to store more than 15 watch faces on the band itself.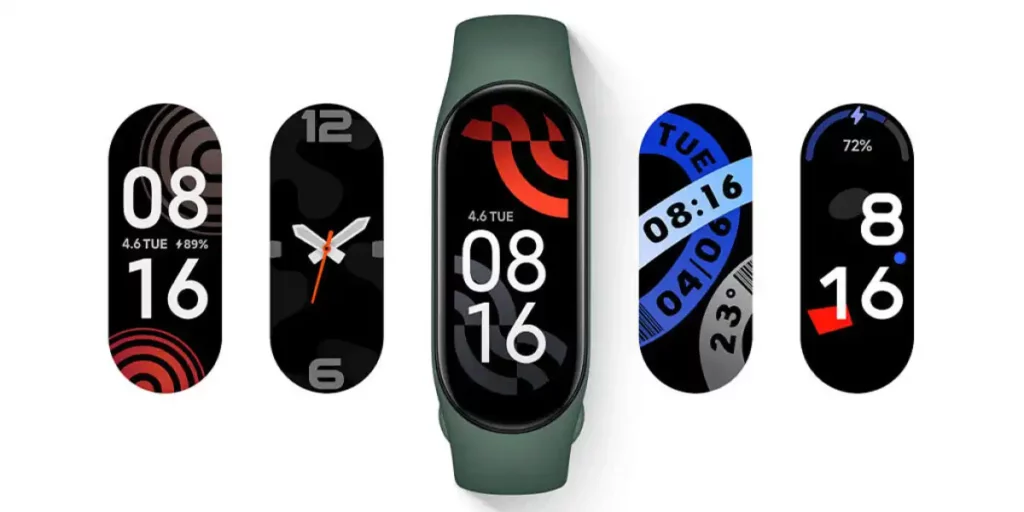 Automatically Detect Activity
Another cool feature of your Mi Band 7 is automatic activity detection. What does this do? Enabling Auto detect activity will track your activity if you forgot to do so.
It ensures that you don't lose any workout data with the auto-detect feature enabled. To enable this feature, Open Settings > Tap Workout Detection. You get to choose from four different activities that you want the band to detect, including Running, Walking, Elliptical, and Rowing Machine.
Please keep in mind that because your band is continuously looking to auto-detect your activity, you may notice the battery draining faster.
Change App Settings From the Band
On Mi Band, we usually have to open the companion app to play with the settings of a specific Mi Band application. However, with the new Mi Band 7, this process has become effortless. Your Mi Band 7 can now be used to change the settings of apps without the need to access your phone's companion app.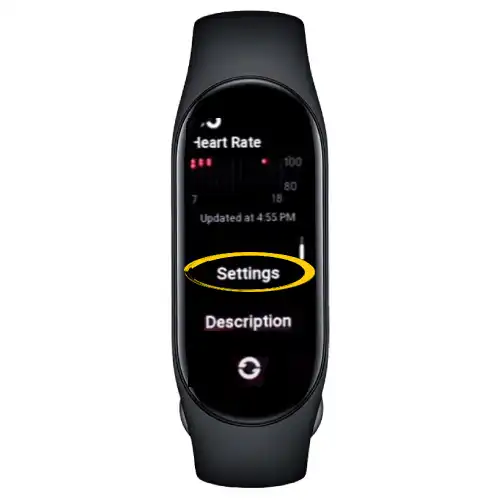 For instance, head over to the heart rate app on Mi Band 7, and scroll down to get the Settings option. Here, you can control all the heart rate settings that you can also control from your phone's app.
Lift Wrist to View Info
The Lift Wrist to View Info feature on Mi Band 7 is a function that allows users to see information by lifting their arms. It can be helpful for those who need their hands for other tasks, such as driving or cooking.
To enable it, Open the ZeppLife app on your phone > Tap Band Settings > Select Display Settings >Tap Lift Wrist to View Info option.
To avoid unnecessarily activating the screen, you can schedule active hours for this feature. For example, sleeping hours involve lots of unintentional wrist movement, so you can schedule the band not to activate this feature during those hours.
Set Auto Reply On Calls
The auto-reply call is a feature on Mi band 7 that lets you automatically reply to incoming calls. It will notify you of an incoming call and you can choose to set up a pre-defined message to send as a reply.
You can either select a pre-set auto-reply message or record a message yourself. Depending on your preferences, you can also set the interval between 3 minutes and 15 minutes for the auto-reply.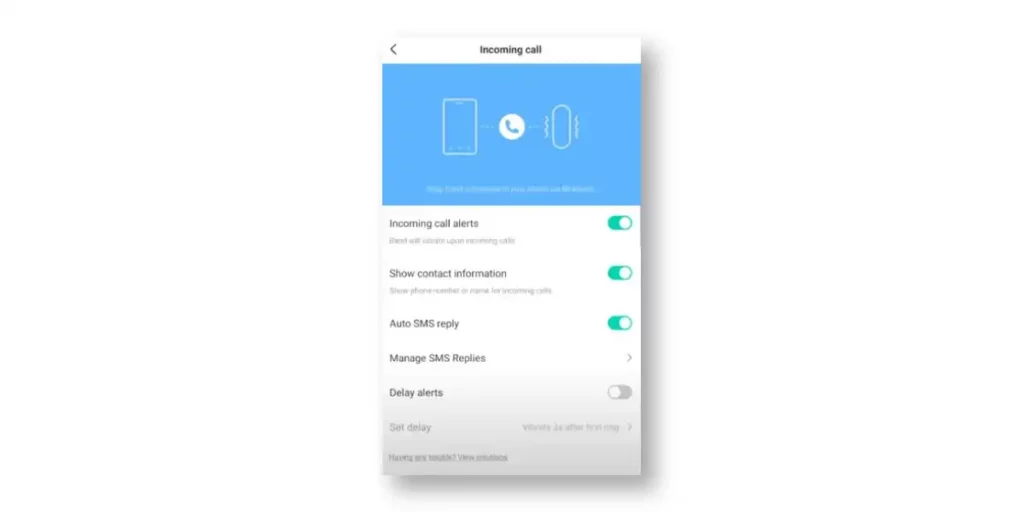 To configure, Open the ZeppLife app > Go to Notifications & Reminders > Incoming Call > Enable Auto SMS Reply > Then, Manage SMS Replies.
Read Similar Post