The Amazfit Bip series is one of the most popular budget-friendly smartwatches on the market, offering standout features at such a low cost while still being aesthetically appealing.
The Bip series watches use a colorful display that makes them look more upscale when customized with attractive watch faces. Sadly, you won't find a massive selection of watch faces pre-installed on your Bip. If you count, you'll have around 15-20 watch faces to try.
In the meantime, you can use a third-party app called Amazface to discover several different customized watch faces created by skilled developers for your Amazfit Bip.
With this guide, I have made the process much simpler by providing you with the best watch faces to try on either of the Amazfit Bip watches you own – Bip/Bip Lite, Bip S, and Bip U/Bip U Pro.
What Is AmazFace?
Amazface is a new third-party application that allows users to customize their Amazfit watch's screen with attractive custom watch faces developed by skilled developers out there.
On the Amazface app, you will find watch faces for almost all Amazfit watches, including Amazfit Bip, Cor, Pace, Stratos, Verge, Verge Lite, GTR, GTR 2, GTR 3, GTS, GTS 2, GTS 2 mini, GTS 3, and T-Rex.
13 Best Amazfit Bip Series Watch Faces to Try Now
Amazfit Bip / Bip Lite
Casio Watch Face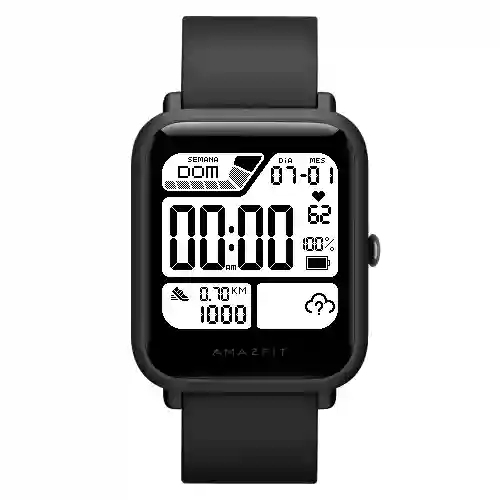 Are you looking for a classic vintage Casio watch look for your Amazfit Bip/Lite? The Casio Vintage watch face gives your Amazfit a classic 80s look, filling you with the nostalgic feeling if you've ever used a Casio digital watch.  
Apart from showing time, the watch face got some necessary data fields on the screen such as steps, distance, weather forecast, battery percentage, and heart rate. In addition, unread notifications are also displayed via a notification icon.
Digital Grob Watch Face
Another similar digital watch face, but this time a more well-organized data set can be seen on the screen. Amazfit's Grob digital watch face takes a good spot in the lineup of digital watch faces.  
It shows the time in the middle with large text, which is pretty good if someone wants to view it at a glance. Above that, a few data fields are separated with individual boxes, showing day/month along with the battery, notifications, and Bluetooth status.
Just below you'll find more useful insights into steps and know how's the weather. A little icon keeps on changing indicating current weather conditions.
Nike Watch Face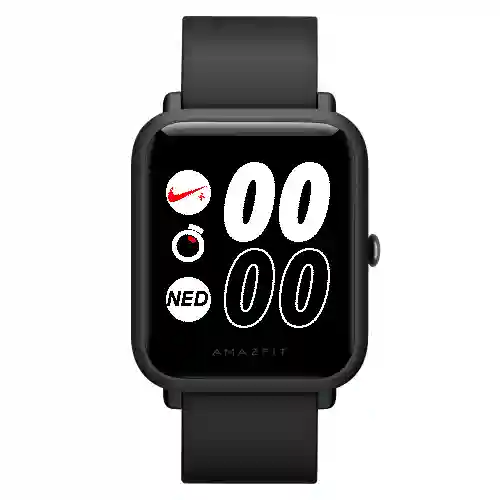 Kudos to the developer who created Apple's Nike series watch face's lookalike for Amazfit. The exclusive Nike series watches from Apple come with slightly different Watch Faces to the standard model to make it easier for runners.
The watch face has been downloaded by more than 300 users and counting. Overall, a great watch face to add Apple Watch feel to your Amazfit.
Analog Watch Face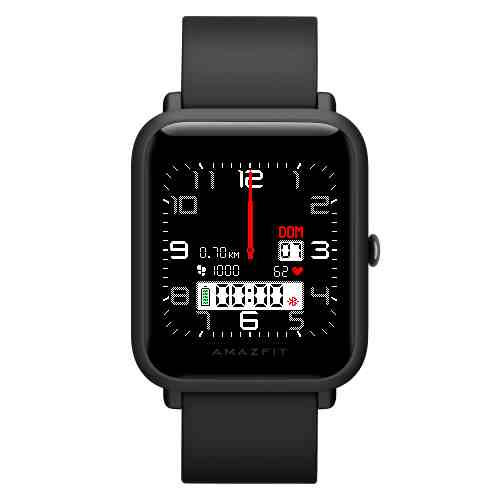 If you prefer a more classy look, then Analog watch faces will be the best option for you. What's interesting about this watch face is; you'll be getting a combination of Analog and Digital face in the same watch face. How cool is that?
Apart from that, you get a bunch of valuable data fields such as steps, distance, heart rate, weather, battery, Bluetooth status, and day/month.
Rabelo's Lines Watch Face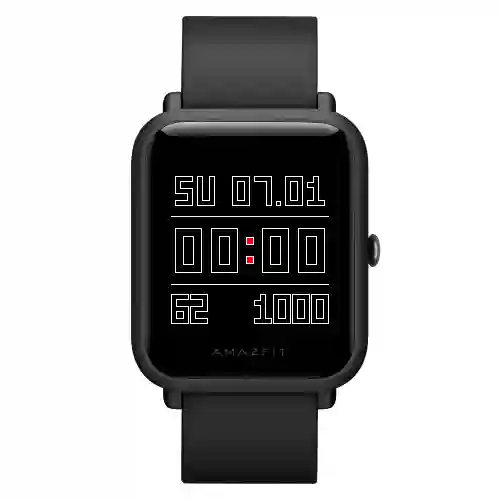 Looking for a more simple and minimal look for your Amazfit Bip/Lite? Rabelo's Lines watch face is simple yet attractive, giving your watch a minimal touch. You'll notice a dark background that has white lines formed on it.
These lines form basic information like time, day, date, along with steps and heart rate. The concept can become a topic of conversation among your friends, so check out the link below.
Amazfit Bip S
RedBit Watch Face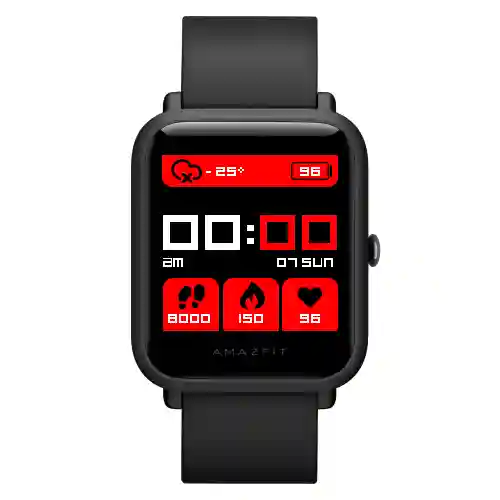 RedBit watch face is an excellent choice if you love red. It has a squarish monospaced font showing useful data, including steps, heart rate, calories, etc.
For representing time, you can either use 12h or 24h versions. There is also a white version of this watch face so you can switch, depending on your mood.
Casual 012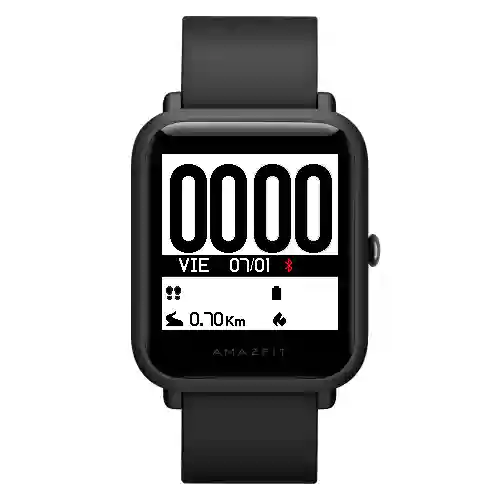 Casual 012 looks simple and has a white background with the time displayed at the top of the watch face. The large font size makes it easy to read the time at a glance.
Moreover, a black layer in the middle displays month, day, date along with unread notifications, and Bluetooth status. Just Below you'll find information such as steps taken, distance traveled, battery life, and calories burned.
Huawei GT2 Active Face
As with Huawei's smartwatches, users can choose from a variety of pre-installed watch faces. The one above was inspired by one of Huawei's GT2 analog faces. Interestingly, this watch face allows you to have the benefits of both analog and digital time formats at the same time.
For data, it shows you steps, calories, heart rate, weather, and battery. Overall, a decent watch face to get Huawei GT2 Active look on your Amazfit Bip S.
Goku Super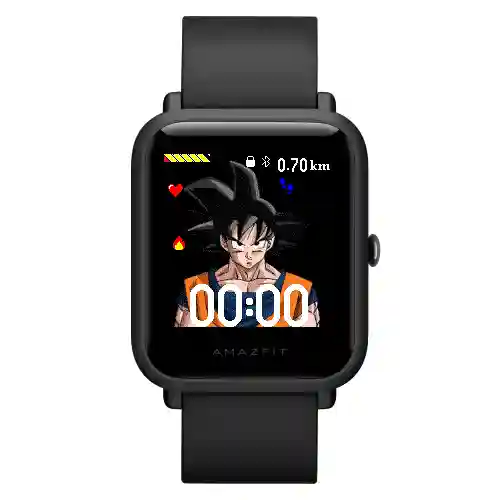 You may have watched Dragon Ball Z a few times if you like anime and manga. One of the characters in the anime is named Goku, admired by many for his pure nature and extreme power. If you're one of the fanboys, Amazfit Bip S lets you customize your watch screen with Goku's watch face.
Amazfit Bip U / Bip U Pro
Initiate Watch Face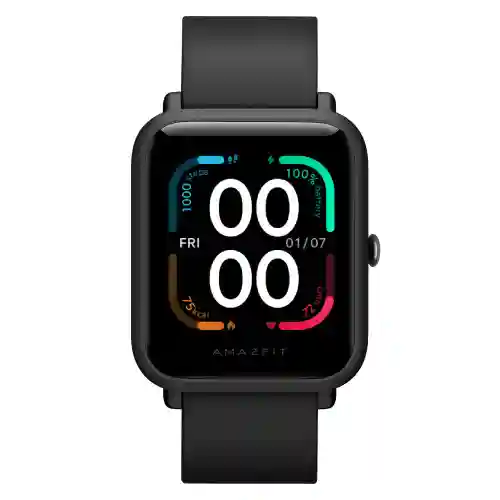 Another wonderful concept-oriented watch face by one of the developers. The Initiate watch face shows time in the middle with large text, easy to read at a glance. What's new then?
Interestingly, the perimeter of the watch face is surrounded by data sets accompanied by a progress bar that fills as you progress. For example, you can notice a bar that fills up when you progress with your steps. Likewise, there are progress bars for calories, battery (reduce with usage), and heart rate.
BigNumbers Watch Face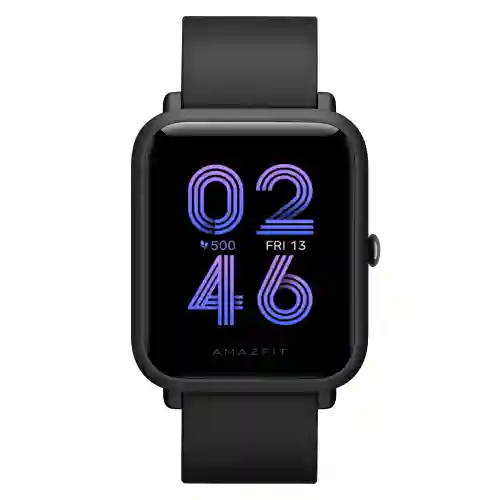 For those who care about checking the time, day, date, and steps the most, the BigNumbers Watch Face will do the trick. This watch face has got an extremely large text showing time, making it convenient to check the time at a glance. Other data like day, date, and steps lies in the middle.
TriColor Numbers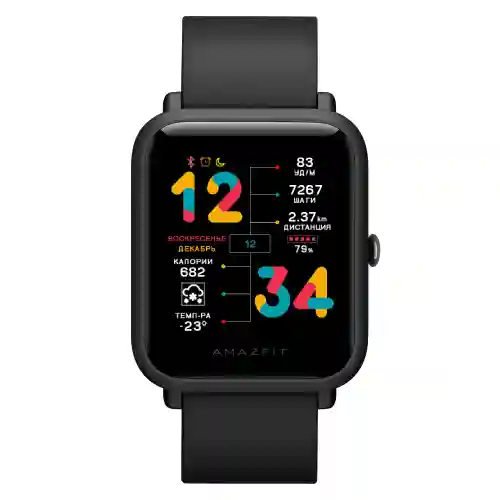 The Tricolore watch face features three different colors: red, blue, and yellow pointing to different data fields such as heart rate, steps, distance, weather, and temperature. It shows hour in the top left corner, minutes in below right, and seconds in the middle.
You will find this watch face to be more visually appealing in comparison to other faces on the list. That's what most of us look for in a watch face.
Simple Analog Clock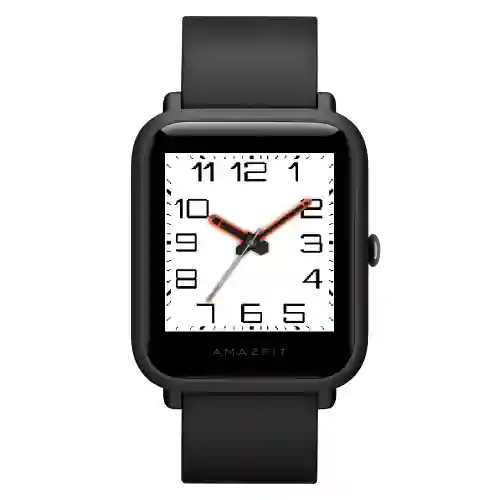 The Simple Analog Clock is a simple and classic design watch face, displaying the time in a more traditional way, with hour, minute, and second hands. It is an excellent option for Amazfit Bip U users who prefer the analog style.
How to Install Watch Faces from AmazFace App?
Step 1: Setup Zepp & AmazFace App
First, install the official Zepp app for Amazfit watches and sign up for an account. Once you signup and log In, Go to Profile > Add Device > Watch > Watch with a QR Code. To link the Amazfit app to the watch, scan the QR code using the phone's scanner.
Likewise, install the Amazface app and sign up for an account. And then, Log In.
Step 2: Install A Stock Watch Face first
In the next step, you'll be using a Massfitter method. Open Zepp App > Go to Watch Faces. And select and install any stock watch face you already have on the list.
Step 3: Install Watch Faces from AmazFace App
Now, open the Amazface app and select your favorite watch face for your Amazfit model. Then, tap on the download button present below.
This will initiate the Massfitter method. A window pops up showing the preview of the watch face. Now, select the targeted app (i.e Zepp), and tap on "Replace."
On tapping replace, the currently selected stock watch face gets replaced with the custom watch face you downloaded from the Amazface app.
That's done!
Related Posts