The Wear OS support on Galaxy Watch 4 has unlocked a web of possibilities. Now you can play games, install popular apps, access the developer mode feature, and more.
Besides, If you're a Galaxy Watch lover who wants more personalization options, you've access to a wide range of watch faces available on PlayStore & Facer.io platforms. And that's an advantage of owning a Wear OS Watch.
To make your search easy, I've explored both PlayStore & Facer.io to find you the nine best watch faces for your Galaxy Watch 4.
Here are the ones that you should check out.
9 Best Watch Faces for Galaxy Watch 4
Novus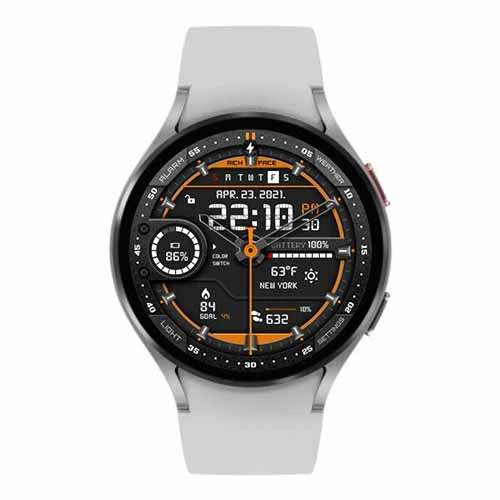 Novus offers a combination of digital & analog looks with essential information such as date, time, battery, and weather. Long pressing on the watch face opens the utilization page, where you can configure the watch face's color scheme. You can either make it interactive or switch to a more ambient look.
Ambient Mode reduces brightness and uses a single color to ensure that the time is shown each time you check the watch. And even saves battery.
Available On: PlayStore
Price: Freemium (In-app purchase)
Venom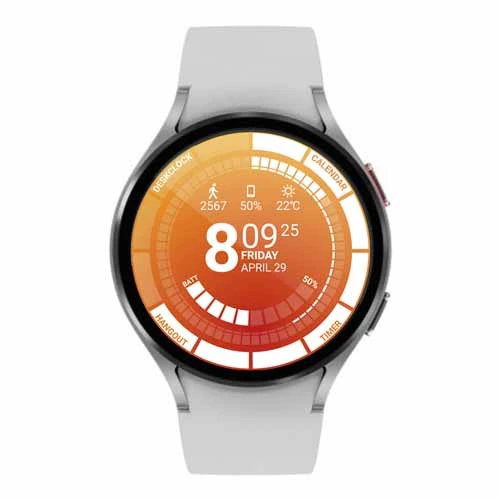 Another Playstore's Freemium option, Venom looks quite interactive and futuristic at the same time, offering several free customization options.
Considering Free, Venom has a lot to offer. The digital face fits eight data fields onto the screen, showing information like time, day, date, battery, weather, steps, heartbeat, and notifications.
It may seem crowded, but it does a fantastic job of showing lots of information at a glance while maintaining a futuristic look.
Available On: PlayStore
Price: Freemium (In-app purchase)
S4U Ancient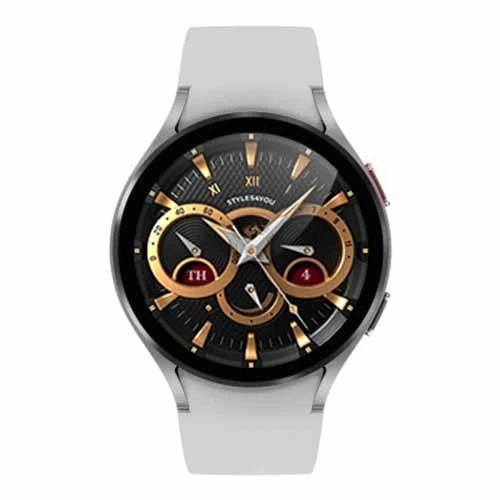 Known for producing stunning watch faces for the Galaxy Store, Styles4You has finally begun making its watch faces available on Google Play. 
The first one to release is S4U Ancient. With S4U Ancient, you get a more realistic analog dial similar to a chronograph watch with good shadowing and depth; overall quality is top-notch due to its high resolution. 
On holding the watch face, open a page with customization options, use the bezel to cycle through available options, and apply the one to your preference.
Available On: PlayStore
Price: Free
Classical II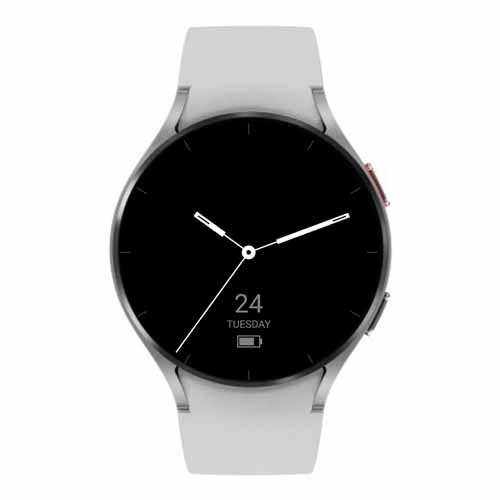 If you're frustrated by running out of battery on your Galaxy Watch 4, then this Classical II watch face can help you out. It works like a charm to save battery on your watch by being simple and minimal at the same time.
The theme is mainly black unless you switch to white. Because black pixels use less energy than colorful themes, battery life will be significantly improved.
Overall, A decent watch face for those who want to have a simple analog look with date & day as primary data fields.
Available On: StepRimo
Price: Free
Messa Classic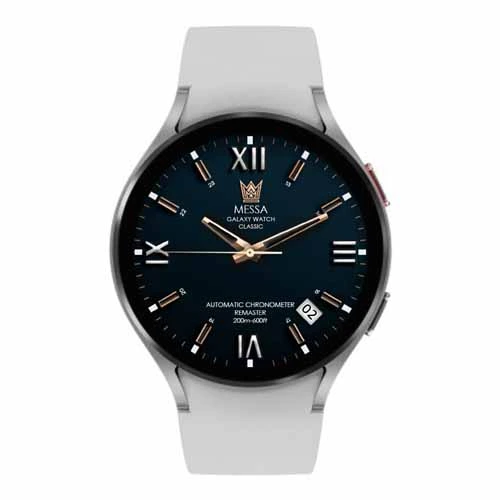 Messa Classic, A free Galaxy Watch Face showing only the right amount of details on the screen. Some people may find that the traditional design of the Messa be too plain or there is not enough information on the watch face. Others may prefer a different color scheme tailored to their taste.
But for those who like an elegant and minimalistic design, this analog watch face has all the right features to make it perfect.
Available On: Facer.io
Price: Free
Jager Tm 5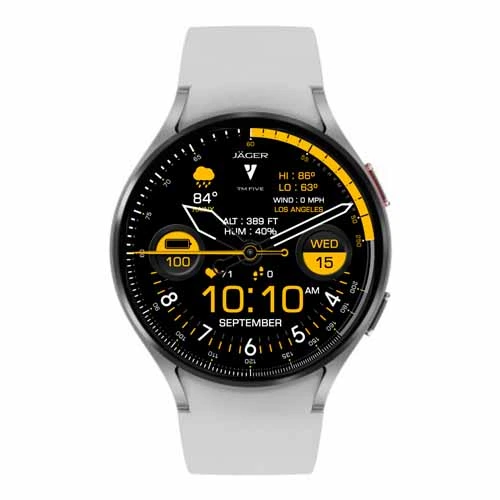 Incredibly detailed digital and analog combination with a wide range of customization, the Jager TM 5 hybrid watch face is packed with several data fields such as date, time, weather, heart rate, battery, steps, and more.
Like Classical II, Jager TM five's theme mostly has black pixels, so you can expect to see better battery life on your watch without compromising its looks & functionality.
If you're planning to purchase a watch face, I recommend spending on the premium version. Its looks & functionality will make it worth investing in. You can even start a free trial before making any purchase decision.
Available On: Facer.io
Price: Freemium
007 James Bond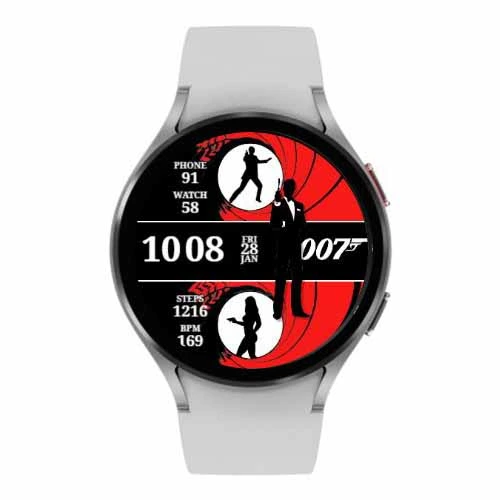 James Bond series is one of the most iconic movie series in recent memory. The most obvious reason why people love this series is the action. If you're also a fan of James Bond, installing 007 James Bond Digital Face is worth it.
The design is quite similar to other watch faces on this list but has a little James Bond feel to it. The watch face is sleek and minimalistic, so it can easily blend with any outfit. Talking about data fields, the face has got up to five, which includes battery life, time, date, steps, and heartbeats per minute.
Available On: Facer.io
Price: Free
BA Retro Lines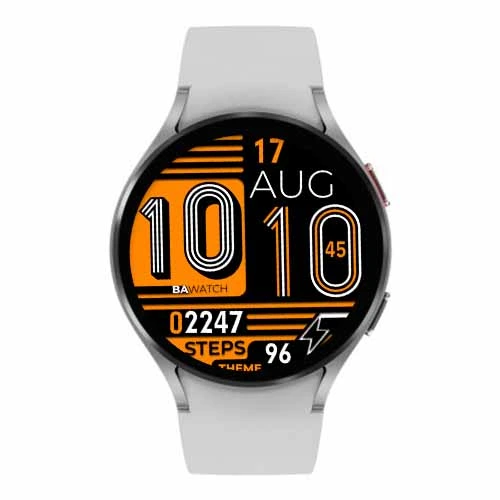 A paid option, BA Retro Lines is a really vibrant & punchy watch face to have on your Galaxy Watch 4. This watch face has over five data fields on the screen, it gets your steps, battery life, time, date, and day.
Even though it's a paid one, you can use a free trial before making a final purchase decision. The free version lacks color customization options, limiting how much you can customize your watch. However, I personally think the default orange looks quite amazing.
Overall, It is perfect for an everyday look paired with a Galaxy Watch 4, or you can dress it up for a night on the town.
Available On: Facer.io
Price: Freemium
Pixel Minimal
Google is known for its minimalistic design and this is not a coincidence. Pixel Minimal Watch Face takes inspiration from Google to add a minimal touch to your Watch.
"The more visible a feature, the more users will use it." Keeping this in mind, the developers have kept Pixel Minimal simple and minimized the number of visible features, increasing engagement with users.
The display shows data fields such as time, date, and temperature. You can easily see these details at a glance, especially in the dark.
With the premium version, you get to add additional widgets that show insights into real-time heart rate and battery status.
Available On: PlayStore
Price: Freemium (In-app purchase)
Read More On Galaxy Watch