It's been quite some time since the launch of the Galaxy Watch 5, and if you're anything like me, you're always looking for new ways to customize your watch screen.
Let's face it, after a while, the standard watch face collection might become a little boring. But don't worry! I spent several hours scouring the app store for the most outstanding and captivating watch faces that would turn your Galaxy Watch 5 into a true work of art.
Together, let's explore these Galaxy Watch 5 watch faces to choose the ideal one that suits your own personality and way of life.
Read Later | 10 COOL Things to Do With Samsung Galaxy Watch 5
9 Best Galaxy Watch 5 Watch Faces to Install
E-Look Watch Face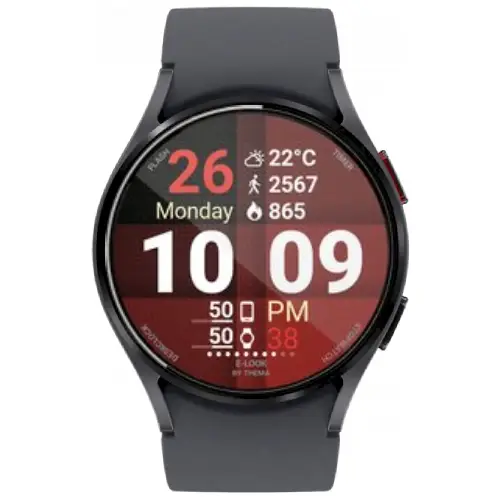 The E-Look watch face is a perfect choice for those who love an elegant yet busy look. It's packed with tons of info like day, date, time, water intake, watch battery, and phone battery.
But don't worry, it doesn't look cluttered!
The default red & white theme is classy, and you can even customize it to your heart's content. It comes with four complications at four corners for quickly accessing things. There's a free version available, though the paid version offers more customization options.
Challenger Watch Face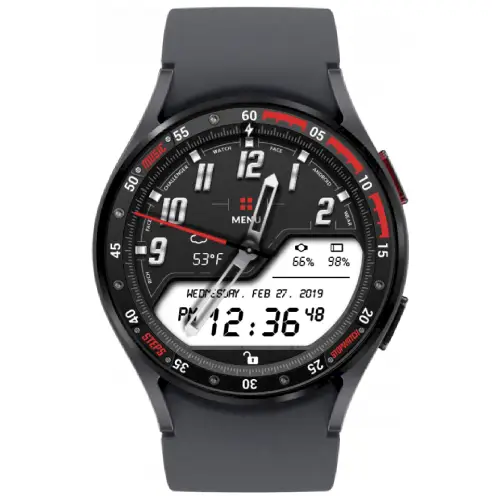 The Challenger Watch Face is for everyone who isn't a fan of minimalist designs. With its cute three hands and a nifty small display in between, it will take you back to the good ol' days of traditional analog-digital watches. The twist is that it's not simply a lovely face, though.
A wealth of data is displayed on this watch face, including the day, date, smartwatch battery level, smartphone battery, and the time in both analog and digital formats. And hey, the paid edition has even more goodies with those fancy complications.
MJ069 White Digital Watch Face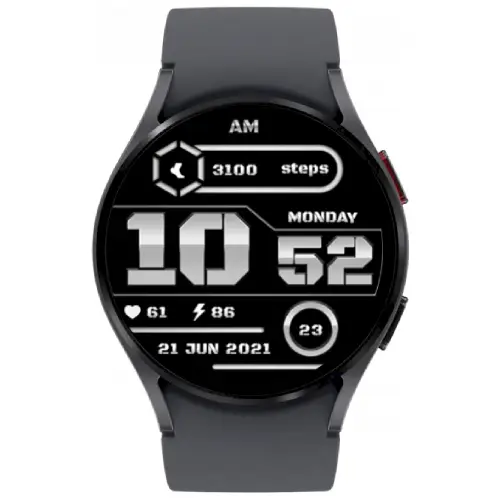 For those who value having essential data at their fingertips while saving battery life, the MJ069 White Digital Watch Face is an ideal choice. You can find the right balance between a cluttered appearance and showing only what's needed is the focus of this watch face.
It adds an elegant look to your wrist without overwhelming you with vibrant colors due to its black-and-white theme. And what's this? The creative addition of a grey hue to the white color gives a touch of beauty while also saving battery life. Talking about data sets, this watch face displays the time, day, date, step count, heart rate, and battery information.
CLV Tactical XR Watch Face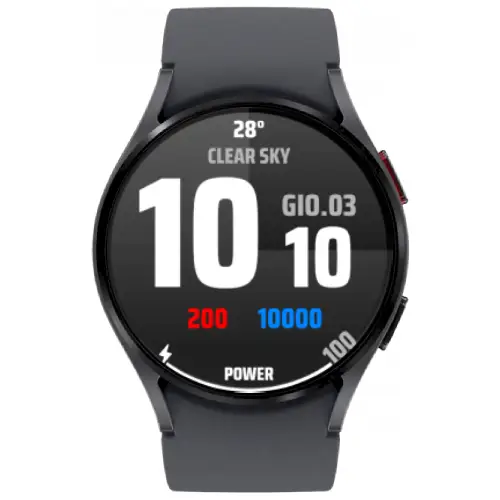 CLV Tactical XR Watch Face is designed specifically with athletes and fitness enthusiasts in mind. This is an ideal watch face for staying on top of your workout routine. It creates a vibrant and energetic mood while adhering to a stunning black, red, and white theme.
Be prepared to be amazed by the way it shows a variety of data, including the date, time, month, year, step count, battery level, and heart rate.
This watch face keeps a clean, uncluttered appearance despite the wealth of information, letting you concentrate on what truly matters most. You'll like the slick look and how it effortlessly provides all your important metrics, despite the restricted customizing choices.
Hexane Digital Watch Face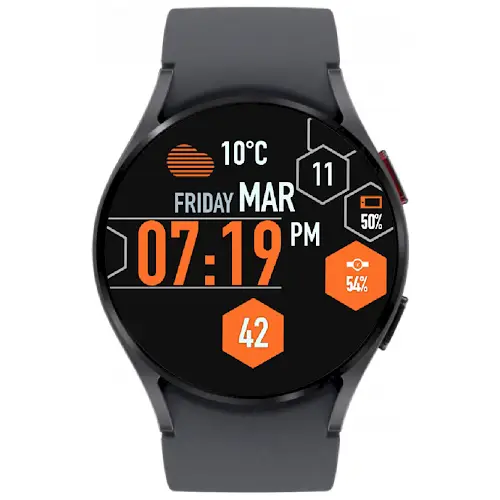 The Hexane Digital Watch Face is a perfect mix of design and use. This watch face hits a perfect balance between being neither too busy nor very clean, making for a pleasant viewing experience. Its eye-catching design system, which includes a bright orange neon tone, provides a sporty edge.
You have the option to change the scheme of colors with the help of the app on your smartphone.
Even more customization choices are available when you unlock the premium version, giving you complete control over the watch face's design. And the user experience are improved by using hexagons as widgets, which leads to in a user-friendly interface.
CLV TAKA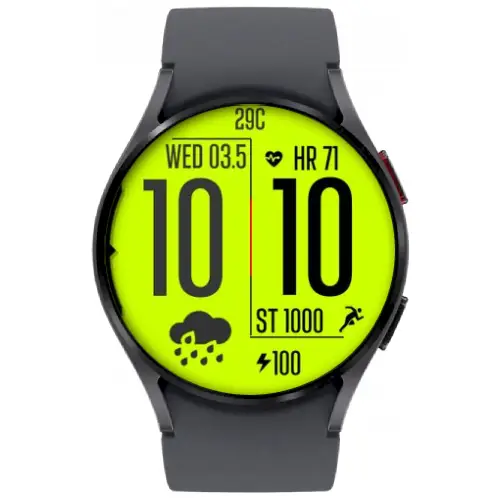 The CVL TAKA watch face is a fashionable and useful timepiece. This watch face has a modern appearance and gives several kinds of data to be seen.
It separates the screen into two sections: One for the time, day, and date; the other for information related to fitness, steps, heart rate, calories, battery life, and temperature are all part of the fitness data.
You can easily track your fitness progress and keep up with important information with CVL TAKA. For individuals looking for a fashionable and useful partner for their active lifestyle, this watch face is suitable.
Simplicity Analog 2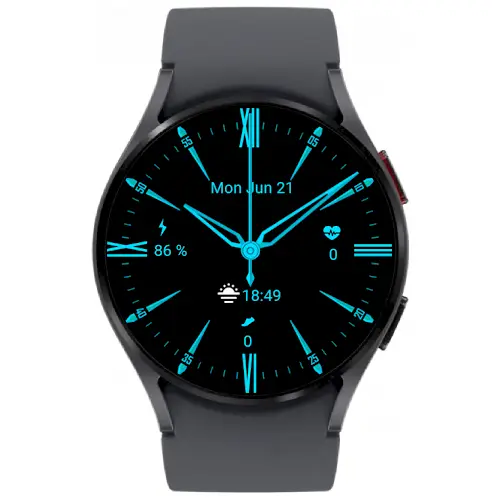 Simplicity Analog 2 is made for people who value simplicity and tradition. In this watch face, you can find the Roman numerals located at 3, 6, and 9 o'clock, and it emits classic elegance. In addition, the black-and-white design adds class to it.
There's a widget that shows the battery level, heart rate, time of sunset and sunrise, day, and the date. To access the correct apps for more information, tap on the widgets.
It is challenging to tell between a smartwatch and a regular watch because the watch face mixes in seamlessly with both types of timepieces. Thankfully, you can also change the theme color.
Dragon Ballz Animado Digital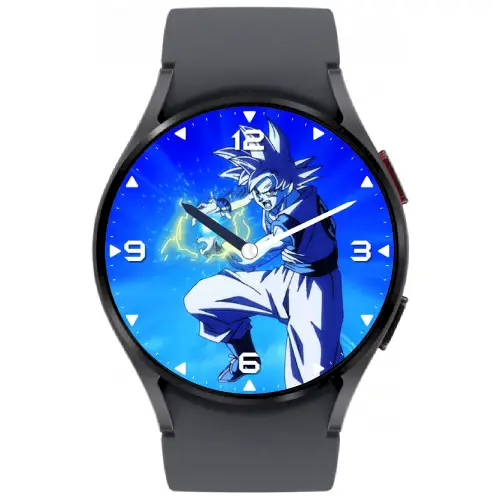 The Dragon Ballz Animado Digital watch face is the greatest one designed just for kids. Young Dragon Ball Z lovers will enjoy and be thrilled by this exclusive Galaxy Watch 5 app. This vibrant watch face shows the time, date, battery level, and heart rate.
It separates itself with animation of thrilling battles between Dragon Ball Z characters that highlight each character's unique abilities. Kids will be thrilled when their favorite characters come to life on their wrists.
With Dragon Ballz Animado Digital, kids may fully immerse themselves in the fascinating and engaging world of Dragon Ball Z, creating lifelong memories while using a smartwatch. Your child's imagination can run free with this charming and attractive watch face.
Animated Health Weather Orange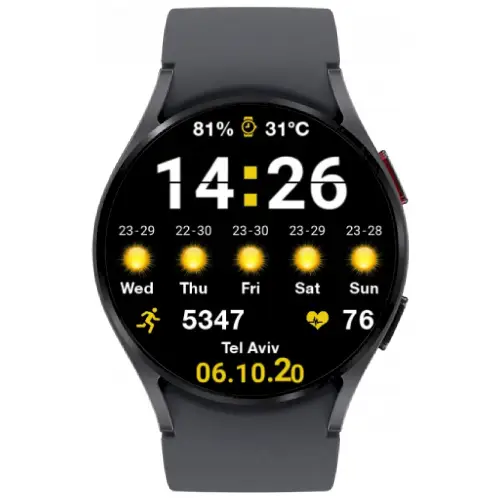 The Galaxy Watch 5's Animated Health Weather Orange watch face is perfect for those who enjoy working out. This watch face stands out from the rest with a sporty black and orange pattern. It has an exciting animation, which shows a person jogging down the dial and encourages you to exercise.
It keeps you informed and structured by providing important data like time, day, date, temperature, battery level, calories, and heart rate. The small form of the Animated Health Weather Orange watch face combines fashion, utility, and inspiration.
Overall, With the active timepiece, stay motivated and monitor your fitness goals.
---
Read More On Galaxy Watch