Health and Fitness are not acquired overnight; it is achieved through deliberate life choices and consistent efforts to maintain that choice. Using Weight Watchers in your daily life is an example of such a choice.
If you're an Apple Watch user having no idea about connecting your watch to Weight Watchers, you're at the right place. Keep reading to find out everything that you need to know about Apple Watch and Weight Watcher's integration. Let's Dive In!
Related | How to Connect Fitbit to Weight Watchers? Fix Sync Issues
Does Apple Watch Work With Weight Watchers?
Absolutely! Apple Watch does work with Weight Watchers. Your Apple Watch connects as a source in the Health app, which afterward syncs your activity to Weight Watchers app.
To sync Apple Watch with Weight Watchers, you'll first need to connect your Apple Watch to the Health App, and then subsequently connect the Health App to Weight Watchers.
See Also | List of Fitness Trackers Compatible with Weight Watchers
How to Connect Apple Watch to Weight Watchers App?
To Begin, Connect Apple Watch to Health App
As mentioned above, first you have to connect your Apple Watch to the Health App. Here's how to do this: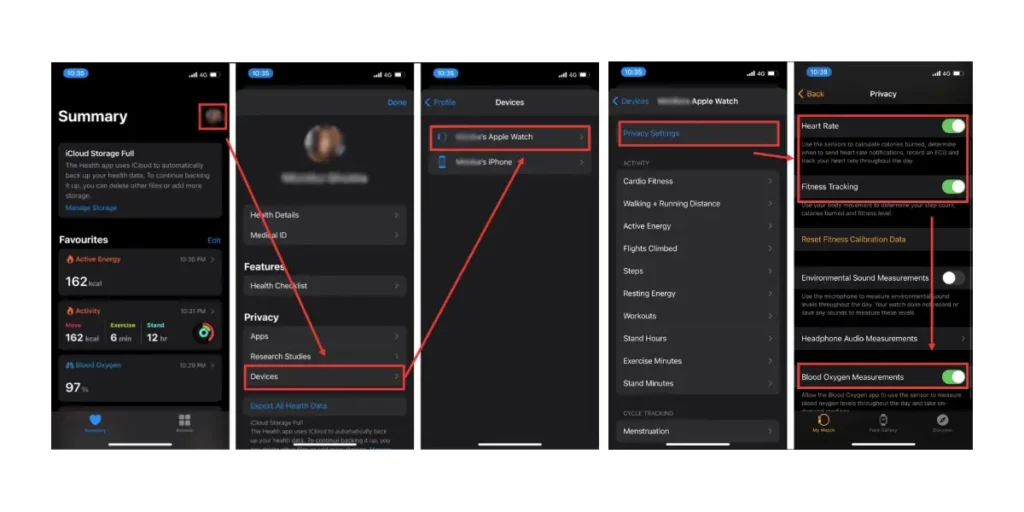 To connect Apple Watch to the Health app, open the Health app on your iPhone. Then, click on your profile picture, which is located in the upper-right corner of the screen.
Click on the Devices option. A list of available devices will appear. Select Apple Watch.
Then, Go to Privacy Settings, find Fitness Tracking and make sure to turn it on.
Finally, Connect Weight Watchers to Apple Health
Now that you have successfully connected your Apple Watch with the Health App, it's time to connect Weight Watchers to Apple Health. Here's how to do this: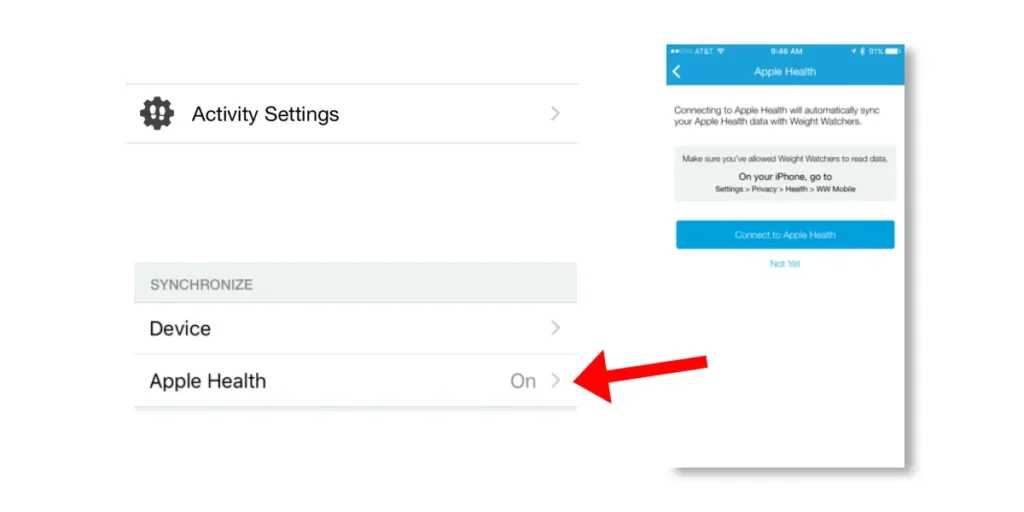 Open the Weight Watchers app on your iPhone.
You'll see three dots located in the top right corner of the app. Click on it.
From there, Select "Activity Settings."
From the Synchronize section, choose Apple Health.
Follow the on-screen instructions to connect it successfully.
Now your Apple Watch will be connected as a source in the Apple Health app. As a result, the steps you track from your Apple Watch get auto-converted into PersonalPoints for Weight Watchers.
Tip to Fix Weight Watchers Not Syncing With Apple Watch
Facing issues while syncing your Apple Watch with Weight Watchers? One of the main reasons for the sync issue could be because your Apple Health App had disconnected from the Weight Watchers App.
To reconnect it, first, open your Apple Health App.
Select "Sources" from the bottom of your app.
From there, select the WW Option to check if the categories have been turned off.
If yes, then select, "Turn all categories on."
Shut down the Health app by double clicking the home button and sliding it up.
Shut down the Weight Watchers App also in the same way.
Reopen both the apps.
Once you've done this, you'll be able to sync Weight Watchers again with your Apple Watch.  
Benefits of Integrating Apple Watch with Weight Watchers
By syncing your Apple Watch with Weight Watchers, you get yourself the most effective fitness program out there. Let's briefly point out the benefits.
Personalized Weight-Loss Journey
Weight Watchers have a Point System to create a unique and personalized lifestyle and food habit for you. When you join the program, you are required to answer a few questions. According to your answers, their weight-loss expertise, then custom-builds your Points Budget, ZeroPoint foods list, and activity target.
The cool thing is that they guide you through ways where you can manage your calorie intake without really leaving the foods that you love.
Stay on Track
Just eating right is not enough. It should be accompanied by proper physical activity to attain better results. With Weight Watchers, track your activity by minutes or steps taken.
Whenever you engage yourself in an activity, it doesn't matter if it's light or intense, you'll see the Points automatically rack up in your Weight Watchers App.
Keep Watching Your Achievements
When you see yourself achieving something, it uplifts you to do better every time. That's where the WW dashboard comes for your help. After your goal is set, you can see your daily and weekly progress.
As you can always monitor the steps taken, Points added, workouts completed, and total active minutes in your dashboard, it will inspire you to keep pushing yourself for a better life.
You can evaluate and confirm where you are lagging and where you need to put more effort. The dashboard is the best way to identify your weaknesses and strengths during your fitness journey.
"What's in Your Fridge?"
You know that your fitness app is extraordinary when it even recommends healthy food recipes for you.
Apart from the already set nutritious food recipes, "what's in your fridge" is a special feature of Weight Watchers where the app will suggest you a good, nutrient-rich meal recipe with whatever ingredients you have at that particular time.
When you like a recipe so much that you want to try it again later, you can save them. Even creating your customized healthy recipe is possible with Weight Watchers.
Make Healthy Connections
Won't it be nice to have like-minded people cheering you on you when you march towards your fitness goals? WW Connect is a digital community for its members, where you can connect with people who are working on a similar fitness journey like you.
By sharing your experience, you can motivate one another to build healthy habits and patterns in your life.
Wrap Up
Weight Watchers is the need of the time. In this busy lifestyle where people struggle to maintain a healthy life, it helps you to reach your fitness goals with a fun packed, and effective fitness routine.
With the right guidance from the app, you can eat healthy while also eating what you love and keep moving your body towards a fitter and better life.
Connect your Apple Watch with Weight Watchers and get started today!
---
Read More On Apple Watch