Do you love your Apple Watch so much that you don't feel like taking it off? It's okay. You can wear it all day long. But don't you get bored of wearing it the same way every day?
What if we told you that there are several other ways to wear your Apple Watch? Yes, you read it right. Here are ten alternative ways to wear your Apple Watch, each of which is uniquely stylish and trendy.
Related | 5 Alternative Ways to Wear Fitbit (You Won't Believe)
10 Alternative Ways to Wear Your Apple Watch
As a Necklace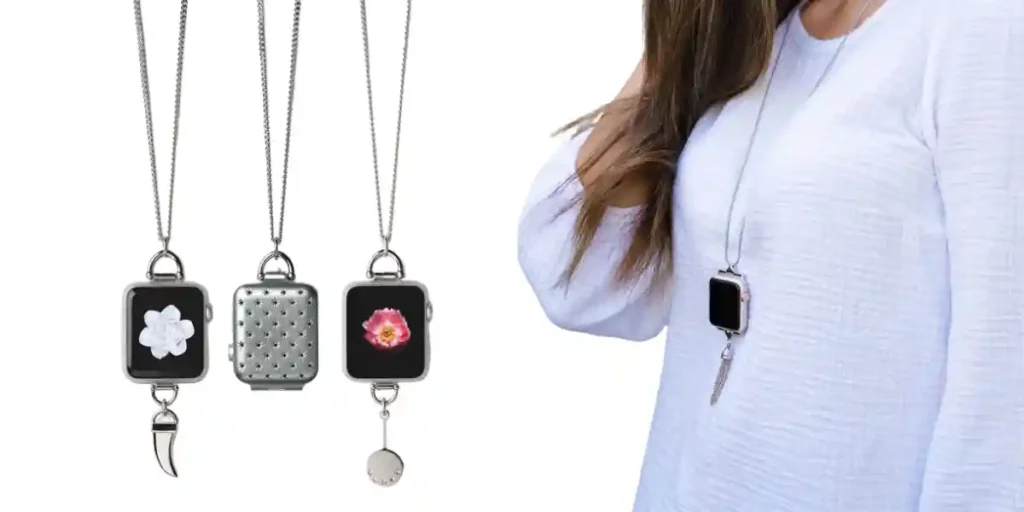 Who knew you could use your Apple Watch for aesthetic beauty? Well, try for yourself. Now, you can use your Apple Watch as a charm necklace, which will give you a stunning and elegant look.
Besides, you wouldn't want to wear any other jewelry with an Apple Watch on your neck. Try this method of wearing your Apple watch and let people know about your aesthetic sense.
As a Locket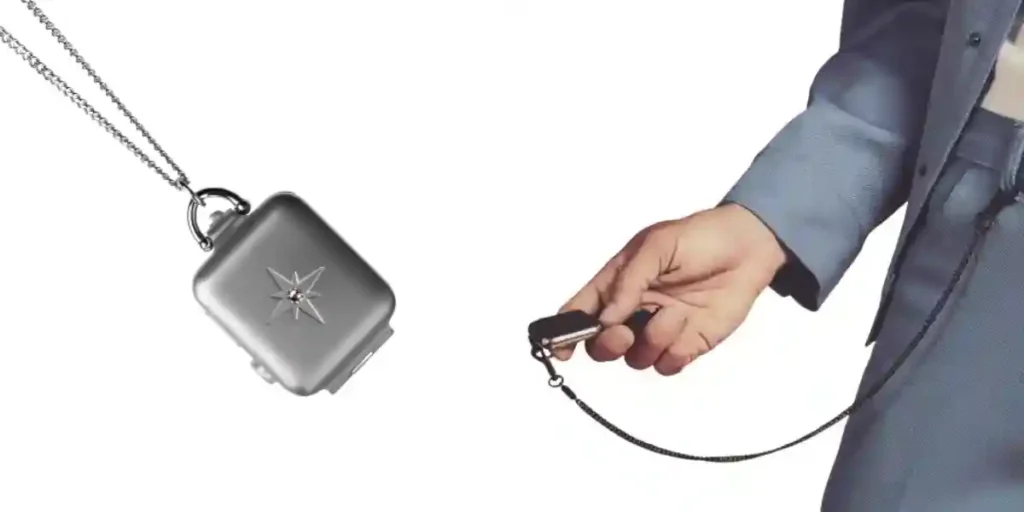 Does your pocket need a locket? Another aesthetic way to wear your Apple Watch is to lock it away in a locket. You need not necessarily wear it around your neck, you can carry it in your pocket, wear it around your neck or just wear it around your wrists like a hand chain.
In any case, the metal case will protect the watch screen from getting scratched.
Wear It on Ankle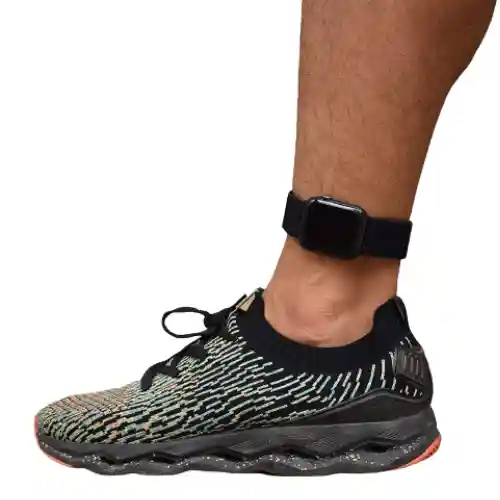 Certain professions and workout activities may restrict you from wearing your watch on the wrist. In this case, you can always wear your Apple Watch on your ankle.
However, it is not likely that your Apple Watch strap would fit on your ankle. Thankfully, you have an accessory to hold your watch on your ankle, popularly known as Ankle Bands. For this, link the ankle band to your Apple Watch by connecting the ankle band adapter to the slots of your Apple Watch.
As a Scarf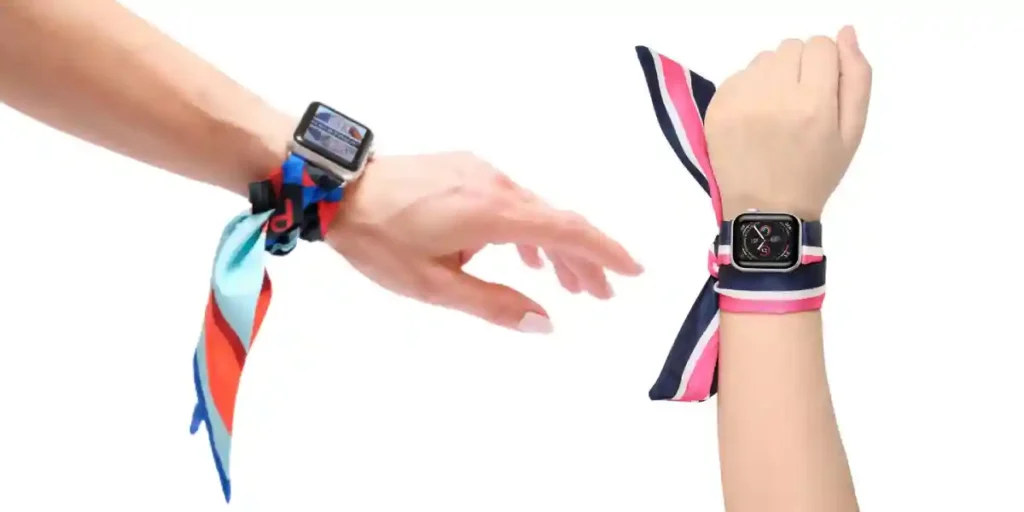 Wearing your Apple Watch as a formal scarf is another trendy way to go stylish. If this idea excites you, then buy a handcrafted scarf with a piece of art from Etsy or Amazon and just attach it to your Apple Watch.
That's it! In no time, you can have a modern and classy look with your own customized Apple Watch scarf. To make it more attractive, you can customize the screen or your Apple Watch's theme accordingly.
As Your Pocket Watch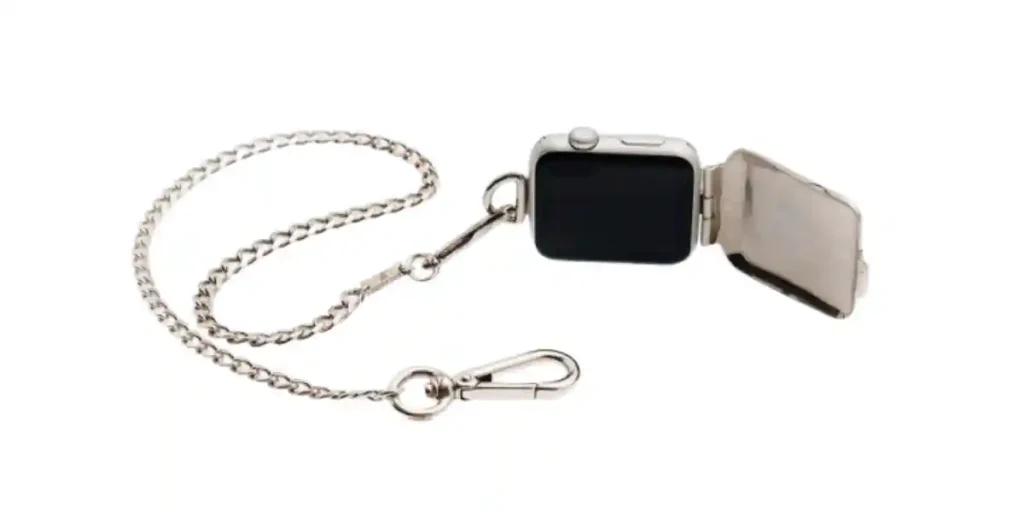 Are you a fan of vintage looks? Here's what you need. If you prefer classy looks, then pocket watches always add up to that elegance. Now, you can have this look by making a pocket watch out of your Apple Watch.
All you have to do is hinge it to a metal cover, protecting your watch from getting damaged. There you have it, the traditional pocket watch with a modern twist.
Underhanded (Inside Of Wrist)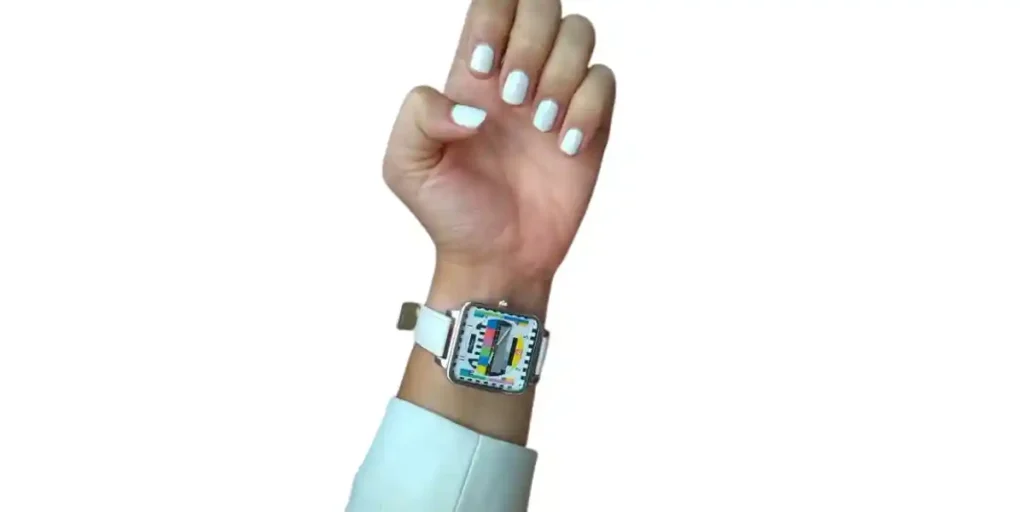 You may find it useful to wear your Apple Watch underhand as it protects your screen from scratches or other damage while you're involved in tenacious activities.
Additionally, this is the best method for people with tattoos on the outside of their wrist. Because the tattoo may prevent the heart rate sensor of your watch from functioning efficiently.  
Even if you are used to wearing it on the outside, try switching. I mean, who doesn't like change?
Reverse the Bands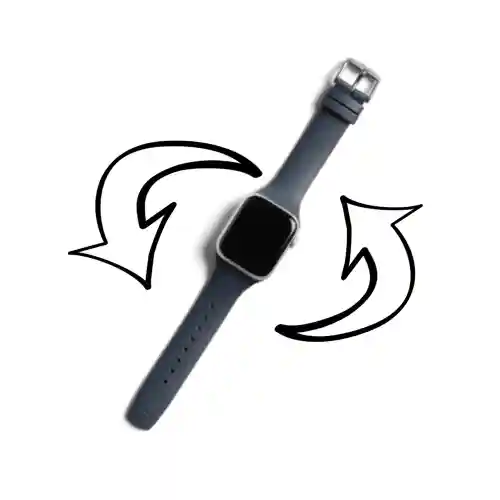 Switching something from its initial state to another state gives an object an unusual beauty. You can do the same with your Apple Watch. You can reverse the Bands.
To do this, first, hold down the small button on the back of the Apple Watch's body. And then, carefully slide the band out of its slot. After this, simply reinstall each part of the band in the other slot. You will find that this makes it easier to wear your Apple Watch.
Upside Down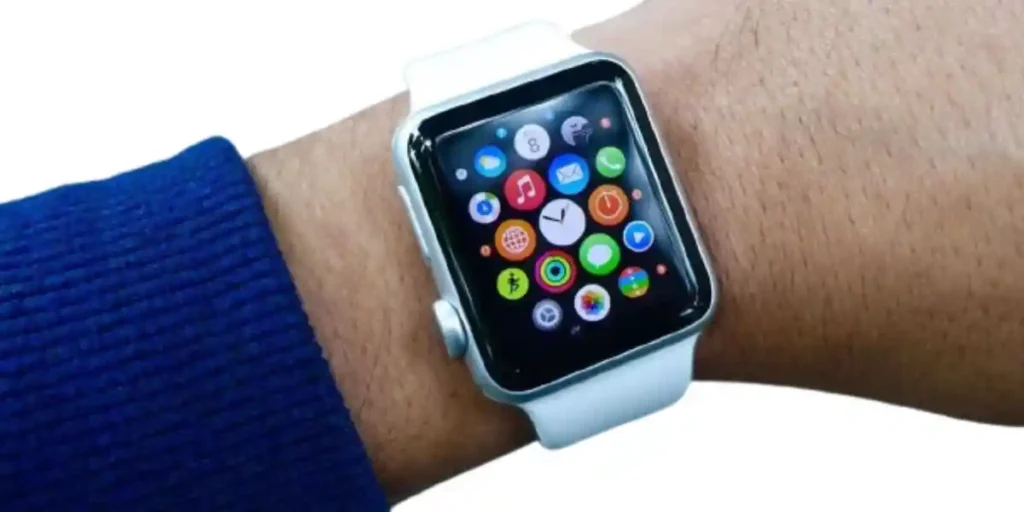 If you like scrolling down with the Digital Crown but find it unnatural to use your index finger, then you should try this. Next time when you wear your Apple Watch, wear it upside down where the Digital Crown is facing your elbow instead of your hands.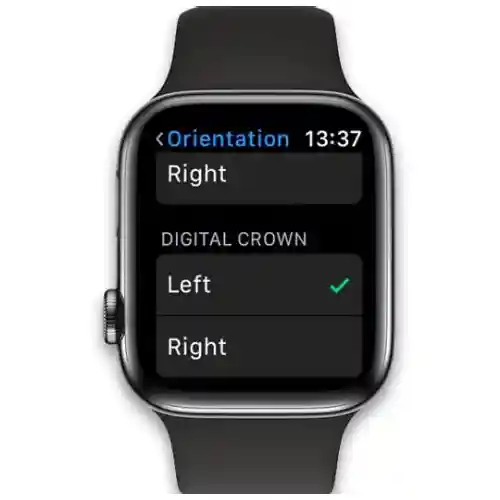 For more convenience, change your Apple Watch's screen orientation.
Open the Settings app on your Apple Watch.
Go to General > Watch Orientation, and change the side of the Digital Crown.
This makes it easier to scroll down and use your thumb to press the Digital Crown.
See Also | 5 Reasons You Should Wear Your Apple Watch Upside Down
With Medical Skin-Adhesive Patch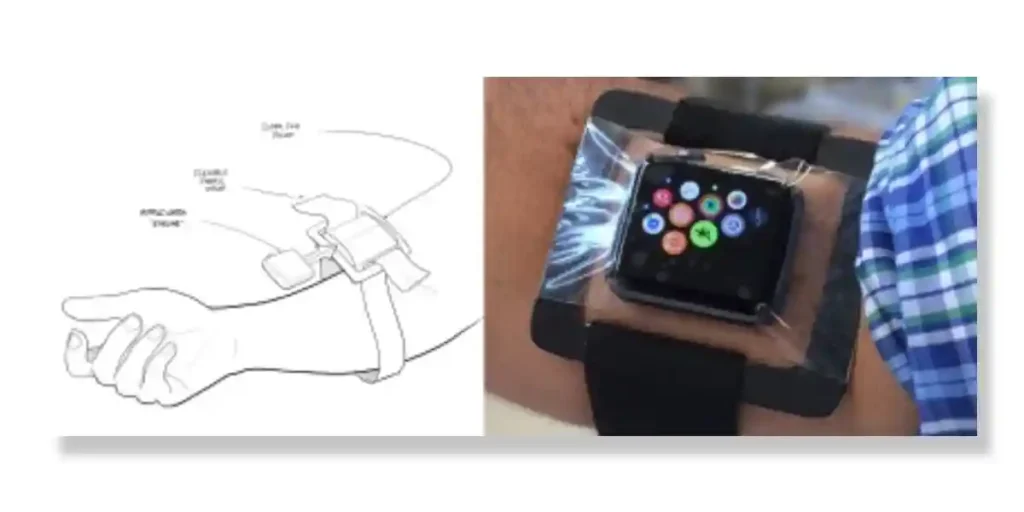 Now with the medical skin-safe adhesive patch, you can wear your Apple Watch in different locations of your body. Interesting, right? You might wonder, what advantage does this give you? You can place it over the body part where your blood flow is more.
This means you can have accurate and consistent heart rate monitoring throughout the day.
Since Apple's Photoplethysmography depends entirely on potential blood flow, it would be best to wear it where there is potential blood flow.  
As A Bag Fob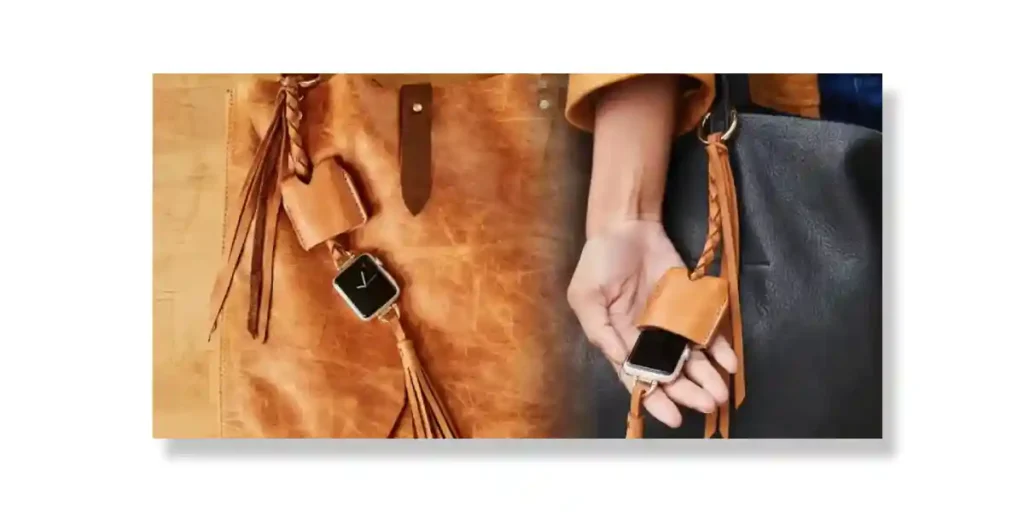 Hey ladies! You are going to love this hack. Is wearing a strap irritating your skin? Do you think that it is old-fashioned? Don't worry. We have got you covered.
Hang it as a bag fog and match it with your accessory. By doing this, you are not just protecting your watch from damage but also trying out a trend that's too good not to follow. 
Wrap Up – What's the One We Like?
While all these alternative ways to wear Apple Watch are unique and come with their advantages, I'd like to tell you the one we like the best:
"Reversing the Band"
Because convenience matters. Think of a situation where you are hurrying off somewhere and trying to put on your Apple Watch and it just won't buckle up.
Remember when we mentioned reversing the band makes it easier to wear your Apple Watch. Wearing your Watch by switching the bands is the most convenient way as it saves your time and is effortless.
Even though this was my favorite, it shouldn't stop you from trying out other alternatives that you liked the most. You can try a different way each day. All these alternatives give you a chance to explore different ways you could wear your Apple Watch that is far from the boring way of wearing it the same way every day.
---
Read More On Apple Watch