The Apple Watch is a fantastic fitness tracker and health partner. It mainly uses its own health and fitness apps. It's not surprising that the Whoop app isn't on the Apple Watch. If you enjoy the Whoop app for its excellent features, you probably wish it was available on the Apple Watch.
Likewise, if you prefer not to use Apple's built-in apps and want to try other apps like Whoop, you can't find them on the Apple Watch app store. So, what makes the Whoop app special, and are there any Whoop app alternatives? Let's find out.
What Makes the WHOOP App Special?
Whoop is one of the best all-in-one health and fitness trackers that works with the Whoop wristband. If you have a Whoop subscription and Whoop wristband, you can download the Whoop app for iOS and Android.
Whoop calculates your sleep performance on a scale of 0 to 100%. Based on your sleep score, Sleep Coach suggests how much you should sleep the next day and when you should go to bed. It also measures physical and mental stress throughout the day.
To do that, it measures cardiovascular and muscular load and suggests a recovery score if the stress levels are high. If you are under stress based on a score from 0-3, you can choose a breathwork session to relieve your stress and increase relaxation in a stressful moment.
Whoop app also measures heart rate variability, resting heart rate, sleep, and respiratory rate. All of these measurements quantify your score from 0-100% on a recovery scale. (When your score is green, you're ready for strain; when you're in the yellow or red, you may want to evaluate your training program.)
Reasons For Whoop App Alternatives
Apple Watch app store is not the only reason for the Whoop app alternatives.
Some of the reasons are discussed below:
Whoop Wristband
The Whoop app doesn't work without a Whoop wristband a wearable fitness tracker without a screen. The latest model, Whoop 4.0 costs $49. So, technically you can't use the Whoop app without spending $49. The story doesn't end here, and there's more to it.
Whoop Membership
Once you buy a Whoop wristband, you need a Whoop membership, which starts at $30/month. An annual membership costs $239, and a 24-month membership costs $399. (Remember you don't pay $49 for the Whoop wristband if you buy an annual or 24-month membership).
Whoop app is not on the Apple Watch
If you do the math just for using the Whoop app on Apple Watch, that's a lot of dollars. Now that you have an Apple Watch, you shouldn't worry about the costs and the Whoop app unavailability.
I will share some apps with features like the Whoop app, but they don't require any extra wristband or upfront membership commitments.
5 Apps Like WHOOP for Your Apple Watch
If you don't have a Whoop wristband, you are not behind because even if you had one, you couldn't access the Whoop app on Apple Watch.
Here are some of the best Whoop app alternatives for Apple Watch:
Pillow: Sleep Tracker
You can download Pillow directly on your Apple Watch if you are having sleeping troubles. The Pillow app analyzes your sleep with Apple Watch and doubles as a smart alarm clock.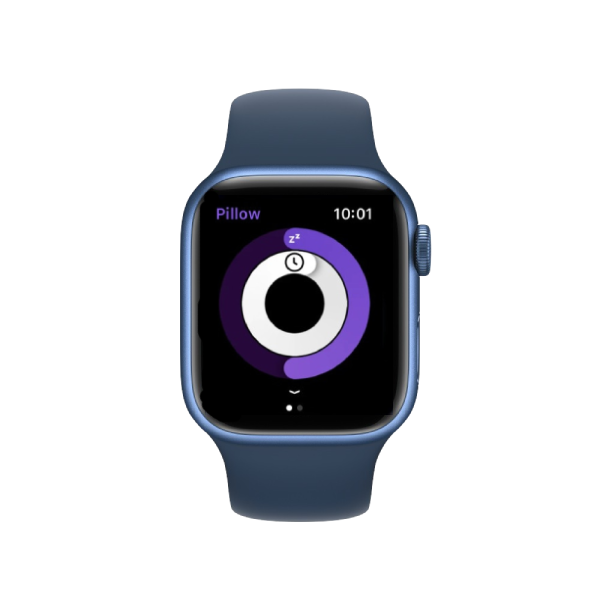 The pillow app can also record sleep-related audio patterns, such as snoring, sleep apnea, and sleep talking. If you face any of these issues, it alerts you. You can subscribe to premium features such as heart rate analysis, audio recordings, etc., for $6.99 a month or $49.99 a year.
Athlytic: AI Fitness Coach
Athlytic app measures the heart rate variability, and resting heart rate to suggest if you are ready to train. It also measures cardiovascular load to the Target Exertion, a range in which you train based on your recovery.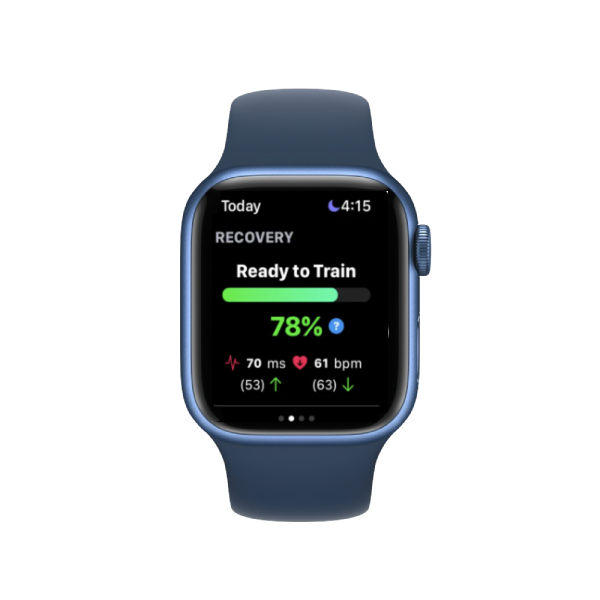 Similarly, the app also gives a personalized Target Sleep recommendation based on the data collected from Recovery, Exertion, Sleep, and Sleep Debt. The App is free, and if you want all the premium features, its annual membership costs just $24.
Stress Monitor for Watch
The Stress Monitor App collects your heart rate data using the Apple Watch sensors. It shows your current stress and capacity to perform at your mental, emotional, and physical best. It uses direct body signals such as heart rate variability and resting heart rate to give personal recommendations for better well-being.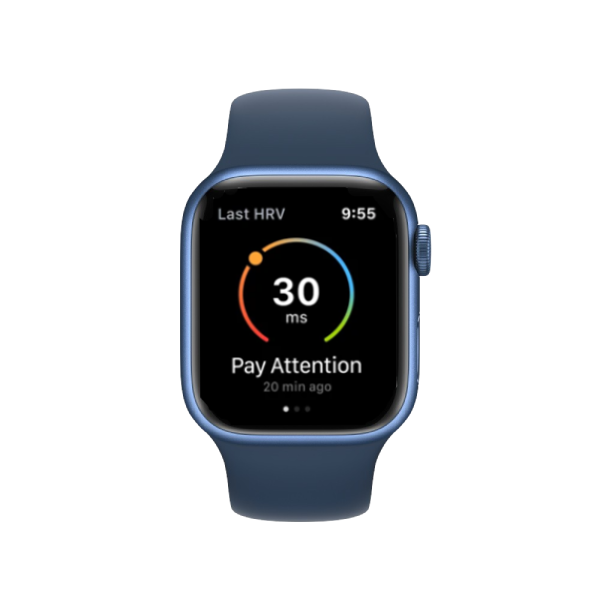 It also has a heat-map calendar where your daily stress data is stored. You can compare which days, weeks, or months were more stressful and which were less stressful. The monthly subscription for the premium features costs $14.99, and annual subscription costs $41.99.
Strava: Run, Bike, Hike
Starva is a great fitness tracking app that tracks everything from runs, rides, hikes, yoga, and other sporting activities. Starva also has a community network where you can share your fitness achievements and get inspiration from others.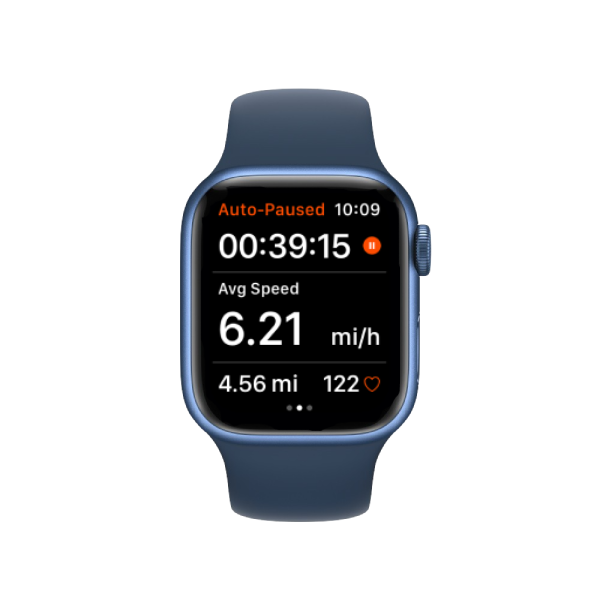 It uses data from your fitness activity to help you train smarter. You can see all of your training activities in the Training log. The great thing about Starva is the syncing features that let you connect with other fitness devices and apps. The premium monthly offer starts at $11.99, and the premium annual plan costs $79.99.
Training Today
Training Today is one of the best Apple Smartwatch apps as it collects data from the Apple Watch to measure your Readiness To Train (RTT) every day. The app uses Heart Rate Variability (HRV), workout detection, and an algorithm to determine the RTT score.
It also makes a custom chart about your Readiness To Train (RTT) so that you can train, and if you need recovery, you can rest on a particular day.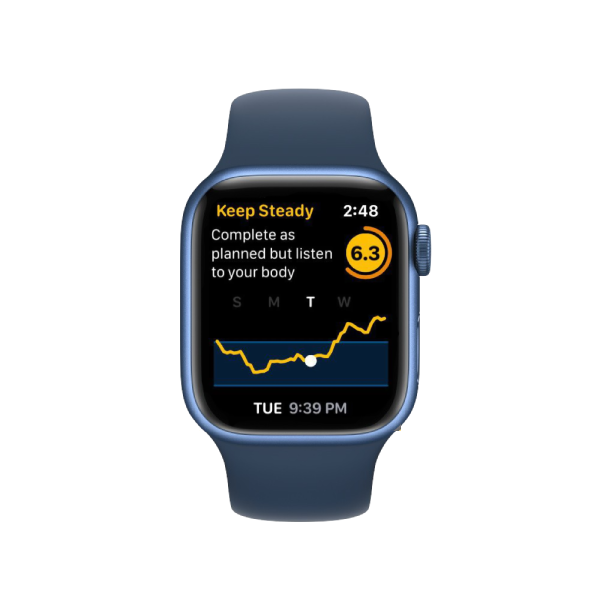 You can run the app independently on the Apple Watch even if you don't have an iPhone. The monthly subscription to Training Today costs $1.99, and the annual membership costs $14.99 for premium features. You can also buy a lifetime subscription for just $19.99.
Wrap Up
Whoop is a great app with many great features, but the upfront cost is too much. The Whoop app is also unavailable on Apple Watch, so you must purchase a Whoop wristband and annual membership to use its fitness and health tracking features.
Whereas the apps discussed above are specifically designed for the Apple Watch, you can download them for free. They are easy to set up, and if you need access to premium features, you can subscribe to an annual membership.
The yearly membership of these apps costs much less than the Whoop app, so it's a win-win.
---
Read More On Whoop