Stress can cause you both physical and mental problems if it's more than you can handle. If you're an Apple Watch user, a stress monitoring app can always help you in this matter.
A stress monitor app analyzes your stress every day based on your sleep, activity, and heart rate to give you an overall idea of your stress level. In this post, I'll introduce you to the nine best stress monitor apps for your Apple Watch. But before that, let's see how the Apple Watch monitors your stress.
Let's Dive In!
How Does the Apple Watch Monitor Your Stress?
Apple Watch uses a method called spectroscopy to measure your stress level.
A green light is sparked into the bloodstream of your wrist that checks different features related to your health. Since our blood is red, it absorbs the green light.
On the back side of your Apple Watch, you can see the presence of visual sensors. These sensors are used to sense the reflected light, which is used to calculate the time difference between each heartbeat.
With a rise in your stress level, your heart rate will also rise. Therefore, installing apps available on Apple Watch will help you to understand the fluctuations in your heart rate.
9 Best Stress Monitor Apps For Apple Watch
Stress Monitor for Watch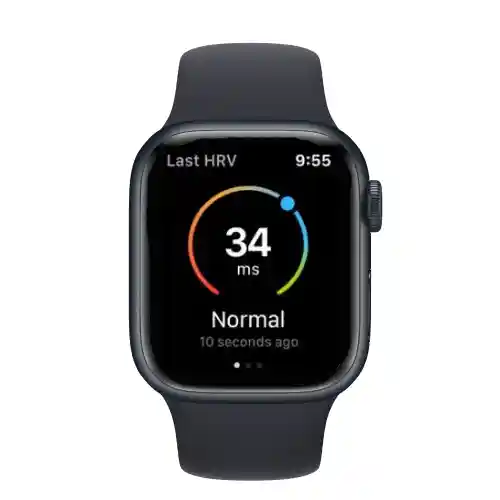 The Stress Monitor App, which is specially designed for Apple Watch users, records, analyses, and processes data related to your activities, sleep, and heart rate every day to tell you your stress level.
With this data, you can understand your emotional, mental and physical capacity to perform a task at a particular time. Whenever the app gives out the data, it also gives you recommendations to reduce stress and improve your well-being.
It also has a heat-map calendar where your daily stress data is stored. From here, you can compare which days, weeks, or months were more stressful and which ones were less.
What more can you ask? Get the app and go stress-free.
Heart Rate and Stress Monitor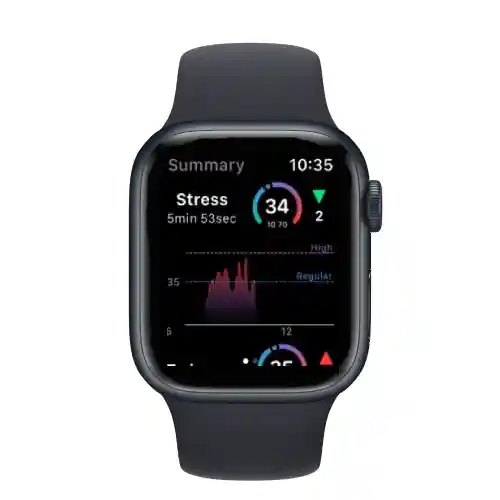 This amazing app includes various Apple Health data and provides a series of intuitive graphs. It allows you to more conveniently pay attention to your heart health, mental pressure, and exercise status.
In addition, this app analyzes Apple Watch health data in real-time and calculates mental stress (exclusively available), so you can pay attention to mental stress in real time, relieve anxiety, and avoid depression!
A must-have for anxious people.
Breathe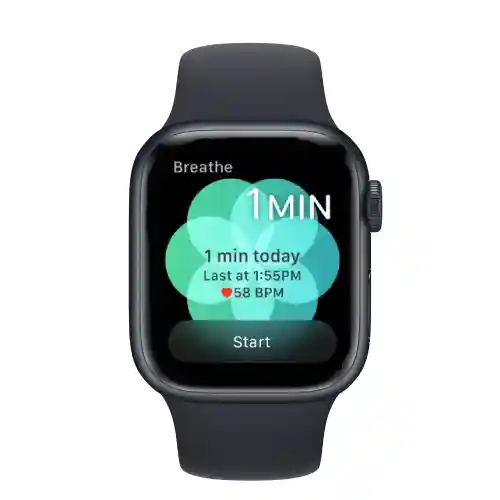 When you are feeling stressed, taking a moment from the day to stop, take a break, and practice mindfulness can help reduce stress and improve overall health.
According to studies, deep breathing helps calm you and elevates your mood instantly. The Breathe app on Apple Watch keeps you focused by guiding you through a series of deep, calming breaths. If you have been sitting quietly for at least 5 minutes, the app sends you a notification to take a deep breath.
When you're not distracted by external circumstances, you can take full advantage of your sixty seconds to breathe deeply. With this app, by default, you receive 3 breath notifications throughout the day so utilize them to empower your mind and body. 
Welltory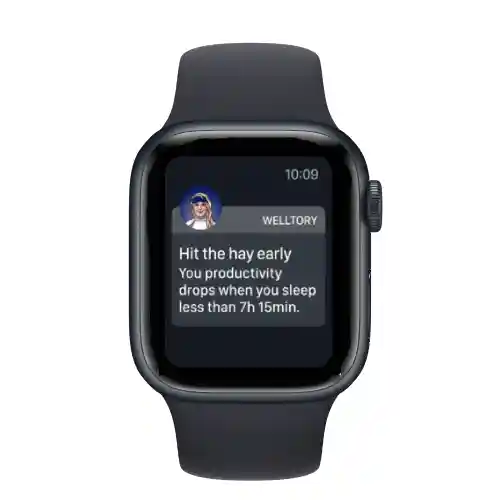 Welltory can be your health assistant. The app allows you to sync data from other apps and gadgets to gain better insight into your health and lifestyle. You can measure your heart rate variability by holding your finger up to your phone's camera or using the 'Mindfulness' app on your Apple Watch.
They provide you with daily health metrics, exercise and sleep analysis, blood pressure interpretation, and much more. Also, send you daily hacks to help you take care of yourself little by little.
Welltory helps you by recommending breathing exercises when you need them most. You also get suggestions on how to cope with stress, panic attacks, and insomnia.
Cardiogram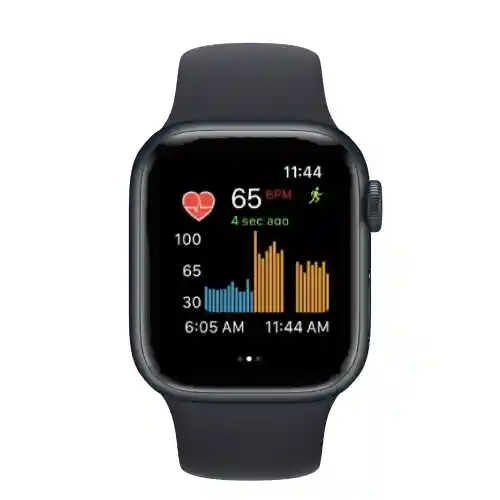 Track your heart's health, along with understanding your sleep, stress, and cardio fitness through interactive graphs, comprehensive metrics, and notes to help track daily fluctuations in the health of your heart.
The Cardiogram goes beyond measuring heart rate, it helps you build lifelong habits to optimize your heart health. Take control of your goals, whether it's losing weight or improving your cardio.
Insights into your sleep, stress, fitness, and lifestyle help you optimize your overall heart health using long-term trends to see how building new habits will improve your daily heart rate metrics.
CardioBot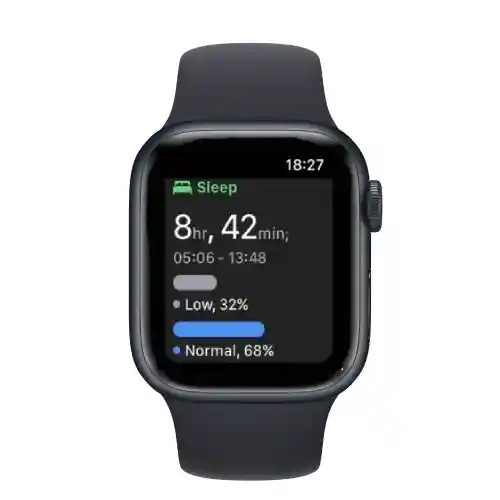 CardioBot uses studies provided by the American Heart Association to create smart suggestions to help you improve your cardiovascular system and maintain a good health condition.
The app separates low, normal, elevated, and high heart rate readings using different colors and graphs, allowing you to see averages at a glance. This can help you to determine your stress level.
It also provides accurate sleep analysis information for a complete dashboard of your heart rate. All this is done with a minimal and elegant interface that makes it easy to view daily statistics, browse detailed timelines and compare daily changes.
Qardio Heart Health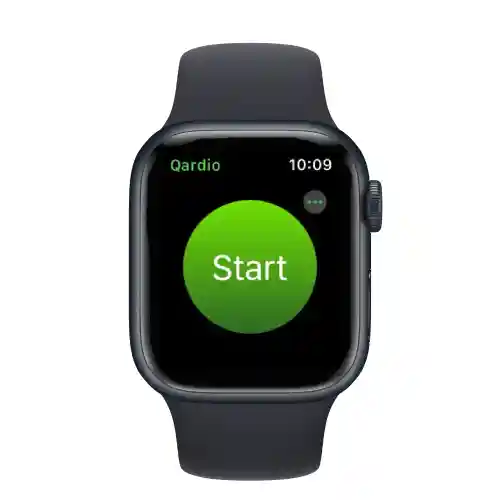 The Qardio App is for anyone who wants to take control of their heart health, improve fitness and reach their health goals without getting stressed.
It's also for people with heart disease or chronic conditions that need to be monitored or improved, and for those who are advised by their doctor to monitor their blood pressure and manage their heart health.
This app can help you to track your progress with smart graphs, trends, and statistics. You can set reminders and goals, and understand how your lifestyle creates an impact on your health and stress level. With Qardio, you can record and store your vital signs and be able to make more informed health decisions.
Training Today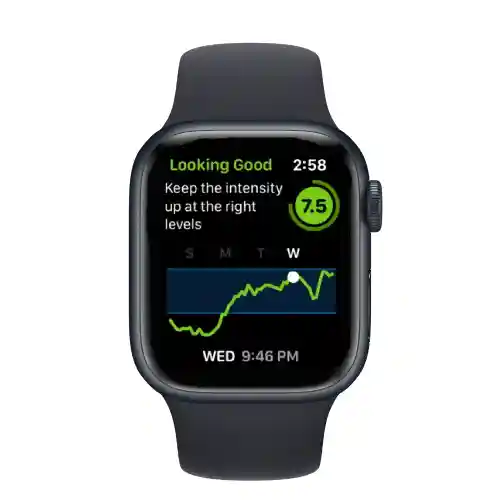 Training Today continuously monitors the health data of your Apple Watch to calculate your readiness to train (RTT) every day, throughout the day.
Using the Today Training app, you can stop yourself from overtraining. With the help of this app, you can determine if it is the best time to work hard, rest, or relax. This way, you will know if you are overstressed and need time to calm yourself, mentally and physically.
Heart Analyzer: Cardio Monitor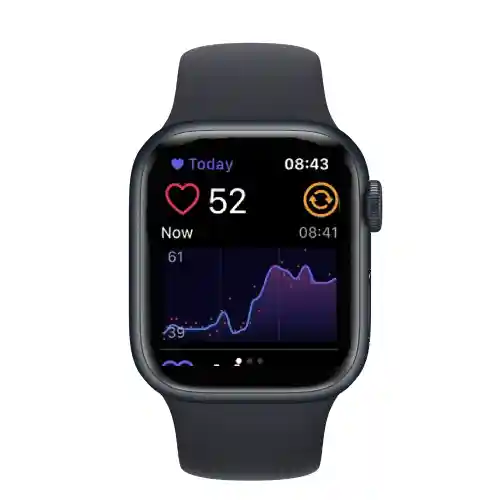 Heart Analyzer is an amazing app that is specifically designed for Apple Watch. This app uses your heart rate to produce various data in the form of chats, reports, and metrics.
Some of these reports are on data that you had no idea about. By harnessing the full power of the Apple Watch and all the data it measures in the Health app, the Heart Analyzer helps you to understand your data and identify personal trends. This way, you always keep your stress under control.
Wrap Up – What's the One We Like?
All these apps are efficient and effectively monitor stress, but I'll tell you the one we like the most:
In no time, you got to know the best nine stress monitor apps for Apple Watch. Now, with this information, you can work on things that may reduce your stress and keep your mental health intact.
Cheers to a happy and stress-free life ahead.
---
Read More On Apple Watch