Once you start loving your Apple Watch, it might be difficult for you to take it off. But it needs to be charged occasionally; so that it doesn't run out of battery.
Have you ever wondered if there are any alternative ways to charge your Apple Watch other than the regular way? Throughout this post, you'll learn a few alternatives and creative ways to charge your Apple Watch. But before that, let's see how an Apple Watch is charged normally.
Let's Dive In!
Related | 10 Alternative Ways to Wear Your Apple Watch (With Images)
What Is the Regular Way of Charging An Apple Watch?
The regular way of charging an Apple Watch is by using the included magnetic charger. With the magnetic charger attached to the watch, you can charge it on your bedside table, in a kitchen, or anywhere with a power outlet.
While regularly charging your Apple Watch these are the steps that you should follow:
First, remove the Apple Watch from your wrist carefully. Take the USB adapter and connect the charging cable or dock to it.
After this, you've to connect the USB adapter to a power source or outlet. If it's a portable charger, all you have to do is to plug it into the power source with a USB output.
Then, place the back of the Apple Watch on the charger.
Align the charger's magnets with your Apple Watch to fix it in place securely. Once it is connected properly, it will start charging immediately. 
You will see a green flash appearing on the screen. This indicates that it's charging.
You should wait until the battery is charged to full. A full charge will take almost two and a half hours.
Once your Apple Watch is fully charged, you can carefully detach it from the charger.
Apple Watches are typically charged this way. Let's now explore seven different ways you can charge your Apple Watch in various situations you might encounter.
7 Best Alternative Ways to Charge Your Apple Watch
Use Wireless Chargers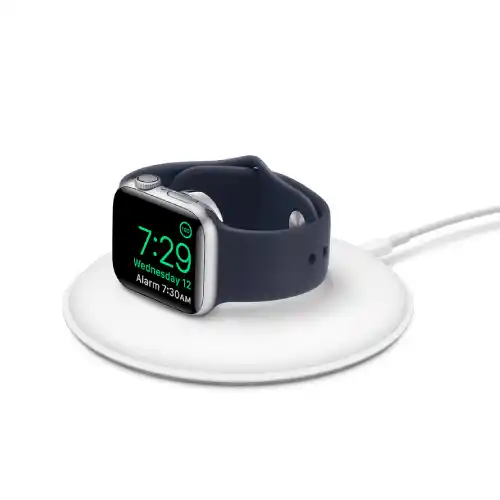 Why tangle yourself in wires when you can go wireless? Opting for a wireless charger for your Apple Watch is a great option if you are tired of the hassles caused by the wires.
Carrying around a charger with wires is most troublesome while you are traveling. Because the wires can get tangled with the other things in your bag and interrupt the charging process.
Even when you are in your house, a wireless charger is more convenient and easy to use. So make the most of your Apple Watch by switching to wireless chargers.
Use Portable Keychain Chargers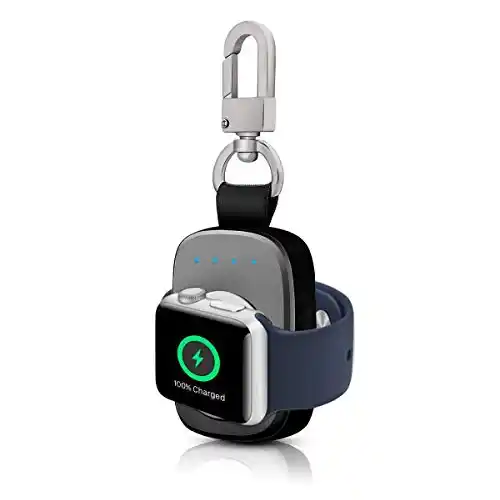 A smart and convenient charger that you can carry around like a keychain. This keychain charger, which is exclusively engineered for Apple Watches, comes with a battery capacity of 1000mah, letting you charge your Apple Watch up to 2-3 times a day.
In this portable keychain charger, the built-in magnet allows the watch to align itself automatically when the back of the watch is brought close to the magnet. Sounds cool, Right?
Also, using the keychain charger, your Watch will be fully charged in just two hours.
Use Snap-in Magnetic Chargers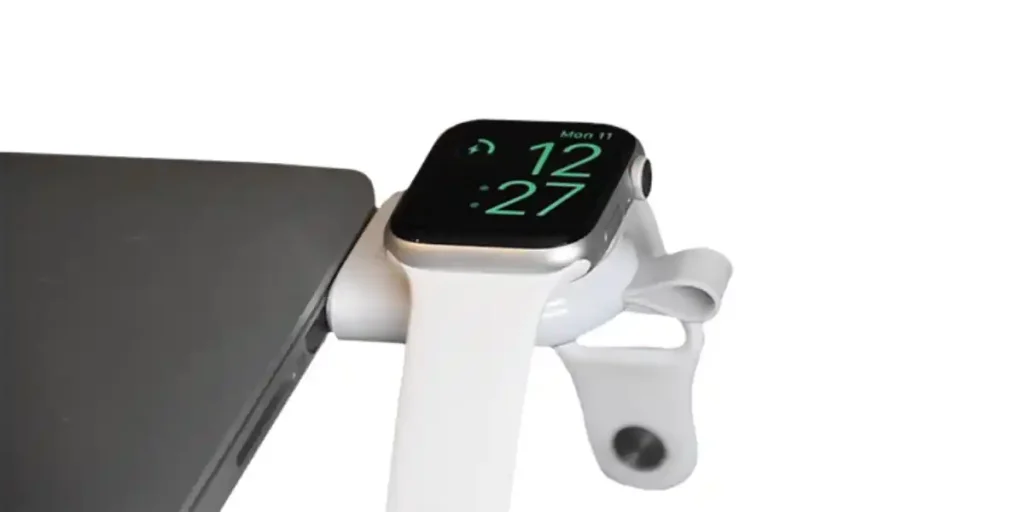 Snap-In Magnetic chargers will be your travel companion wherever you go. You can use it effortlessly. Simply hold the connector of the charger close to the back of your Apple Watch, and the magnets will cause it to snap into place automatically.
This portable charger can be used with all Apple Watches, regardless of the size and model. Now, you don't need an extra long cable for charging. All you have to do is to plug in the charger to a power source which could be a power bank, laptop, wall charger, or any other USB-supported device.
Using A Wall Charging Stand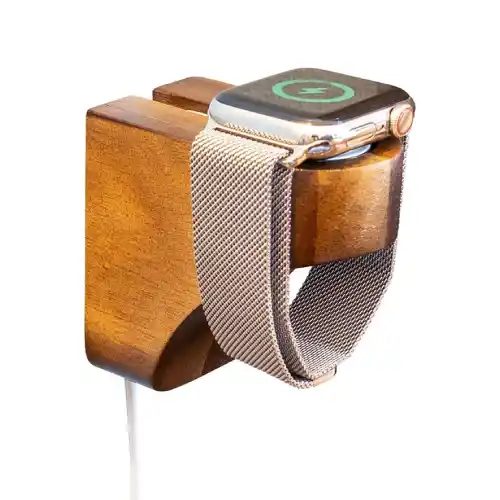 Are you an aesthetic person? Then, this charging option is just perfect for you. Setting up a wall charging stand for your Apple Watch is like building a home for it. The wall charger, which comes with Velcro 3M command strips, is easy to hang and remove.
You won't need any tool for its installation. The magnetic hold of the charger will make sure that your watch is placed securely for charging.
Using Desk Charging Stands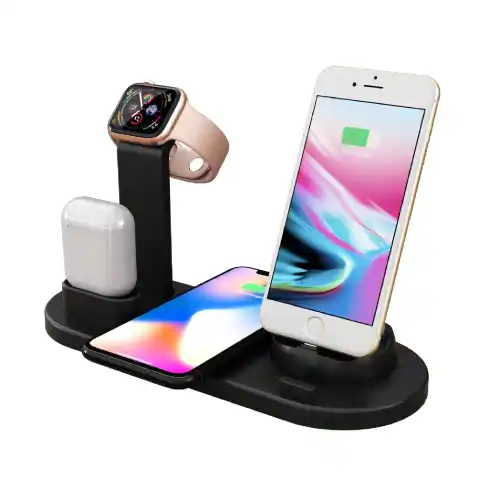 Are you looking for a place where you can charge all your Apple devices? Well, don't worry! We know exactly what you are looking for. The desk charging stands provide a 3-in-1 charging option where you can charge your Apple Watch, Apple phone, and AirPods at the same time.
These wireless chargers protect your device from overheating, overcharging, and overvoltage. Also, the silicon coating cover makes the charging docks electrostatic-proof.
Use Wireless Power Banks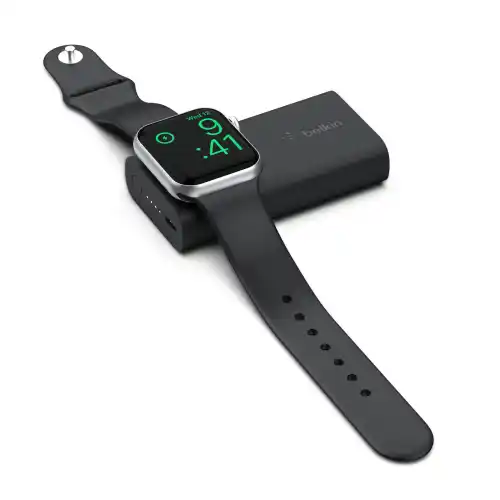 Who knew that even power banks could go wireless? Here comes another travel-friendly alternative for you to charge your Apple Watch anywhere and anytime without any hassle.
The compact-size wireless power banks can add up to 63 hours of battery life, which will be more than enough for your next adventure trip. These power banks are light-weighted, so you can put them away in your bag and carry them around easily.
Put it in a Smart Charging Case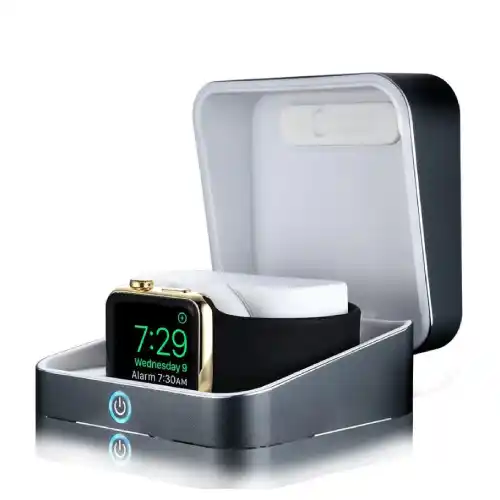 Another smart alternative to charging your Apple Watch is to use a smart charging case. Won't it be nice if you could store your Apple Watch in a secure place while charging it? With the smart charging case, you can charge your Apple Watch in various ways.
Place the watch inside the case and then charge it through the provided micro USB or the integrated power bank. And if you are going out, just close the lid and put the smart case in your bag. And your watch will continue to charge from there.
FAQs on Alternative Ways to Charge Apple Watch
Can Apple Watch be charged using an iPhone charger?
While it's always advisable that you use the Apple Watch charger to charge your watch, with the MagSafe Duo Charger, you can charge both your iPhone and your Apple Watch.
The charger is designed to work with the iPhone 12 and iPhone 13 models, and all the Apple Watch models. But charging both your iPhone and Apple Watch at the same time may slow down the charging process.
Is there a way to charge my Apple Watch without a charger?
Yes. If you don't have your Apple Watch charger with you, there are other ways to charge your watch. You can use the hidden port to charge your apple watch without a charger. You can also use a USB charger, iPhone charger, or portable battery pack to charge your watch, if not the hidden port.
Can I Use an Apple Watch with a Samsung wireless charger?
You cannot charge your Apple Watch with a Samsung wireless charger. The opposite is also not possible. A Samsung watch also cannot be charged using the wireless charger of an Apple Watch.
Because the proprietary cables and adapters made by the manufacturers are unique and designed specifically for their products.
Wrap Up – What's the One We Like?
While there are seven alternative ways of charging your Apple Watch mentioned above, our favorite is:
We bet you had no clue that there were so many alternative ways to charge your Apple Watch. All these alternatives are smart and convenient options that you can choose to follow.
Try out all of these ways or the one that you liked the most.
---
Read More On Apple Watch