As a fitness freak, the biggest distraction is screens. Whether it's a smartphone or tablet, you waste a lot of time once you start using them. Similarly, the smartwatch screens are also a no-go option for me as I want to focus on fitness goals rather than continuously check calories burned or distance-covered notifications.
Therefore, I was looking for a screen-free solution until I bought a Whoop 4.0, a wearable fitness-tracking wristband. The best thing about Whoop is its membership, giving you access to all premium fitness features. If that's not everything, you can also enjoy Whoop discounts. How? Let's find out!
Does Whoop Offer Discounts?
Whoop offers occasional discounts and promotions, especially during the holiday season. They also offer coupon discounts for new shoppers. If you subscribe to Whoop Pro, you get 20% off on all items, a free item every three months, and early access to new accessories.
6 Best Ways to Avail Discount On Whoop Membership
As a customer, we are always interested to avail discounts. In fact, we should be excited about it as multiple discount options are available throughout the year and during holiday seasons. However, you don't need to wait for the Whoop holiday season discounts as you can use the following ways.
Longer Whoop Membership
Whoop offers 4 membership tiers: monthly, annual, and 24-month subscriptions. All these memberships include a lifetime warranty, personalized insights, built-in coaching features, and weekly and monthly performance reports.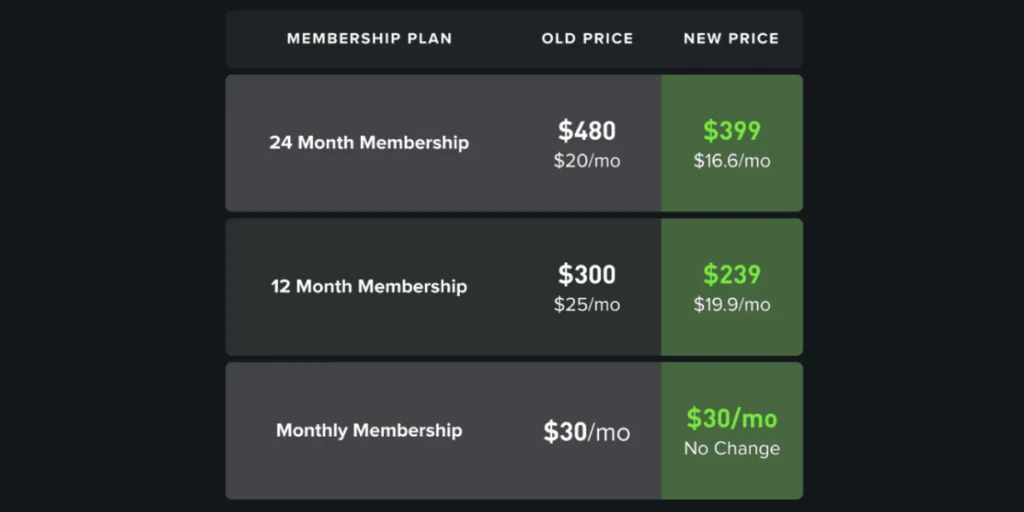 The monthly membership starts at $30/month, 12-month membership costs $239, and 24-month membership costs $399. If you opt for the annual plan, you save 26%; if you opt for the 24-month plan, you save 38%.
If you go for the monthly subscription plan, which starts at $30, you will have to pay an extra $49 for the Whoop 4.0 wristband, which comes free with annual membership commitments. A longer membership lowers the cost and makes you eligible for more discounts that Whoop may send you in E-mails.
Discount and Promo Codes Websites
Many popular and authentic websites continuously track thousands of brands for discounts. You can visit websites like RetailMeNot, Honey, CouponCabin, and many others. The coupon and promo codes are regularly updated on these websites. They may not work all the time, but some of them do work!
See Also | List of WHOOP Discount Codes That Actually Works
Sign up for E-mail Letters
Signing up for a Whoop email is a simple and easy way to do this. Whoop will give you an email with a coupon offer in a few days. Whoop 4.0 or the monthly plan may be cheaper with the coupon code.
Sign Up and Don't Buy Anything (A bonus trick)
The companies are always looking to sell products and services. But if you sign up, fill your cart, and don't pay, the company sees you as a missed opportunity. Eventually, the company sends you an E-mail saying, looks like you forgot to complete the purchase, here's the discount offer, etc.
It would be best if you tried this trick.
Whoop Pro
Whoop Pro is a newly introduced subscription plan separate from Whoop fitness membership. The perks offered in Whoop Pro are attractive, as you get free items every 3 months, including bands, batteries, and WHOOP Body.

For example, if you subscribe to Whoop Pro, you can choose one free product upfront from three products and receive more free items every three months. Imagine getting free products worth $256 value for just $144 a year. I chose a free Heather Superknit Band, which usually costs $49.
Whoop Sales Support
You can also call Whoop's sales support and tell them how interested and excited you are to buy their product. You can also ask sales support if they have any discount codes or special codes they could share with you. If the guys in sales have coupons for discounts, they will share.
FAQs: Discounts On WHOOP Membership
Wrap Up
The screen-free fitness tracking solution is great if you don't want to buy expensive smartwatches like Apple. WHOOP 4.0, a wearable fitness-tracking wristband, is a great affordable alternative with all the premium fitness tracking features. You can subscribe to WHOOP annual membership plans to access fitness features, built-in coaching, and weekly and monthly health reports.
However, you don't have to pay full money as WHOOP occasionally offers discounts and promotions. I have shared some ways and several strategies, such as signing up for their newsletter, exploring discount and promo code websites, or utilizing the abandoned cart trick to save on membership. Alternatively, if you are a healthcare worker, student, or military person, you can officially confirm if the discounts are available.
---
Read More On Whoop