No wonder why fitness enthusiasts are in love with Fitbit products. With its stylish, slick design and functionality, Fitbits have proved to be one of the most accurate fitness trackers out in the market.
While it isn't a complete smartwatch, its high quality makes it quite expensive and demanding. So, if it is money that is stopping you from buying a Fitbit, you can always go for a refurbished one.
But is it worth it? Where will you find one? Which refurbished Fitbit should you buy? If you are confused about all this, the guide has all the answers you're looking for.
Let's Dive In!
What's The Difference Between a New Fitbit And a Refurbished One?
A new Fitbit, as you can imagine, is a fully functional smart band with no defects or issues, while a refurbished Fitbit means it has been used and returned by the customer due to various reasons.
In case of a return, the product may be damaged and not functioning properly. It is then repaired and tested by a manufacturer before being sold in the market at a lower price than the original rate.
You should know that Fitbit never sells a refurbished smart band. So if you are buying a refurbished Fitbit, it's probably from a third-party retailer and not from Fitbit itself.
Even though the purchase is unofficial, you don't need to worry about the efficiency of a refurbished Fitbit. As Fitbits are known for their durability, even refurbished Fitbits will offer the full functionality of a new one.
How Long Do Fitbits Usually Last?
It is only normal that when you invest your hard-earned money in a fitness device, you expect it to last and work for a long time. If it is used with care and kept in excellent shape, then Fitbits usually last over 1-2 years. With normal usage, they last somewhere between 16-18 months.
But to be precise, their durability mostly depends on a wide variety of factors. It may depend on the quality of your Fitbit's hardware, frequency of cleaning, battery health, reset frequency, and the model of the Fitbit that you carry. So if you want your investment to be worth it, take good care of your Fitbit.
Is It Worth Buying A Refurbished Fitbit?
Now let's answer the most important question. Is it worth buying a refurbished Fitbit? Or should you just buy a new one?
We buy refurbished products so that we can buy something good and expensive at a lower price. Despite not being a smartwatch, Fitbits are expensive, catering to its reliable and accurate 24/7 health monitoring.
If you are short of money to buy a new Fitbit but also wish for the same features as the new one, the best option you have is to go for a refurbished Fitbit.
Here, you should know that with an unofficial purchase, the Fitbit you are buying might have defects. You may find that your Fitbit is not tracking sleep properly or is giving out inconsistent data.
While it's always worth buying a refurbished Fitbit with the same efficiency as a new one, always be careful from where you buy it and ensure that it's working properly without any malfunction.
Where to Buy a Refurbished Fitbit?
While we are referring to a refurbished Fitbit, you should know that Fitbit doesn't sell refurbished products. Once they have sold a product and the product is returned to them due to any reason, they don't resell it.
If you are onto purchasing a refurbished Fitbit, you should keep in mind that you will be buying it unofficially from a third-party retailer.
Here are some of the places where you can find good quality refurbished Fitbits: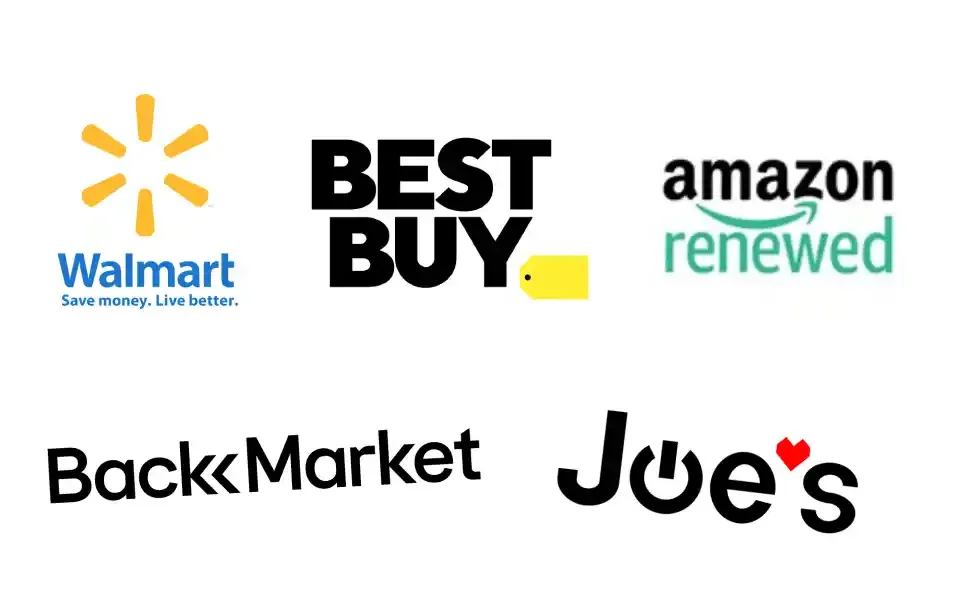 Which Refurbished Fitbit Should I Buy?
Fitbit Versa 3
Why should you buy it?
Fitbit Versa 3 has everything you need in a smartwatch. With a built-in GPS feature, you track your pace and distance even when you have left your phone at home. You can even get call, text, and app notifications.
You can also control Spotify, Deezer, and Pandora using the device. The built-in mic and speaker can be used to take Bluetooth calls when your phone is not near to you. With Active Zone Minutes, there are about 20+ exercise modes to keep you moving.
Battery life that can extend to 6+ days with 12-minute fast charging, will give you an uninterrupted work session and health monitoring. This is all you need to keep you consistent in your fitness journey.
Fitbit Inspire
Why should you buy it?
Are you looking for a friendly fitness tracker that helps you daily to build healthy habits? Then Fitbit Inspire is a good option for you. It can be your fitness partner that enables you to reach your daily fitness goals.
With calorie burn tracking, sleep tracking and guidance, goal celebrations, and reminders to move, Fitness Inspire helps you throughout your fitness journey while keeping you on track.
Fitbit Charge 4
Why should you buy it?
Using 24/7 heart rate, the Fitbit Charge 4 accurately tracks your resting heart rate and measures your calorie burn. When you are in your personalized Cardio, Fat Burn, or Peak heart rate zones, Active Zone Minutes never miss to alert you.
While you are outside for an outdoor workout session, you can see a workout intensity map in the app that shows the changes in your heart rate along your route.
Wrap Up
This was everything you wanted to know about buying a refurbished Fitbit. Lack of money shouldn't keep you from enjoying the best features offered by Fitbit smart bands. But before buying one, always make sure that it is tested and verified by the seller and does not have any defects.
Happy Buying!
---
Read More On Fitbit