If you have a small wrist, you might be unsure whether the Fitbit model you intend to purchase will fit. It may leave you with a question – Does Fitbit Fit Small Wrists?
That's the first right step you did by asking this question.
You might not want to end up buying a Fitbit that doesn't fit your small wrist because the loose dangling Fitbit on your wrist can become pretty inconvenient.
The Fitbit lineup has a limited collection to choose from. These include Versa, Versa Lite, Versa 2, Versa 3, and the new Fitbit Sense. On the other hand, the Fitbit lineup also includes fitness trackers, including the most popular Charge series.
There are certain factors you should take into consideration when choosing a Fitbit and its band, especially if you have small wrists. Here is a quick guide that helped me choose the ideal Fitbit for my small wrist.
I'm sure this will work well for you too. Let's Dive In!
Does Fitbit Fit Small Wrists? (In A Nutshell)
There are two standard sizes to choose from; small (S) and large (L).
Those with smaller wrists will want to opt for the small size Fitbit strap, while larger wrists will need the larger band size. The smaller Fitbit band size is designed to fit wrists sized 140 to 170 mm, while the large Fitbit band size fits wrists between 170 and 206 mm.
Generally, people often believe that they need to choose a specific Fitbit model to make it perfectly fit their small wrists. That's a myth.
No matter which Fitbit model you prefer, the only thing that matters is the band size, which can be replaced after purchasing your Fitbit. However, there are a few other factors like case height and case diameter, which also play a minor role; we'll discuss them later in this post.
But first, let's do the most crucial step, which is measuring your wrist.
How to Measure Your Wrist Size For A Fitbit?
You need to determine your wrist size before deciding which Fitbit and Band to purchase. It is necessary because the process becomes relatively easy once you find out what's your wrist size, then you can purchase your Fitbit accordingly.
To determine your wrist size, Fitbit has an official method that involves using the Fitbit Sizing Tool. And an alternative method can also be carried out with a Rope.
Method One: Fitbit Sizing Tool (Official)
Fitbit sizing tool is an official way that helps you find the correct size Fitbit. It is designed to help you make an informed decision and determine your wrist size to get the right fit if you have a small wrist.
Here's how to use Fitbit Sizing Tool:
Print out the Fitbit Sizing Tool at its original size. Do not scale to fit it.
Cut and wrap the sample band around your wrist while keeping the end with the arrow on top.
Ensure that the band rests flat against your wrist.
Choose the size the arrow points to, and you're done.
Click Below to Download Your Preferred Sizing Tool
Can't find the model you're looking for? Search manually on Google. For example, if you're looking sizing tool for Fitbit Flex, search "Fitbit Flex Sizing Tool."
See Also | Are Fitbit Watch Bands Interchangeable?
Method Two: Using Rope
If you don't want to get involved in the hassle of printing out sizing tools, then ropes are one of the most effective ways to measure your wrist size.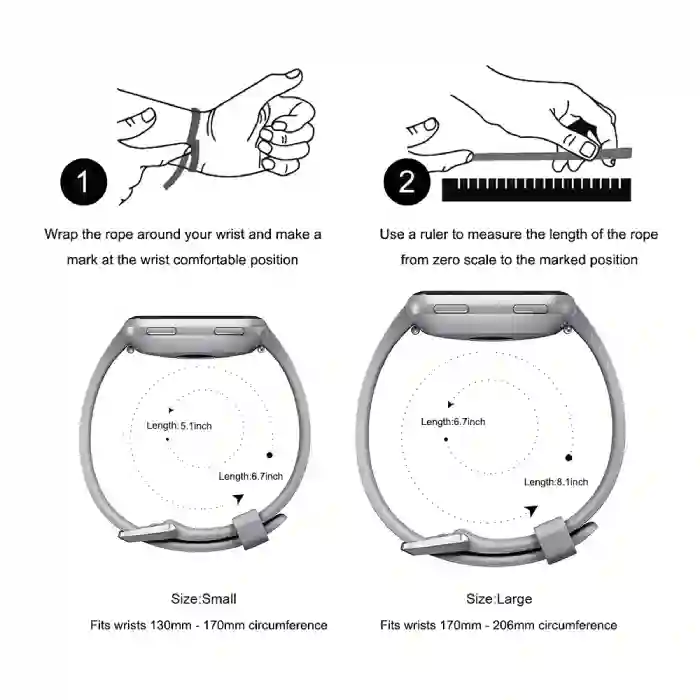 Just wrap it around your wrist and mark where the points meet. And then measure it on a ruler.
It's that simple.
If you come up with two different measurements, it is recommended to buy a Fitbit size that is the biggest in your measurements. Since Fitbit is adjustable, you can buy a size that is the largest in your measurement.
How to Choose The Perfect Fitbit for Your Small Wrist?
Now that you have measured your wrist size, let's talk about factors that you should consider when choosing a Fitbit if you have small wrists.
The following are some factors to consider:
Case Diameter
Case Height/ Thickness
Band Size
Pick the Right Case Diameter
Many people with small wrists ignore the importance of picking a case with the correct diameter. When selecting, a small to medium watch case diameters between 38 mm – 42 mm will be appropriate for small wrists. And the cases with 44 mm – 46 mm as the diameter is generally suitable for large wrist sizes.
How to determine the right case diameter for you? To quickly figure out which case diameter would fit, wrap your wrist with a dollar bill to get your wrist circumference.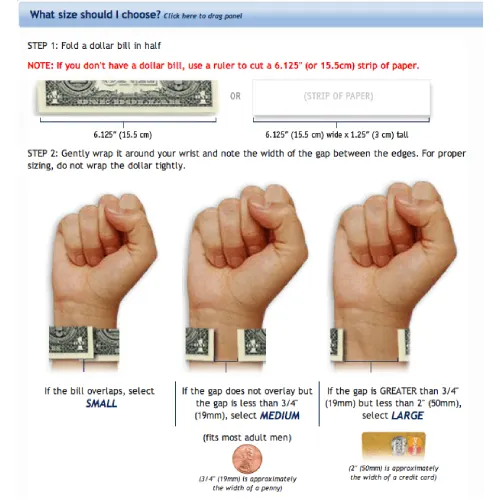 If a dollar bill successfully gets wrapped around your wrist, then your waist circumference should be between 6-7 inches, which falls into the small-medium range.
Pick the Right Case Height (Thickness)
Case height or thickness also plays a role in choosing a Fitbit for a small wrist. One simple rule of thumb to note here is; the case height or thickness increases with an increase in case diameter.
According to TheTrendSpotter, when it comes to case thickness, 6-12 mm is ideal for a person with small wrists.
Hence, remember that smaller wrists are best served by Fitbit with a case thickness falling within a range of 6-12 mm.
Pick the Right Band Size
As discussed earlier, there are two standard sizes to choose from; small (S) and large (L). A third size is also available extra-large, which is usually preferred by someone with a wrist size between 206 mm and 236 mm.   
If you have smaller wrists, then it's recommended to go with small size bands, suitable for wrist sizes 140 mm to 170 mm.
For further assistance, please refer to the below table:
Band Size
Wrist Size
(In Inches)
Wrist Size
(In mm)
Small
5.5 inches to 6.7 inches
140 mm to 170 mm
Large
6.7 inches to 8.1 inches
170 mm to 206 mm
Extra Large
8.1 inches to 9.3 inches
206 mm to 236 mm
Fitbit Size Guide Table
Best Fitbit and Bands Combination for Small Wrists
| | | | | |
| --- | --- | --- | --- | --- |
| | | | | |
| | | | | |
| | | | | |
| | | | | |
| | | | | |
Read More On Fitbit