When bought an Apple Watch last year, I always made sure to use the native charger but this one time I forgot as I was traveling. So I thought, why not charge it using my iPhone's charger since both products are of the same ecosystem? But to my surprise, it refused to charge my iPhone and I was taken back.
Anyway, I did look up the reasons, and let me share my interesting findings.
Can you Charge Apple Watch with iPhone?
No, you cannot charge Apple Watch using iPhone or iPad charger as they both don't support reverse charging. But there is a catch as Apple's MagSafe Duo charger can charge both iPhone and Apple Watch at the same time.
Is there A Way to Charge Apple Watch Without A Charger?
The beautiful aspect of technology is that it has a solution for everything. Sometimes when native product manufacturers limit the options, there are always third-party services that offer an alternative solution.
One such solution is portable battery packs. Portable battery packs are a lifesaver especially when you commute daily or go for a long route as they don't need to plug in. All you have to do is take out a battery pack and place your watch against the concave side of the battery pack.
We recommend this Portable power bank.
3 More Creative Ways to Charge Your Apple Watch
If Apple does not give options as they have different charging solutions for almost all products but that doesn't stop third-party manufacturers from finding innovative solutions for consumers. After all, it's a win-win, both for consumers and manufacturers.
Here we give some extra creative ways that you can use to charge your Apple Watch:
Using Power Bank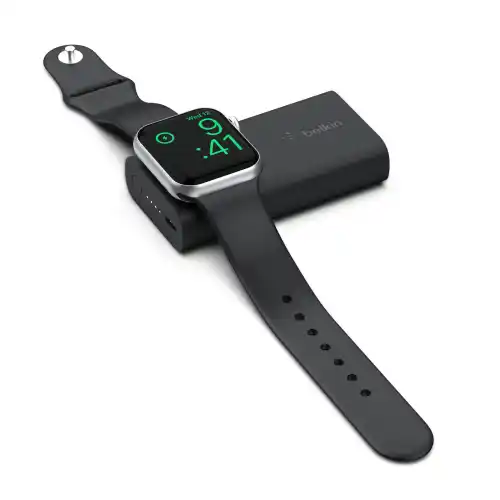 If you don't like being attached to walled chargers all the time and guess everyone wants everything with no-strings-attached, so we recommend BOOST↑CHARGE™ Power Bank 2K for Apple Watch as it can power up Apple Smartwatch for up to a whopping 63 hours. It's a lightweight and compact device with MFi certifications which simply means that it meets Apple standards.
Key features
Lightweight and compact
6" micro-USB cable included
Add up to 63 hours of battery life
Use Portable Snap-in Travel Charger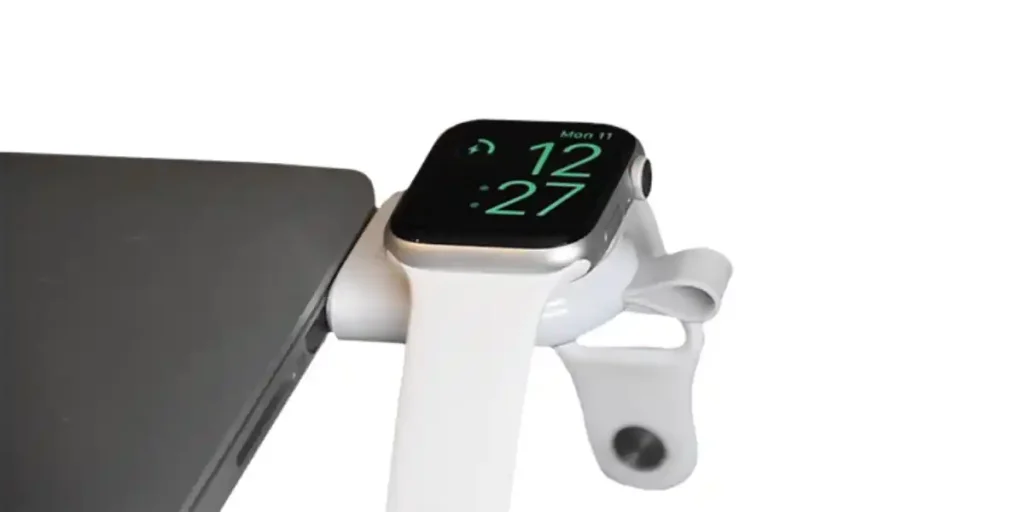 It doesn't matter whether you have got an old series or the latest series of Apple Watch, this portable charger is compatible with all devices. Its ultra-low price and very compact size make it a go-to choice for Apple Watch enthusiasts.
Key Features
Magnetic induction charging which starts charging immediately after contact.
USB charging as this portable charger also supports USB-A charging port.
It provides short-circuit protection.
Fast Charging ensures that your Apple Smartwatch is charged within 2-3 hours.
A cableless design saves you from the tangling and untangling of wires.
Compact size charger that can be used as a keychain or can simply be put in your pocket.
Use Portable Watch Box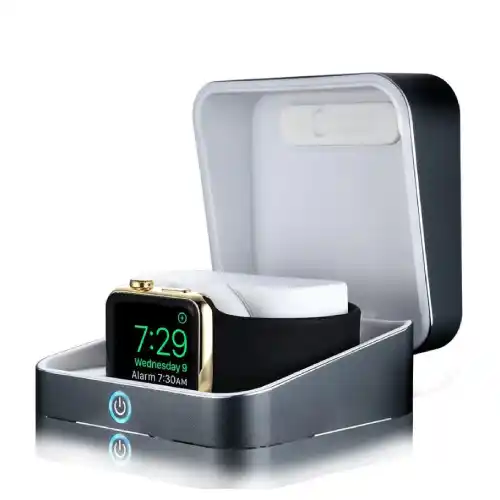 This Japanese Sumato Watchbox is compatible with all the Apple Smartwatch lineups. It works with both 38mm and 42mm dials. And to add icing to the cake, Sumato Watchbox can be a home to your Apple Smartwatch as well as you can place your watch inside the box when you are not wearing and guess what, it charges the smartwatch as well when placed inside.
You can charge your Apple Smartwatch from the battery as Watchbox comes with an integrated 5000 mAH power bank. It can charge your device up to 10 times on a single charge.
When you have the liberty to place your Apple Smartwatch inside the box then you needn't worry about where you place your Watchbox. Whether it is in the dashboard of the car or a backpack, once you take it out it will be charged!
Indicators have made our lives easier whether it's a rear indicator of the car or a significant indicator of the car. Now just imagine a Watchbox that indicates when the battery is full, so you don't have to check your Smartwatch again and again.
Recommended | 7 Alternative Ways to Charge Your Apple Watch (Creative!)
FAQs On Charging Apple Watch with iPhone
We have outlined the best possible solutions to charge your iPhone, but we also thought you might have still some quires so why not answer them as well?
Can I Use iPhone Charger for Apple Watch?
No, you cannot use an iPhone charger to charge your Apple Watch, but you can use MagSafe Duo Charger which can charge both your iPhone and Apple Watch and is sold separately by Apple.
How Are portable Apple Watch Chargers Good?
Portable chargers are suitable solutions for your Apple Watch as they can be carried around and can be used anywhere especially when you are on the move. And they don't require a plug-in but do make sure they are MFi certified.
Do Apple Watch and iPhone use the Same Charging Port?
No, you can not use iPhone's lightning cable to charge your Apple Watch as Watch has a dedicated charging cable with a magnetic charging dock so practically both charging ports are different.
---
Read More On Apple Watch