Most people use their Fitbit for utility purposes like tracking activity, looking at unseen notifications, and such kinds of stuff. Playing games on your Fitbit is something you have least imagined.
Fitbit Gallery Store has a huge collection of exciting games to kill your boredom. You'll get a bunch of exciting games as well as a new concept that makes you addicted.
I recommend playing these games when battery draining isn't an issue. These games can drain your battery much faster.
Although, don't expect these games to be high-end graphics-oriented ones. You'll get all basic and casual games that will be enough to pass your free time.
During my research, I found some really fun games out there to make your life easier. I have played the majority of them. So here are the eleven best games for your Fitbit to Play.  
11 Best Games for Fitbit Smartwatches
The Snake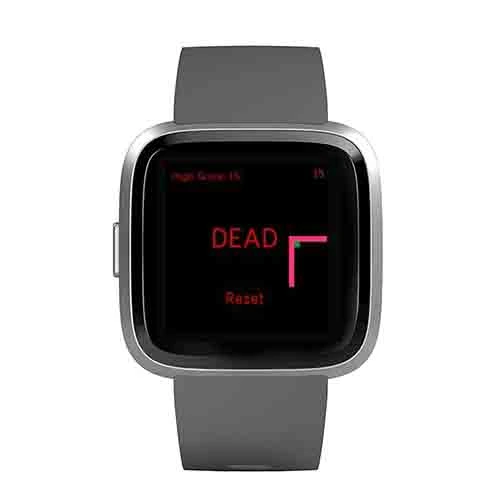 Supported Devices: Ionic, Versa, Versa 2, Versa Lite
Nothing will excite you more than playing the classic Snake game on your Fitbit watch. The classic Snake game, which was first featured on Nokia 6110, is now playable on Fitbit watches, one of the best games you can easily get addicted to.
The concept is the same as before. You have to move the snake to eat its food on the way. On eating, the snake evolves larger and starts moving quickly. Your objective is to prevent the snake from running into itself or the walls. Otherwise, the game gets over.
I really appreciate the developers for introducing this nostalgic snake game to Fitbit. Check it out, you'll love to play it during free hours, and kill your boredom.
Drag Racing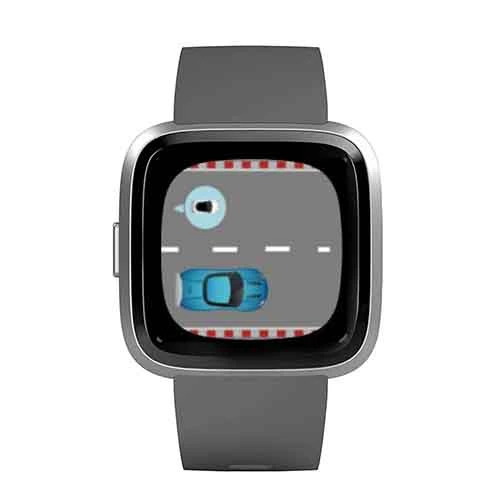 Supported Devices: Sense, Versa 3
While looking for some racing games to experience on my Fitbit, I bumped into something called Drag Racing.
To be honest, playing Drag Racing was fun and addictive at the same time.
The game starts with two cars on the screen, your objective is to get ahead of the opponent. Here comes the tricky part, the car gets its speed up and slows down randomly. You have to boost its speed at the right time to stay ahead, it all depends on timing.
On winning, you'll be rewarded with 100 virtual bucks to purchase new nice-looking cars. Overall, this is a great game and can be fun playing on Fitbit.
Tic Tac Toe (Glow Version)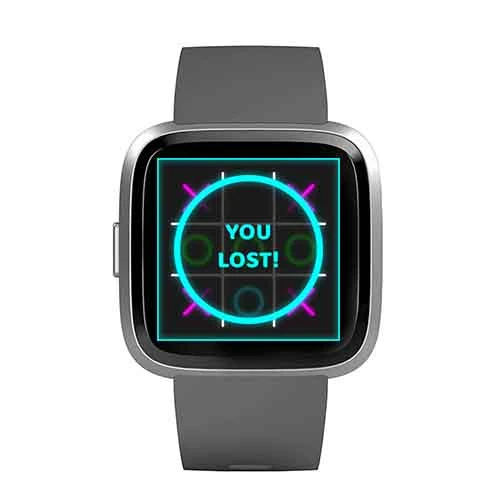 Supported Devices: Sense, Versa, Versa 2, Versa 3, Versa Lite
How about playing Tic-Tac-Toe on your Watch? Taking a break from your busy day and playing Tic-Tac-Toe with your friends and family is one of the best ways to unwind. Thanks to Fitbit for making it available on their watches.
The same concept, Tic-Tac-Toe involves two players drawing either an 'O' or an 'X.' The player who fills three boxes in a row with the same symbol wins the game.
Tic-Tac-Toe in this version will appear visually appealing due to the glowing symbols. Since it's a multiplayer game, the game can be played with your friends and family.
Additionally, the intelligent AI allows you to play alone (You vs Fitbit) while traveling, this technology uses a heuristic algorithm to determine what moves are the most beneficial.
Tap Race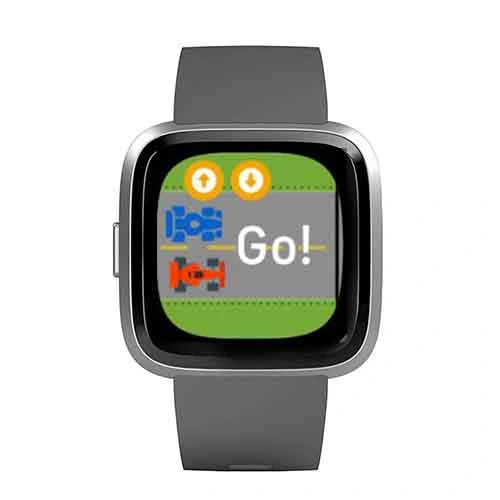 Supported Devices: Sense, Versa 3
Tap race, another exciting game on this list to install on your Fitbit. Similar to Drag Racing, Tap Race also falls under one of the best racing games available for Fitbit.
As the name suggests, you must tap the screen to dodge other cars coming in front. Your goal is to avoid hitting other cars and score as high as possible while protecting your car.
As soon as you tap the screen, you will have five seconds to dodge the first car. After that, the game continues. The car speeds up as you continue to move, so stay focused to avoid hitting others. Overall, a fun arcade game to pass your time.
Flight Simulator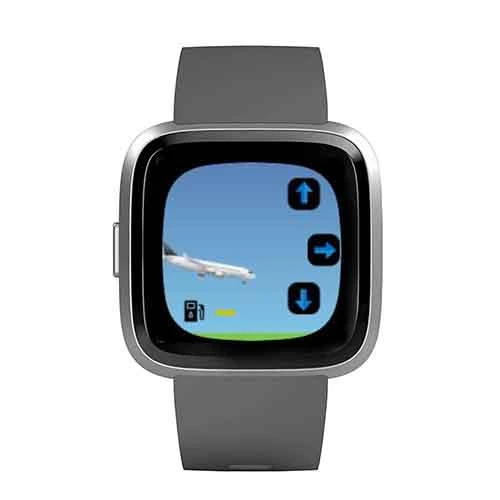 Supported Devices: Sense, Versa, Versa 2, Versa 3, Versa Lite
Simulator games are quite interactive. In such games, the player operates some kind of vehicle, machine, or equipment to achieve certain goals. Most racing games can be seen as at least partially simulating driving skills.
For Fitbit, I got this simulation game called Flight simulator. You play the role of a pilot in this game, and you control this plane in the air. Your watch's screen will have controllers to control the plane by going up, down, and straight.
As you fly, the fuel may run out on the way, the plane automatically lands on the ground and gets refilled again.
The Flight Simulator does not have any gaming objectives. Do not expect it to have levels like previous games. Simulator games are purely for fun with no missions to complete and are based on the imagination of the player.
Block Rain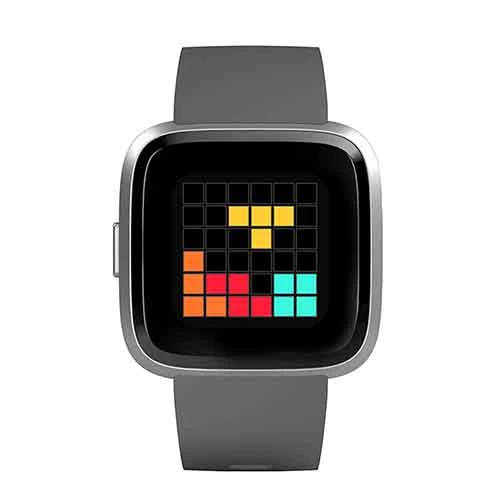 Supported Device: Sense, Versa, Versa 2, Versa 3, Versa Lite
Remember back in the days when we used to play the popular Tetris game, spending hours to keep the game going. We've come a long way that the game is now available on most devices, including smartwatches like Fitbit.
In the Block Rain game, the player must control blocks to form a row of ten pieces without any gaps. Each player-controlled piece in a puzzle is made up of a different shape that is seen at the bottom of the screen. The block shapes are composed of four square blocks each.
A study says, playing Tetris helps their brain work better and stay focused on tasks.
Chicken Flap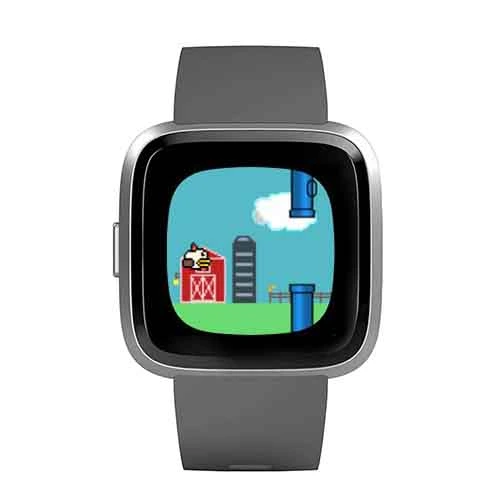 Supported Devices: Sense, Versa 3
The internet was taken over by Flappy Bird a few years ago. It's a fun and challenging game at the same time. That's a reason why most people were addicted to it.
Chicken Flap works the same way. The player controls the chicken's wildly flapping wings by tapping on the screen. There is no control over gravity in this game. The gameplay revolves around controlling a bird through pipes and how long you can do it.
Each pipe you cross credits one score point. Concentrate on traveling through as many pipes as you can, as the more you cross, the more score you earn.
Nashki Sliding Puzzle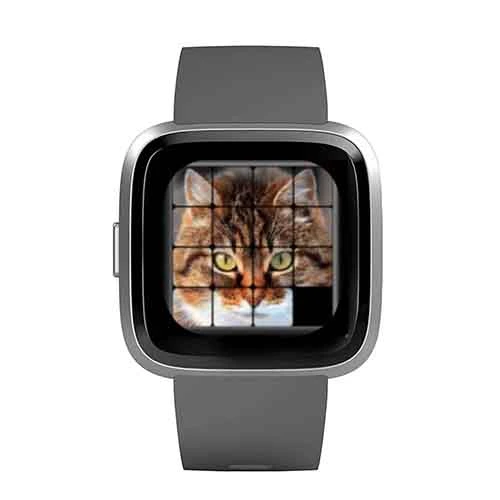 Supported Devices: Ionic, Sense, Versa, Versa 2, Versa 3, Versa Lite
Want to test your visual, logic, and memory skills with a game? The Nashki Sliding Puzzle generates a random image divided into 16 tiles. You have to slide these tiles by touching the block you want to move and reassemble the picture in the quickest time possible.
Nashki Sliding Puzzle comes with 10 preloaded images, but you can add your own pictures to create even more stunning puzzles.
These preloaded images include Cool Cat, Taj Mahal, Nature, Mona Lisa, Spaceship, Butterfly, Tower Clock, Martishor, Vintage PC, and 15 puzzles.
Price: Paid (Free only if purchased EPIC Bundle)
Circle Pong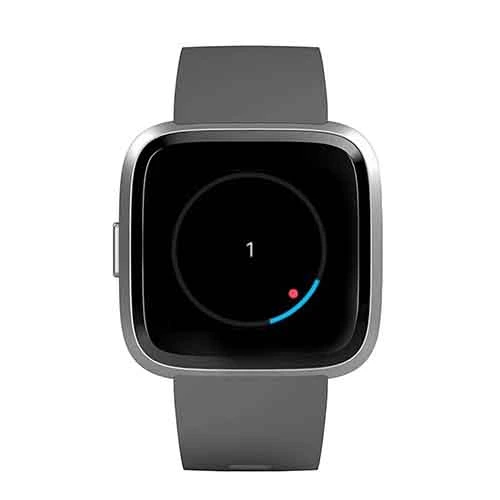 Supported Devices: Sense, Versa, Versa 2, Versa 3, Versa Lite
Circle pong is a simple yet addictive game for Fitbit users out there. The rules are simple, just tap to start, then move the paddle across the circle where the ball goes, hitting the ball as many times as you can. It looks simple, but it's hard to master, so be patient and play calmly.
Dino Jump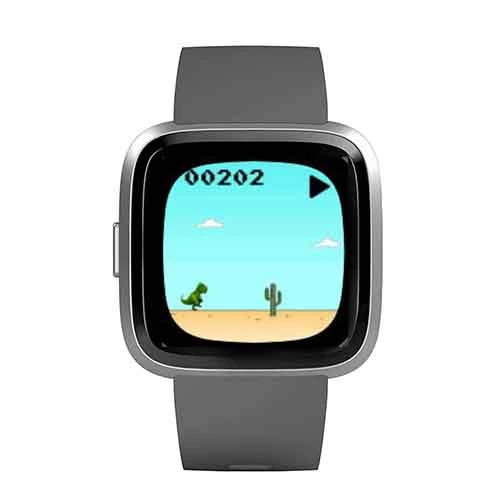 Supported Devices: Ionic, Sense, Versa, Versa 2, Versa 3, Versa Lite
Love chrome's dinosaur game, T-Rex? The Dino Jump is perfect for you.
With the Fitbit watch, you can now play chrome's T-Rex game from your wrist. However, the Dino Jump version has some improvements in terms of graphics. And looks colorful as well as interactive at the same time.
For an original experience, you can switch to the pixelated version from the settings. 
In this game, you'll be controlling a dinosaur moving on its own. The goal is to avoid hitting obstacles and keep increasing the score. With time, the dinosaur starts moving faster. Try to avoid hitting the obstacles; otherwise, the game is over.
Shell Game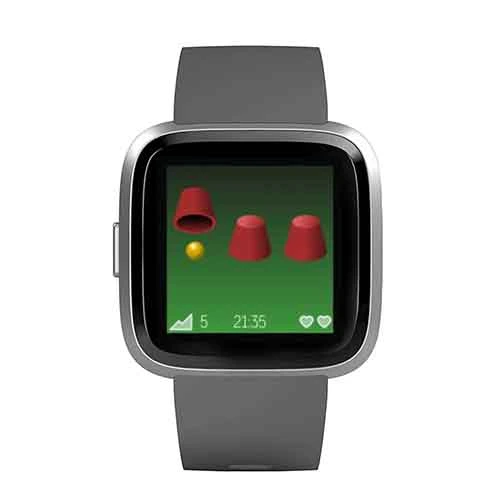 Supported Devices: Versa, Versa 2, Versa Lite
Looking for a casual game to play on your Fitbit? The Shell Game (known as thimblerig) places you in a position where you must find the ball hidden under the cup by guessing it.
The Shell Game consists of placing three or more identical cups facedown on a table. Under one of these containers, a ball is hidden in a way that it's invisible, and they are then shuffled. Your job is to tap the container in which the ball is placed.
It may seem simple, but with every correct answer, the shuffling gets faster, so you have to stay sharp & focused to keep going.
Read More On Fitbit