If you have a Fitbit, you know how challenging it can be to find the perfect clock face for your Fitbit. I personally find it confusing when trying to explore a new clock face to match my style. Because with so many clock face options, choosing the best clock face for Fitbit has never been an easy task.
Let me make this easy for you!
In this post, I have listed a total of eleven clock faces that I tried during my quest to customize my Fitbit screen. Most of them are free, but some of them can cost you between 1 to 2 dollars, which is quite affordable to bet.
However, be sure to check back often, as more developers are adding new options to Fitbit each day.
Let's Dive In!
11 Best Fitbit Clock Faces to Install Now
Bitmoji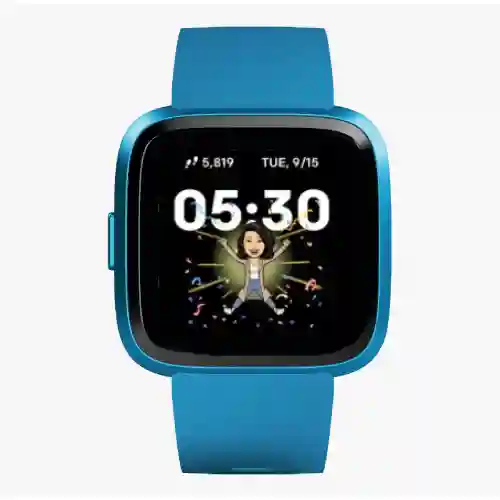 Compatible Fitbit Models: Ionic, Sense, Versa, Versa 2, Versa 3, and Versa Lite
Fitbit has partnered with Snap Inc to bring you one of the best clock faces, the Bitmoji. Your thoughts are displayed on this clock face with the help of an animated character that wears your face throughout the day. For example, when you complete your goals, the Bitmoji clock face shows a character celebrating your achievement.
For data fields, the Bitmoji clock face shows the basic things like date, time, and steps. To set up Bitmoji on your Fitbit, here's a complete guide you can follow.
SpO2 Stack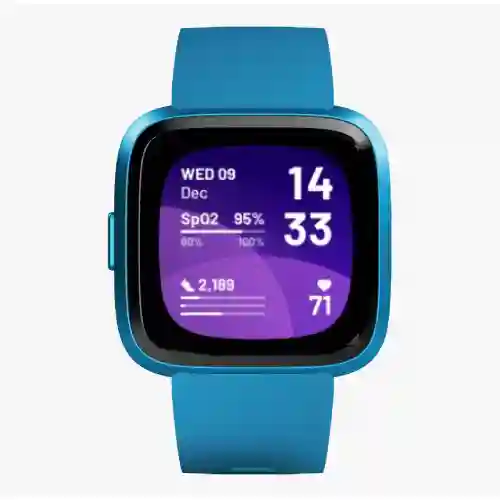 Compatible Fitbit Models: Sense, and Versa 3
Monitoring blood oxygen levels help ensure that everything is working properly.
The SpO2 Stack clock face shows the most recent night-time SpO2 reading and other key metrics. With the help of Fitbit's heart rate, sleep, SpO2, and other data, the clock face presents your blood oxygen saturation levels on the screen.
It is important to note that Fitbit SpO2 does not show or measure SpO2 values lower than 80%. The measurement will be displayed as "<80%" if it is less than 80%. Other than these, the Fitbit displays heart rate, steps, and day/date/time on the screen.
Disclaimer: Please do not use this clock face to diagnose or treat any medical condition. Use it only to get a rough idea.
Ringtensity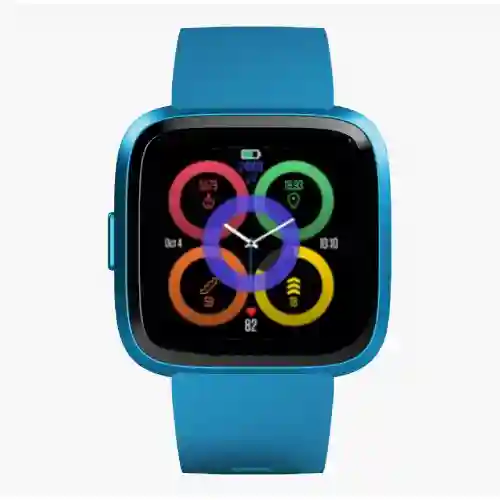 Compatible Fitbit Models: Sense, Versa, Versa 2, and Versa 3
Do you want a combination of the digital and analog clock face? The Ringtensity clock face offers an elegant looking digital and analog clock appearance with four interlocking arcs consisting of different data fields such as steps, distance, calories, and floors climbed.
To the bottom, you'll find a heart icon representing your heart rate in real-time. And to the top, current battery life can also be seen. To get this clock face, it'll cost you a one-time payment of $1.99, which is payable through KiezelPay.
Overall, Ringtensity is a smart, classic, unisex, and elegant-looking clock face that you need to try once.
Recommended | How to Pay for Fitbit Clock Faces? (Quick Guide)
Tropicale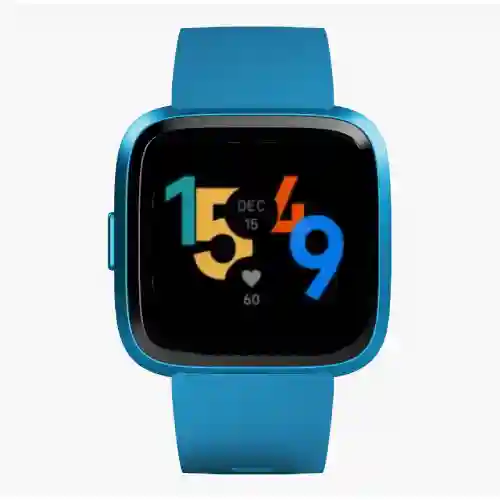 Compatible Fitbit Models: Sense and Versa 3
The Tropicale clock face by Fitbit is a colorful digital watch face for your Fitbit featuring large text showing time. This makes it easy on the eyes, allowing you to check the time at a glance.
The clock face provides a fun, and tropical look and feels by combining multiple colors and a staggered layout. Additionally, its vibrant colors give you an instant mood boost in the morning and help you stay focused throughout the day.
The developer didn't overcrowd this clock face with several fields. Only two of the data fields are visible i.e. month/date and heart rate.
Simple Watch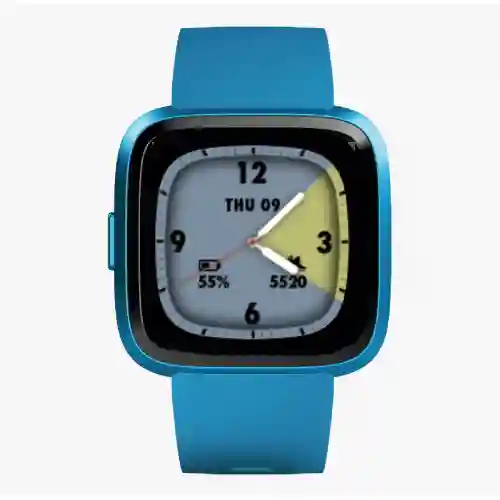 Compatible Fitbit Models: Sense, and Versa 3
If you want to keep your Fitbit as simple as possible, then try this analog clock face called Simple Watch. This analog clock face features an hour, minute, and second hand, making it ideal for those who want an analog clock face with a second hand.
For example, healthcare assistants like nurses often need a second hand on their watches to easily count the seconds while measuring a patient's pulse. In such cases, the Simple Watch clock face can come to the rescue. Apart from these, it shows basic data fields such as battery left, steps, and day/date.
The clock face will cost you $1.20, so if you want an analog clock face with a second hand, you can blindly bet on it.
Pokewalk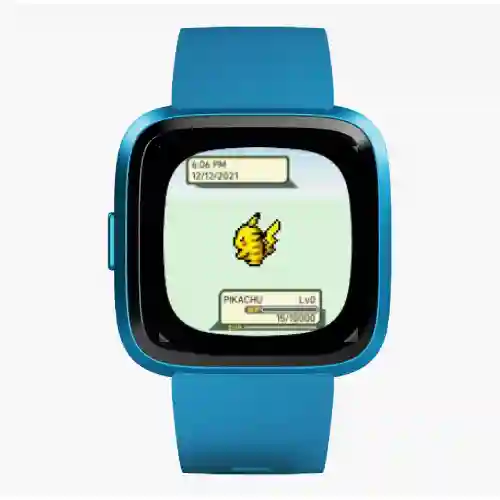 Compatible Fitbit Models: Sense and Versa 3
Pokewalk clock face's unique concept can be a treat for all Pokemon fans out there. The clock face features a cute little animated Pikachu on the screen; your goal is to make this little Pikachu stronger. You're probably wondering how that works, right?
It's simple, the more you walk, the stronger it becomes. My favorite thing about this concept is – it keeps one challenged to reach the goal. Additionally, you'll also find an HP bar that fills up as you walk your daily steps goal and gain experience.
You may struggle with battery life here since the animation consumes a lot of battery. Install only if you're comfortable with it.
Noxie Clock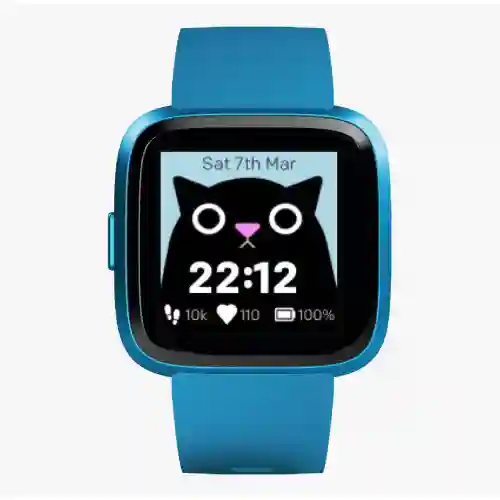 Compatible Fitbit Models: Versa, Versa 2, and Versa Lite
Here's one animated clock face for cat lovers out there. The developer created this clock face in honor of her cat named Noxie. Occasionally, you'll notice that Noxie will do silly things like looking left/right, sleeping, or getting angry to keep you entertained while you're checking the time.
It keeps you on edge to wonder under what conditions you will catch Noxie next time you check your watch. Talking about clock face features, the Noxie clock face can be customized to either twelve-hour or twenty-four-hour digital displays. Moreover, it shows steps, heart rate, battery along current date/day.
Blokk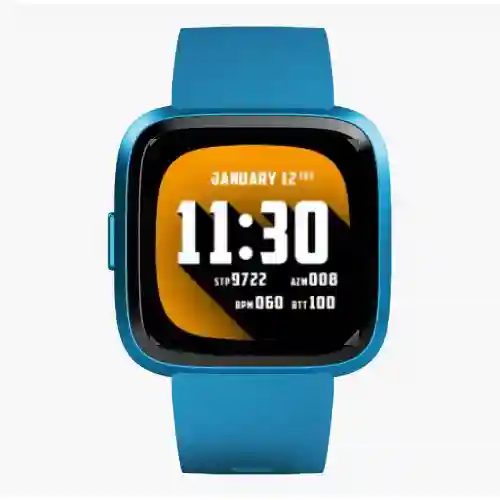 Compatible Fitbit Models: Ionic, Sense, Versa, Versa 2, Versa 3, and Versa Lite
The Blokk clock face was designed by Andor Czafik, who wanted to create something more suitable for typography and gradient lovers out there. There are up to four gradient color combinations to choose from. The text, however, remains white with a black border and a sharp shadow cast from left to right.
It shows time in the middle with a large font, making it easy to read at a glance. In addition, you get four extra slots to customize data fields of your choice like steps, heart rate, distance, and more.
Retro Sunset V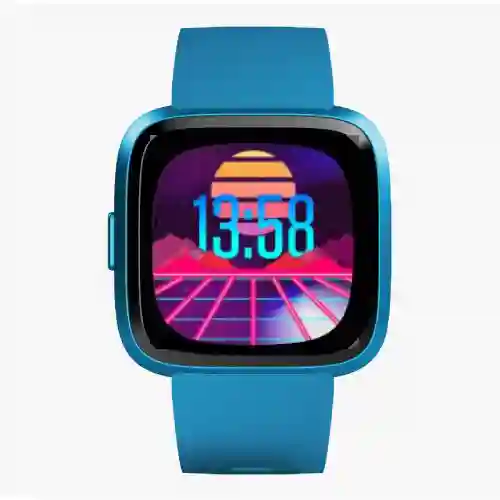 Compatible Fitbit Models: Ionic, Sense, Versa, Versa 2, Versa 3, and Versa Lite
The retro sunset watch face for Fitbit is a beautiful new design that will make you feel like you're living in the 80s. It's a perfect combination of colors and simplicity, which will make your Fitbit stand out from others. This clock face was first released for Fitbit's Ionic devices, but it was later released for the majority of Fitbit's models.
With large, easy-to-read text, the central display shows the time, and tapping in the center lets you switch between various data fields, including steps, distance, zone minutes, and calories burned.
Arrows
Compatible Fitbit Models: Ionic, Sense, Versa, Versa 2, Versa 3, and Versa Lite
Would you prefer a clock face that emphasizes data the most? Arrows by Lignite is a minimalist, colorful, elegant clock face that prioritizes the data fields the most. Up to six stats appear on your screen at once, with a large time in the middle for easy viewing.
The data fields include insights into steps, calories, active minutes, weather, heart rate, and battery. These data are well organized with colorful arrow-shaped layers in the background, which looks pleasing to the eyes.
Layers Loop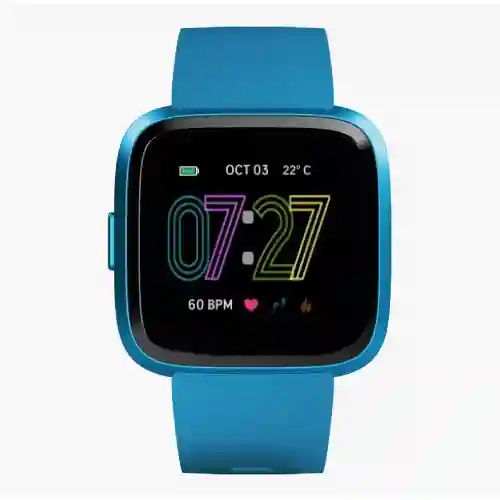 Compatible Fitbit Models: Ionic, Sense, Versa, Versa 2, Versa 3, and Versa Lite
Layers Loop is a loop-based font-style clock face with overlapping digits that visually creates a stylish appearance. Talking about the features, the Layers loop clock face has both 24 hour and 12-hour time formats that can be switched anytime to your preference.
You can add useful information on the screen such as weather, battery, steps, heart rate, calories, and more. Moreover, the settings have multiple color options to choose from. In addition to this, you also get to choose from different stats to display, including active zone minutes (day or week wise.)
How to Install Fitbit Clock Faces (Step By Step)
You can choose from a variety of clock faces that are available on the Fitbit app store. To install them on your Fitbit, follow these simple steps:
Step 1: Download the Fitbit app on your phone and log in with your account.
Step 2: Tap on the "Apps" tab at the bottom of the screen and then tap "Clock Faces".
Step 3: Scroll through all of the clock faces and select one that you like.
Step 4: Tap "Install" to download it to your device.
FAQs: Fitbit Clock Faces
Are All Fitbit Clock Faces Paid?
Not all Fitbit clock faces are paid. You can find both free and paid clock faces in Fitbit's gallery store. Paying for clock faces usually costs between 1 to 10 dollars, which is affordable.
How to Pay for Fitbit Clock Faces?
The developers of Fitbit clockfaces use KiezelPay to accept payments. For your information, KiezelPay is a payment gateway through which a customer can purchase digital products such as clock faces and apps. By using KiezelPay, you can pay via credit/debit card or PayPal.
Must Read | How to Pay for Fitbit Clock Faces? (Quick Guide)
How to Uninstall A Clock Face on Fitbit?
To begin, open the Fitbit app > Go to Profile > Select your Fitbit > Choose Gallery. You will be able to see all clock faces you saved earlier.
To uninstall a Fitbit clock face, tap the clock face > Choose "Remove Clock Face." That's it!
Where to Download Fitbit Clock Face from?
The Fitbit Gallery Store in the Fitbit app is the easiest way to see all of the available clock faces. It lets you customize clock faces, choose complications, and add them to your collection.
Read More On Fitbit