In recent years, Whoop straps have become increasingly popular due to their many promising features and functionality. They have become an ideal choice for those looking for a smartwatch alternative that primarily focuses on monitoring health and fitness data regardless of the fancy smartwatch features.
The company claims the straps are designed to be worn constantly under everyday circumstances, which raises several questions. After all, in a day we have so many things to do, right?
One of the common queries among Whoop users is whether you can wear one while in the shower. Well, I have spent hours researching this topic; Luckily, I got a quick answer for you.
Let's Find Out!
Read Later | 9 Advantages of Having a Whoop Strap In Your Life
Can You Wear Whoop Strap In the Shower?
Whoop Straps can be worn in the shower. However, you should clean it properly afterward so you don't leave the underside of the sensor damp or solid with soap, shampoo, lotion, conditioner, or perfume.
For waterproofing, Whoop straps usually come with an international standard rating of IP68, which makes them capable of resisting water submersion with a pressure of up to 3 to 10 ATMs, depending on the model.
According to WHOOP Support, the straps can be worn for most activities involving water such as Swimming in a pool or ocean, Hand Washing, Showering, and Bathing.

Whoop Support
Well, the IP68 rating gives you the advantage to use your Whoop in water activities such as taking a shower, swimming/bathing, and washing hands. However, keep in mind that Whoop cannot be used for recreational activities like diving or scuba diving.
You might have encountered some of the Whoop devices labeled as water-resistant while some of them labeled as waterproof. These two terms are entirely different.
Let's see what they mean.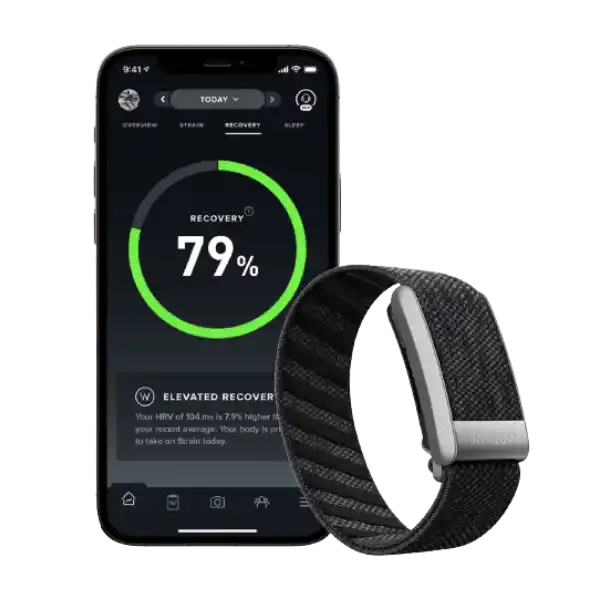 JOIN WHOOP
Looking for A Free Whoop Band? Join WHOOP for as low as $30 and get the new WHOOP 4.0 FREE with your membership.
Waterproof and Water-Resistant: What's the Difference?
When you own a Water-Resistant device, then you can submerge it underwater for a short time without getting it damaged. But a Water-Proof device is impermeable to water, and even if it remained submerged for a long duration, then it wouldn't be damaged.
Is WHOOP waterproof or water-resistant?
According to WHOOP, all of their devices, including Whoop 3.0 & 4.0 are waterproof as well as water-resistant and dry quickly after exposure to water.
For ratings, the Whoop 3.0 has a waterproof/water-resistant rating of IP68 up to 3 ATM. While the next-generation model, Whoop 4.0 has a rating of IP68 up to 10 ATM.
Can You Wear the Whoop 3.0 In the Shower?
Showering with Whoop 3.0 is ok, but you should always clean it thoroughly after showering because soap, shampoo, lotion, conditioner, or perfume deposits can affect your device over time, causing the sensors to not function properly.
In case you're using Whoop 3.0 Battery Pack to charge your device on the go, make sure not to accidentally expose it to water at any cost since it lacks waterproofing. Also, ensure that the WHOOP is fully dry after the shower before attaching the battery pack.
Can You Wear the Whoop 4.0 In the Shower?
Showering with Whoop 4.0 is okay, but you should clean it thoroughly afterward because soaps, shampoos, lotions, conditioners, and perfumes can wear down your device over time, reducing its functionality, and causing the sensors to not function properly.
It is a definite relief that the Whoop 4.0 Battery Pack eliminates the worry of accidentally taking your wireless charger into the shower, thanks to its waterproofing capabilities.
Cleaning and Caring for Your Whoop After Shower
Cleaning your Whoop Strap after a shower is a simple hack for maintaining its quality and helps to prevent deposits of soaps, shampoos, lotions, and conditioners from causing any damage to it. Also, not cleaning these deposits over time develops skin sensitivity such as redness or irritation.
Therefore, maintaining a clean sensor is always a good idea.
To clean your Whoop device, follow the steps below: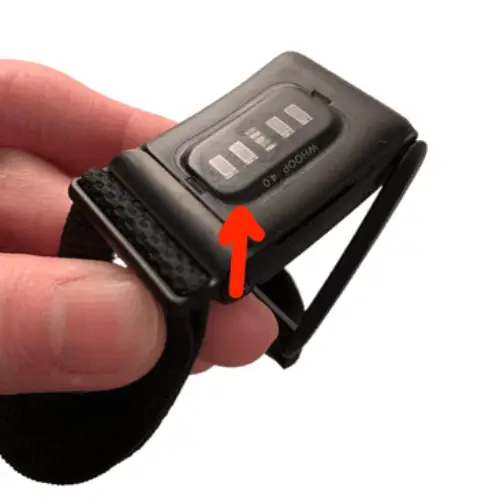 After showering, remove the Whoop Strap from your wrist.
Wash the band and sensor with soap/water.
Take a lint-free cloth, and use it to wipe clean your Whoop.
The thin groove around the underside of the sensor can quickly collect debris. Use a soft brush or toothpick to clean the inside/edges of the groove with a soft brush. 
Hang the Whoop to dry. Or, squeeze the band with a towel to wring out excess water. Additionally, you can keep the device off-wrist until it has fully dried before wearing it again.
FAQs: Whoop's Waterproofing Capability
Is It Bad to Wear Whoop All Day?
Even though Whoop claims their devices are designed to be worn 24/7, there will still be some pros and cons of wearing a whoop all day.
Pros:
– It can be used to monitor your health
– It can be used to track your sleep patterns
– It can be used to track your fitness levels
Cons:
– It may cause skin irritation or allergies in some people
– It may cause you to feel claustrophobic or uncomfortable
Can I Wear My Whoop Strap In the Pool?
The good news is Whoop Strap can be used for shallow-water activities like swimming in a pool or ocean, thanks to its IP68 waterproof rating.
Can I Wear My Whoop Strap in the Sauna?
Saunas typically maintain temperatures between 60° C to 90° C. The company has tested its device in saunas and it worked fine.
Can I Wear My Whoop Strap in Hot Tub?
A Sauna's temperature is much higher than a hot tub's. Since Whoop can handle the temperature of Sauna, you'll have no trouble wearing it in a hot tub.
Read More On Whoop