Have you bought a compatible heart rate monitor for your Peloton bike recently? Are you unable to figure out how to connect it? Despite Peloton's easy-to-use interface, it's normal for beginners like us not to get a grip on the pairing process right away. Here's where this guide comes to the rescue.
The following guide will show you how to set up any heart rate monitor for use with your Peloton bike, so you can monitor your heart rate while you ride.
However, to better understand how to connect any heart rate monitor with Peloton, let's have a quick look at its specification requirements and compatible devices. Let's Dive In!
Does Peloton Support Heart Rate Monitors?
The straightforward answer is YES. You can connect your heart rate monitor to the Peloton bike and it will show you live data on the screen while you are riding.
Peloton bikes use ANT+ technology & Bluetooth to connect external accessories like heart rate sensors, headphones, fitness trackers, etc.
According to Peloton Support, for your heart rate monitor to work, the device must have Bluetooth or ANT+ technology.

Peloton Support
Don't know what's ANT+? Here's a quick read: Ant+ technology is a wireless standard that allows fitness accessories such as heart rate sensors to communicate with fitness devices. Among its many applications are fitness and sports, home automation, and healthcare.
What Heart Rate Monitors Work with Peloton?
Any heart rate monitor that supports Bluetooth® and ANT+ will work with Peloton. The options are numerous, including Garmin heart rate monitor, Polar heart rate monitor, Wahoo heart rate monitor, Scosche heart rate monitor, and more.
Here are some of the popular HRM models that work with Peloton Bike:
| HRM Brand | Models | Connectivity Type |
| --- | --- | --- |
| Peloton | HRM Chest Band, HRM Arm Band | ANT+ |
| Garmin | HRM Dual, HRM Pro, HRM-Tri, HRM-Run, HRM-Swim | Bluetooth 4.0 and ANT+ |
| Wahoo | Tickr, Tickr X, and Tickr Fit | Bluetooth 4.0 and ANT+ |
| Polar | H9, H10, Verity Sense | Bluetooth 4.0 and ANT+ |
| Coospo | H6, H8, H808S, HW706, HW807 | Bluetooth 4.0 and ANT+ |
| Scosche | Rhythm 24, Rhythm + 2.0, Rhythm + | Bluetooth 4.0 and ANT+ |
| MyZone | MZ-switch, MZ-3, MZ-1 | Bluetooth 4.0 and ANT+ |
Must Check | List of Heart Rate Monitors Compatible with Peloton
How to Connect Any Heart Rate Monitor to Peloton?
Step 1: Wear Your Heart Rate Monitor Properly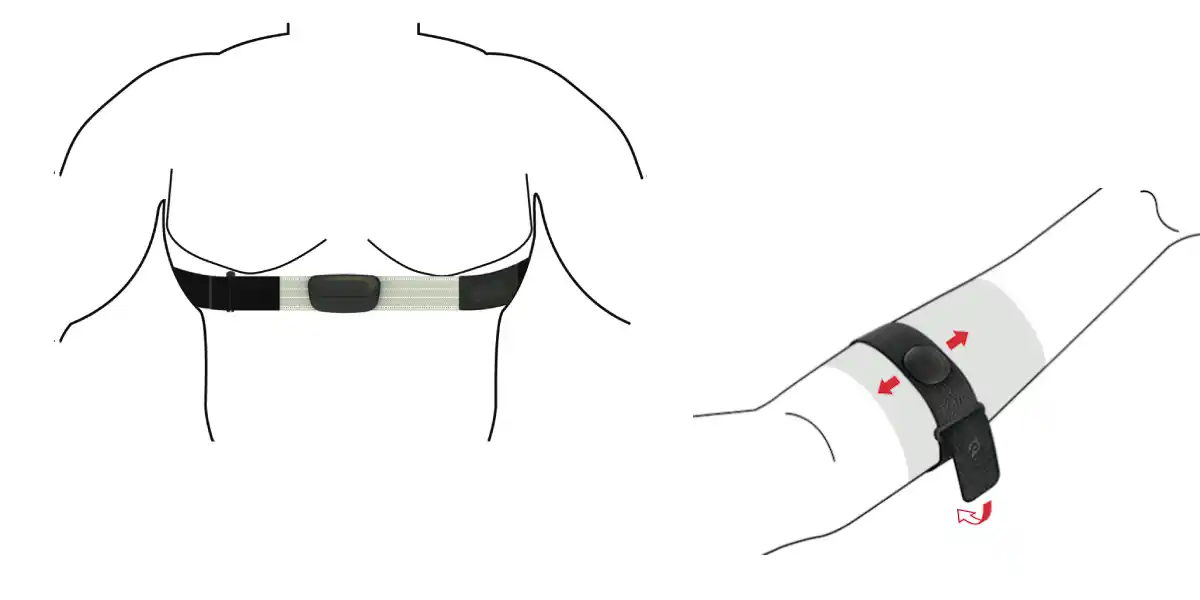 To begin, you'll first need to wear your heart rate monitor properly attached to your chest. Ensure that the band is tight around your chest and sensors are in full contact with your skin. If you got an HRM armband, then wear it tight on the upper arm for better accuracy.
Step 2: Enable Bluetooth On Peloton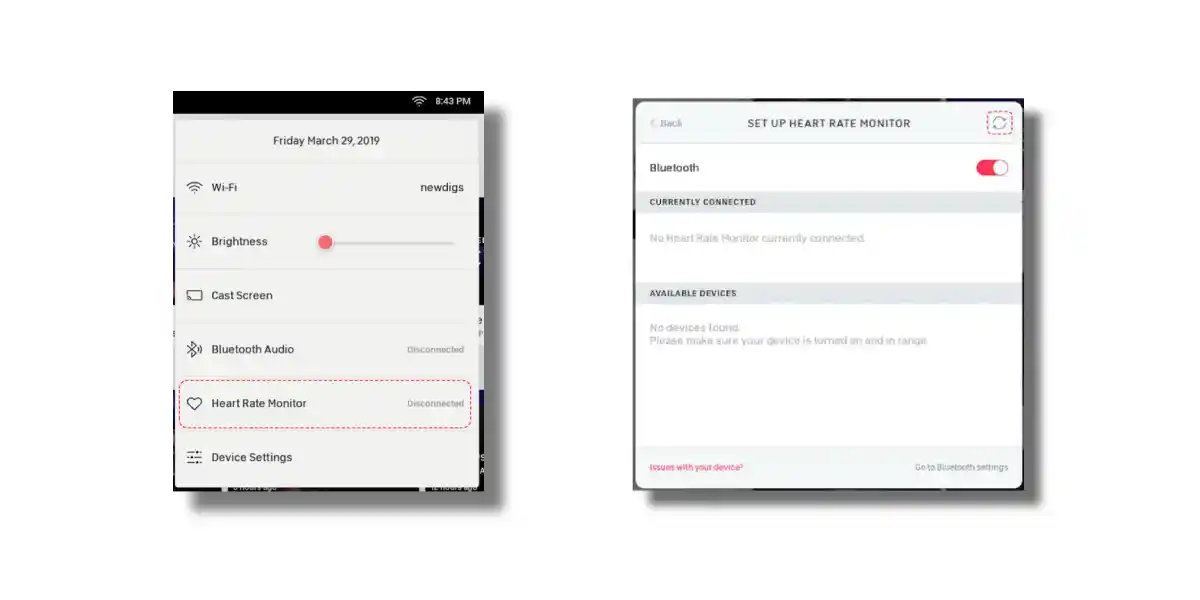 Once your heart rate monitor is properly attached and positioned, head over to your Peloton bike's home screen and look for HRM Connection Modal.
You can locate HRM Connection Modal by joining a class. Or tap on the current time showing on the top right corner of your bike's screen. Then, Select Heart Rate Monitor > Enable Bluetooth.
Step 3: Connect Your Heart Rate Monitor to Peloton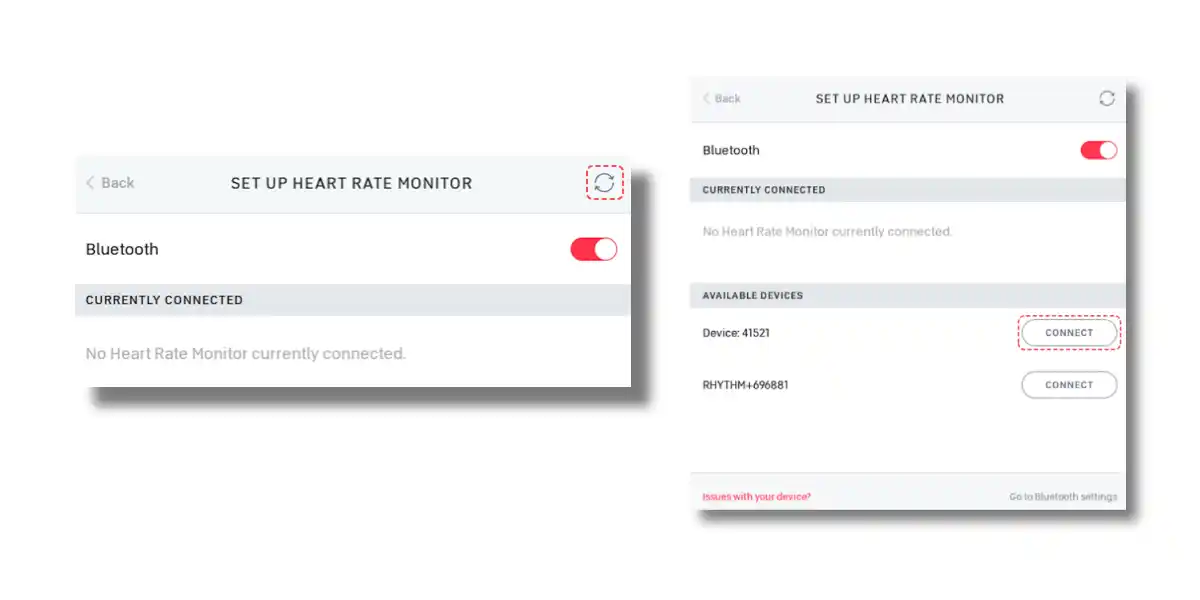 For your Peloton to detect the heart rate monitor you are trying to connect, make sure the device is turned on. And then, tap on the refresh 🔄 button located in the top right corner.
Once your device is discovered, you'll see your HRM under the Available Devices section. If it's a Bluetooth HRM, it'll show the device name only. However, in the case of ANT+ HRMs, it shows the device name along with an identification number. Tap Connect button right next to the device name.
Step 4: It's Done! Verify If it Works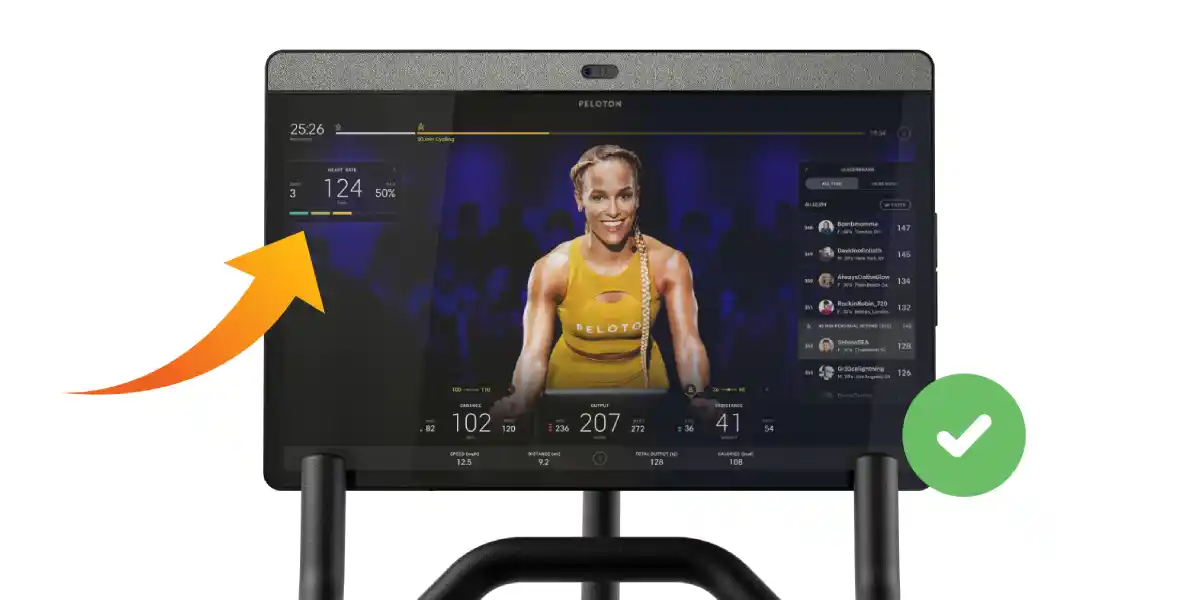 Congrats! Now you've successfully connected your heart rate monitor with your Peloton Bike. To verify if the connection was a success, join a class and check if the heart rate metric is showing in the top left corner of your bike's screen. If it doesn't show, continue with the troubleshooting methods below.
Got A Peloton HRM? A Complete Guide On How To Use Peloton Heart Rate Monitor
Tips to Fix Heart Rate Monitor Not Connecting to Peloton
Check Connections to Other Devices
It's likely your heart rate monitor isn't disconnected yet if you previously connected it to another device. Simply disconnect your HRM from the previously connected device, and then retry pairing with your Peloton bike. If that didn't work, proceed with the next method.
Disconnect & Re-Connect
If your peloton is not tracking heart rate even after a successful connection, disconnecting the HRM and repeating the same process to re-connect works most of the time.
Replace the Battery if Necessary
Possibly your heart rate monitor's battery might have been dead, causing the device not to connect with Peloton. To identify, you can check if your HRM's LED lights up.
If you don't see any light, assume the battery to be dead. And replace it.
---
Read More On Heart Rate Monitors