Workouts are incomplete when you have nothing to measure how far you have reached with your heart rate progress. Because monitoring your heart rate helps you interpret your workout and understand its benefits better. And that's why you should get yourself a Peloton Heart Rate Monitor.
If you have already got one and are confused about how to use Peloton Heart Rate Monitor, don't worry! I'll help you out. First, let's see how to set it up with your Peloton bike in the right way.
Let's Dive In!
The Right Way to Set Up Peloton Heart Rate Monitor With Peloton Bike
With a few easy steps, you can connect the Heart Rate Monitor with your Peloton. Read on to find out how:
Step 1: Unboxing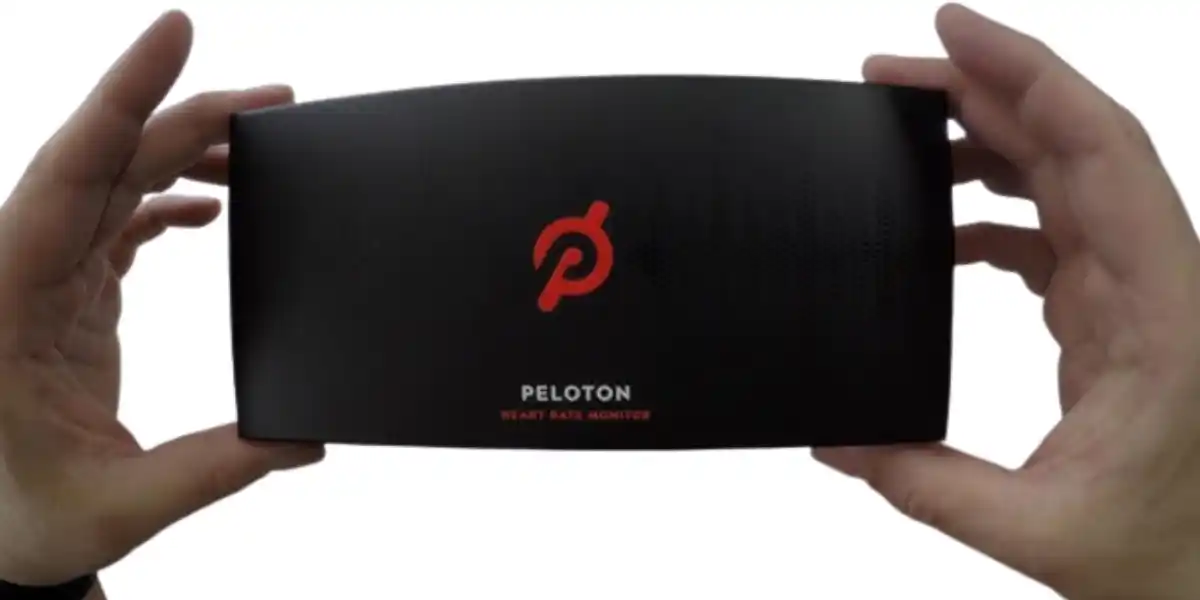 Ease your excitement and open up the package to a brand-new peloton heart rate monitor. As you open the package, you will see the gleaming device at the front of the strap.
Now, if you touch the sides, it will trigger some light. One side of the peloton heart rate monitor will flash blue, which indicates the readiness to pair with Bluetooth devices.
The other side will flash red, which indicates that it can already detect your heartbeat.
Step 2: Wear the Heart Rate Monitor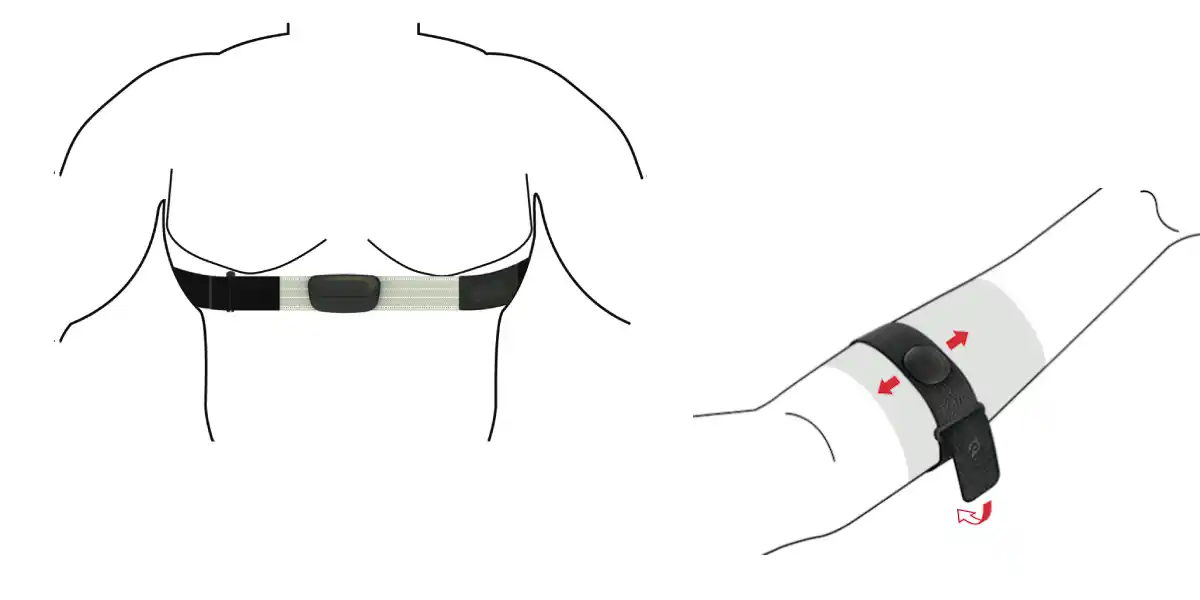 Once you've made sure that your heart rate monitor is functional, it's time to wear it across your chest.
Be sure to moisten your Peloton Heart Rate Monitor band's gray sections (sensors) with water. And then, Tighten the band around your chest. Remember, the sensors should be in full contact with your skin.
If you are someone using a Peloton heart rate monitor with an armband, wear it on your wrist. Wearing it on the upper arm may give you a more accurate reading.
Step 3: Switch On the Bluetooth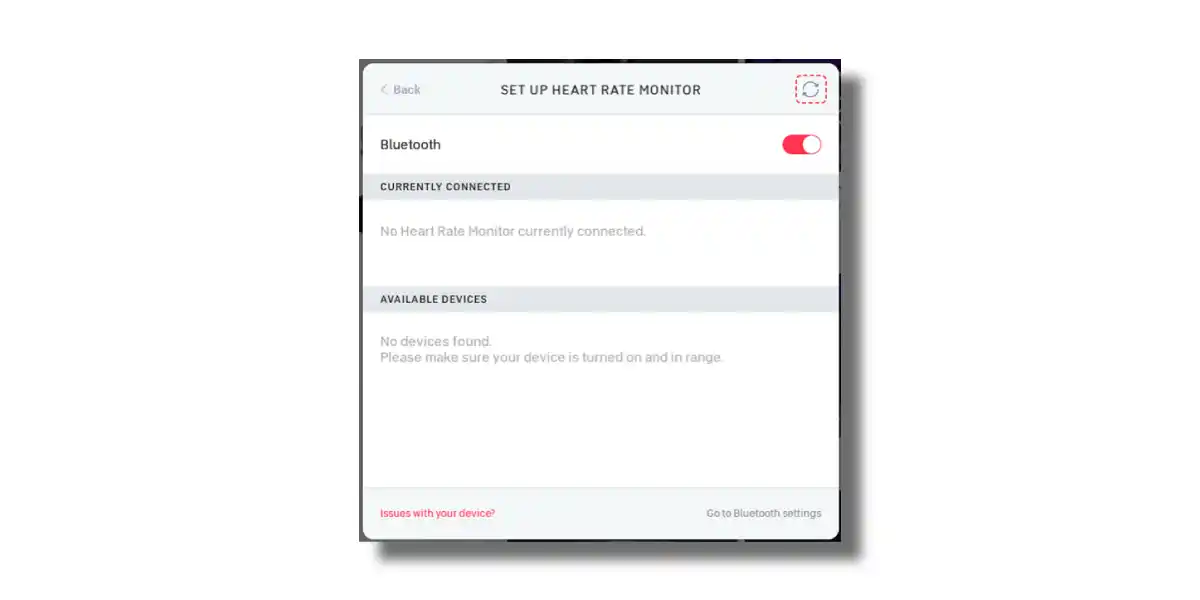 After wearing the heart rate monitor, you will have to enable Bluetooth. For this, go to the settings of your touchscreen, and select Heart Rate Monitor. Flip the Bluetooth to 'On'.  It only makes sense that the peloton Bluetooth should be on while using the Bluetooth connectivity.
Step 4: Connect your Heart Rate Monitor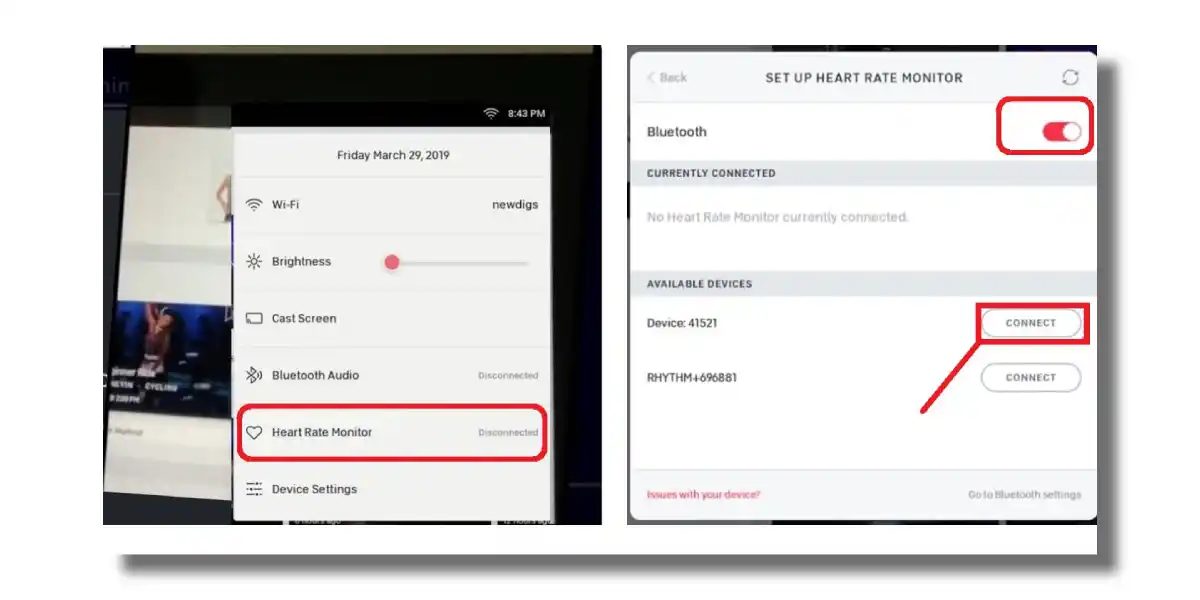 Touch the time that is displayed in the right-hand corner. You'll then see a bunch of options, including the Heart Rate Monitor option. Select the "Heart Rate Monitor" from the options which have a 💗 sign.
It may read as 'disconnected', so turn it to 'connected'. The Bluetooth device will now show the name of the heart rate monitor, including the brand.
For peloton HRMs, you'll either see the name as "Peloton XYZ" or Device Name along with an ID.
Step 5: Get Ready for a Peloton Class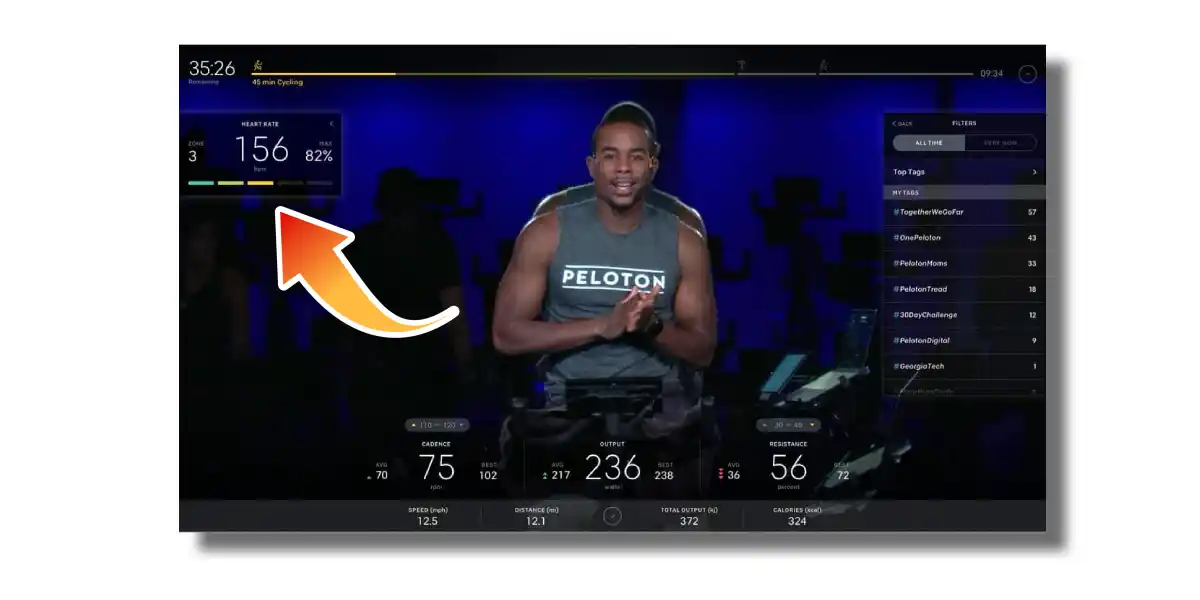 You can join a class as your heart rate monitor is connected to the peloton. Now, you'll see your heart rate reading on the left-hand corner of your Peloton touchscreen.  
What Does The LED Indicator On Peloton HRM Mean?
When your heart rate monitor detects a heartbeat, you will see the LEDs flashing red and blue. At certain times it may also flash yellow. Let's understand what these indications mean.
| LED Flashing Color | Meaning |
| --- | --- |
| RED | If your heart rate monitor flashes red, it means the heart rate monitor is detecting a heartbeat. You will see that after 30 seconds, the LED stops flashing. |
| BLUE | Blue flash means that your heart rate monitor detects a heartbeat and is in Bluetooth pairing mode. And until it gets connected to a Bluetooth device, the LED will continue to flash blue. This will happen even if you connect to a Peloton product via ANT+. |
| YELLOW | If your heart rate monitor is flashing yellow, which means its battery is low. Once you find this, immediately replace the battery with a new CR2032 3-volt battery. |
Done Working Out? Let's Turn Off the Peloton HRM
When you are done with the peloton workout, make sure to disconnect the heart rate monitor. This will give your heart rate monitor a longer life while saving the battery. Not sure how to do it?
Find a stepwise guide below to turn off your Peloton Heart Rate Monitor in the right way:
Step 1: Disconnect the Heart Rate Monitor Modal
Now that the class is over, you can go on to turn off the heart rate monitor modal. Do you recall how we got to it in the connecting steps?
Go to the Settings where you will see the heart rate monitor mode reading 'Connected'. Just click on the 'Connected' button to disconnect.
Step 2: Remove the HRM
Once you have disconnected the modal, it is time to remove the strap wrapped around your chest/arm. We can all agree that peloton is pretty much a sweaty workout.
For this reason, you should disconnect the device from the strap after the workout. Usually, the heart rate monitor is attached to the strap securely by two points. Detach them with a snap.
Step 3: Clean the Strap
The strap must be cleaned regularly to prevent skin irritations and to promote healthy hygiene.
The strap can be washed either by hand or by machine. However, you should make sure you don't use harsh chemicals or hot water while cleaning your strap. When drying, air dry instead of using a dryer.
Tips to Fix Peloton Heart Rate Monitor Not Working
Facing problems with your heart rate monitor? Here are some possible reasons why it's not working and the solutions to fix them.
No light
While touching or wearing your heart rate monitor, if you don't see the light, it means that the heart rate monitor's battery may be dead. If so, replace it.
With some Peloton, you might need screws to get to the battery compartment. And in others, such as the peloton one, you simply need a hard object to snap off the compartment.
Problem with Connecting
Is your heart rate monitor not connecting even when the light is visible? Try this. First, refresh the Bluetooth of the touchscreen. Then try to reconnect it again. This should fix your connectivity issue.
The Unfixed Connection Issue
If the problem persists and the heart rate monitor still does not connect, then you should check whether it is connected to other devices or not.
Check if it is connected to your phone or other workout apps. If you find so, disconnect it, and then reconnect it to the peloton. This will do the work.
Wrap Up
Great news! Now you know how to use a Peloton Heart Rate Monitor and connect it with the Peloton Bike. So what's the wait? Hit your workout session with Peloton Heart Rate Monitor and keep monitoring your progress every day.
---
Read More On Peloton