Fitbit and Peloton are two different brands that have been in the fitness industry for a while now. Peloton is mainly known for its indoor bike whereas Fitbit offers a wide range of activity trackers that monitors your daily activities such as steps taken and calories burned.
Combining these two will work the best to give you a full scope of how hard you pushed yourself in your fitness journey. Despite this, many people do not know whether Fitbit works with Peloton bikes?
You can sync Peloton with your Fitbit account to track your progress by automatically pushing detailed metrics from every ride you complete.

Peloton Support
However, there are still some questions that you'll need an answer to. This post will answer all your questions about syncing your Fitbit with Peloton to make these two devices work together.
Let's Dive In!
Does Fitbit Work With Peloton?
The straightforward answer is Yes; You can make your Peloton work with Fitbit by connecting their accounts. Once the connection is successful, your Peloton will automatically push all detailed metrics from every ride you complete to your Fitbit account's dashboard.
The workouts you post to Fitbit will be logged as an exercise and will include the length, distance, and calories burned, so you'll have a full picture of how hard you worked.
You can push the following information for each ride you take on your Peloton bike by sharing it to your Fitbit account:
Distance traveled
Total calories burned
Workout duration
What if I want to connect my Fitbit device to Peloton? If you want to connect your Fitbit device (such as Versa, Sense, Charge) with your Peloton, it won't work because Peloton only allows connecting your Fitbit account to share data.
With Peloton, you can only connect devices that support ANT+ technology, but Fitbit currently lacks this. You'll mostly find ANT+ in heart rate monitors that are primarily used to track your heart rate.
How to Connect Peloton to Fitbit Account? (Quick Walkthrough)
Step 1: Complete Your Workout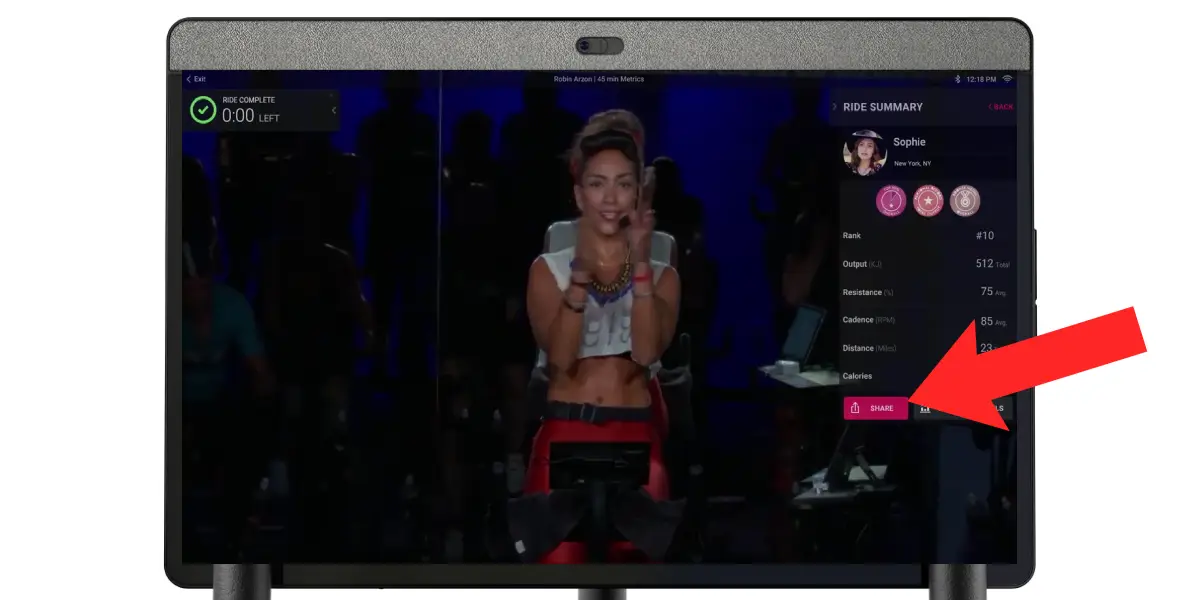 To begin, you'll need to complete your workout first. Once you've completed your workout, head over to Peloton's ride summary and tap on the "Share" button present below (as shown in the image.)
Step 2: Log In to Fitbit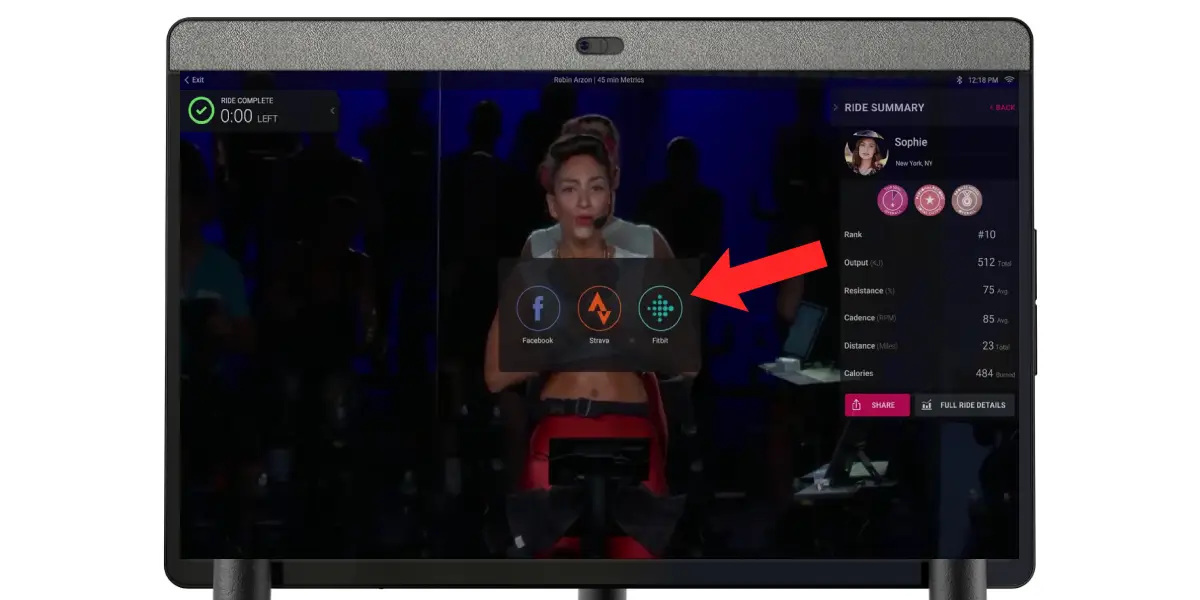 Tapping the share button will prompt you three connection services to choose from – Strava, Facebook, and Fitbit. Select "Fitbit" from the list and follow the on-screen instructions to log in.
Step 3: Ready to Upload!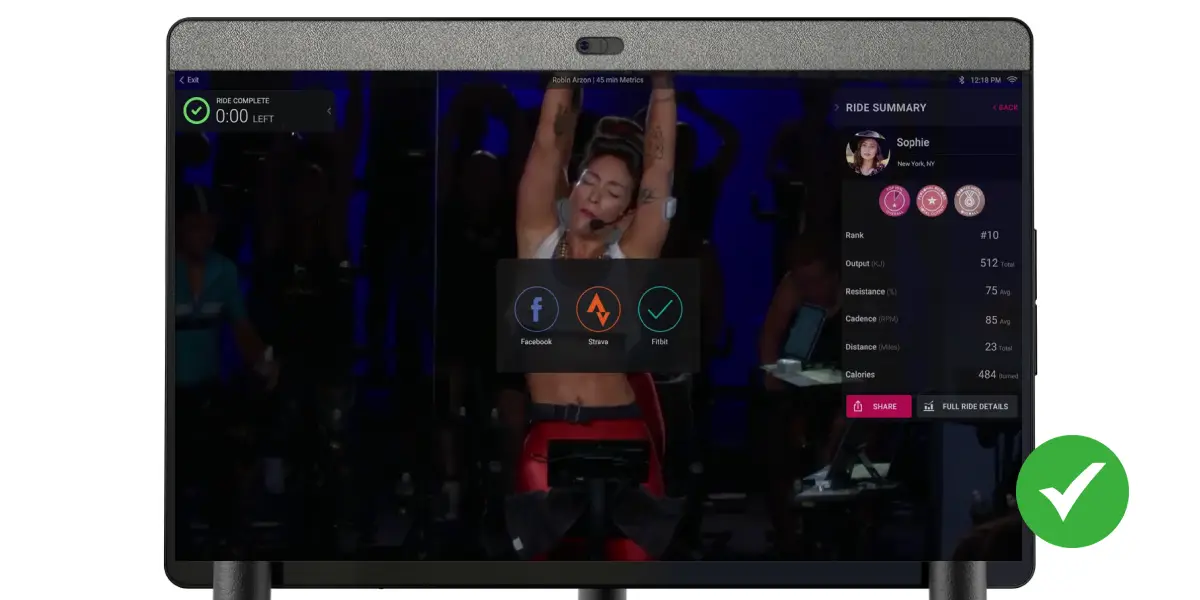 That's it!
As soon as you log in, all the metrics from your completed workout, along with any future completed workouts will automatically sync and appear under your Fitbit account's exercise tab.
Does Fitbit Heart Rate Work with Peloton?
Peloton allows devices with ANT+ to directly track your heart rate on the Peloton Bike. Since Fitbit doesn't have ANT+ built-in, it cannot work with Peloton to track your heart rate on the Peloton Bike.
However, I still recommend wearing your Fitbit tracker while participating in your Peloton workout so all your metrics are tracked separately and synced with your Fitbit account's dashboard.
In case you still wish to monitor your heart rate directly using a device, getting a peloton-compatible heart rate monitor would be an appropriate decision.
Here's a quick look at the list of Peloton Compatible HRMs:
| Brand Name | Model List |
| --- | --- |
| Peloton | Peloton Heart Rate Band |
| Garmin | HRM Dual, HRM Pro, HRM-Tri, HRM-Run, and HRM-Swim |
| Wahoo | Tickr, Tickr X, and Tickr Fit |
| Polar |  H9, H10, and Verity Sense |
| Coospo | H6, H8, H808S, HW706, and HW807 |
| Scosche | Rhythm 24, Rhythm+, and Rhythm+ 2.0 |
Peloton Compatible HRMs
Must Read | List of Heart Rate Monitors Compatible with Peloton
Tips to Fix Fitbit Not Syncing with Peloton
One of the most common problems that people face with the Peloton is that it sometimes fails to sync with Fitbit. This issue can be extremely frustrating and it's important to know how to fix this problem. Here are a few tips to fix Fitbit not syncing with Peloton:
Revoke Access & Re-Connect
In such a scenario, one of the best solutions is to revoke access to the peloton from Fitbit and repeat the whole connection process once again. This method can only be executed through the Fitbit app.
Here's what you need to do:
Open the Fitbit app > Go to Account > Manage data > Manage third-party apps > Select Peloton from the list and Revoke its access.
Once that is done, repeat the connection process explained above.
Check Server Status
Another possible reason for experiencing sync issues is Peloton's busy servers. During peak hours, people around the world start uploading their activities simultaneously, which leads to slow & overloaded servers.
Thankfully, users can stay updated with the latest status of Peloton's server. If you wish to wait for the servers to become online, keep an eye on their status here: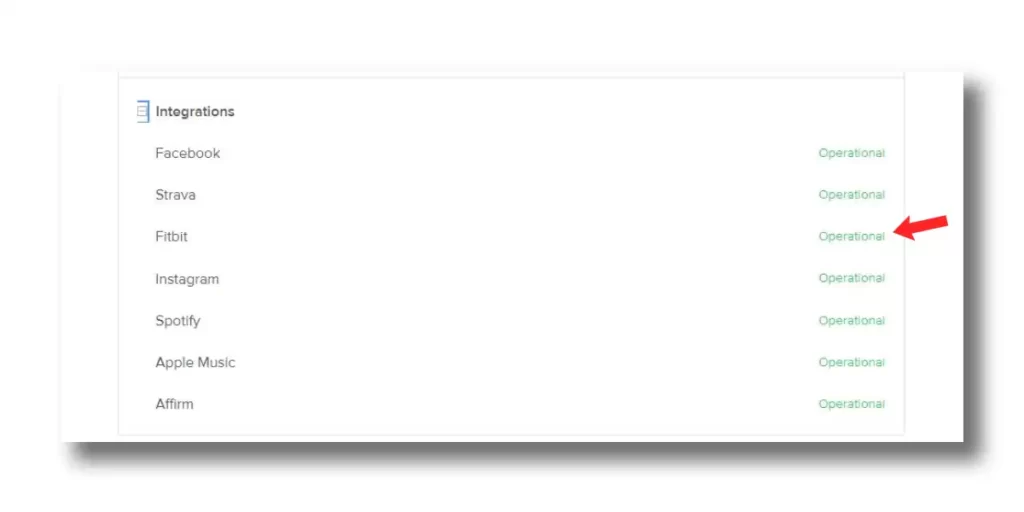 Contact Peloton Support
If nothing works, contact Peloton's support center. The experts at Peloton Support must be having some solution to diagnose the problem and identify why your Fitbit not syncing with Peloton.
Read More On Fitbit