A friend introduced me to the Amazfit Watch lineup, which includes different models like Bip, T-Rex, Verge, GTR, and GTS. I absolutely enjoy using Amazfit because there are so many watch face alternatives available.
The best thing about Amazfit is that it features an app called AmazFaces that offers the most watch faces available for all Amazfit watches. It lets you personalize your watch's look to match your mood.
Since I've been using the Amazfit GTS, I thought I'd share some of the cool watch faces I've discovered. I'll demonstrate some of the top watch faces for the Amazfit GTS series in this post.
9 Best Amazfit GTS Series Watch Faces to Install
Turquoise Note Watch face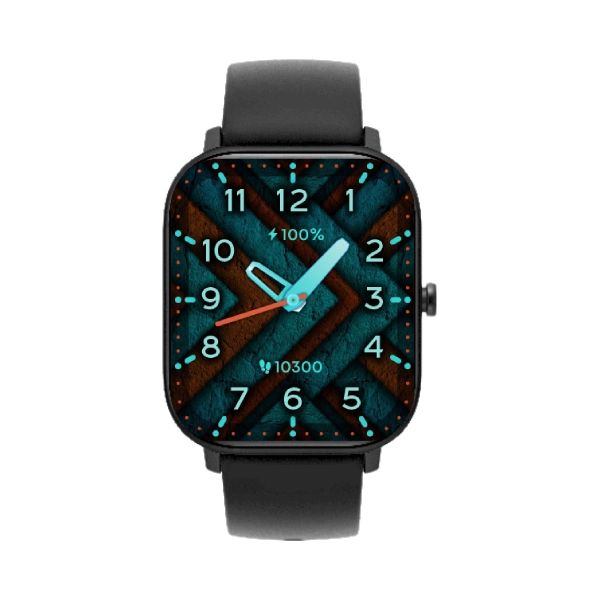 Turquoise Note is a stunning watch face designed to highlight the vibrant colours of your watch's AMOLED display. The bold blue and orange colours make this watch face definitely stand out. It keeps you informed throughout the day with vital functions such as battery and steps.
Turquoise Note has a beautiful analogue design with a modest second hand that adds a touch of beauty to your wrist. The always-on display option displays the time in a digital format, ensuring comfort and visibility at all times.
Experience the stunning looks and functionality of Turquoise Note, and let your watch make an impressive impression on your wrist.
Super Beatles Watch Face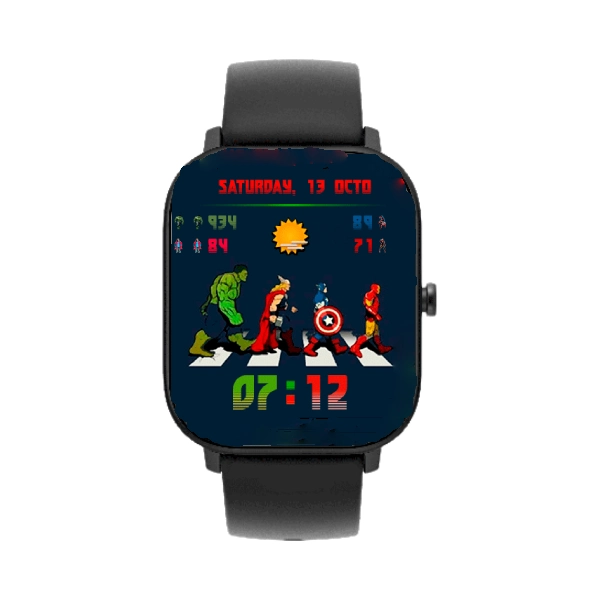 Super Beatles is the ideal watch face for Marvel and Beatles aficionados. This watch face substitutes Marvel superheroes such as Hulk, Captain America, Thor, and Iron Man for the legendary Beatles members. The weekday, date, and month are displayed at the top, with Hulk reflecting the number of steps taken.
Thor portrays calorie counting in a hilarious way, while Captain America watches pulse rate. The battery level is represented by Iron Man. The centre contains a weather icon block, while the bottom displays the current time in hours and minutes.
Super Beatles is a simple and amazing design that combines the charm of Marvel and the timeless appeal of the Beatles. With this one-of-a-kind watch face, you can stay connected while still looking attractive.
Classic Calculator Watch Face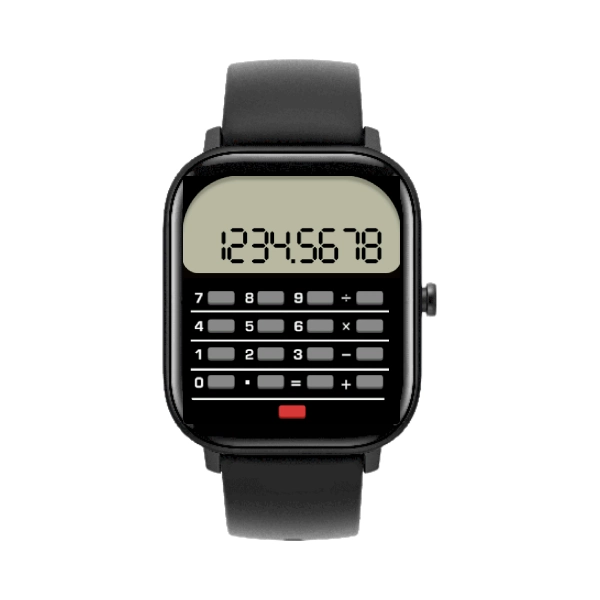 The Classic Calculator Watch Face was created just for Amazfit smartwatches. These watch faces are reminiscent of traditional calculator watches, complete with a digital calculator. Users can perform basic computations immediately on their wrist, making their daily activities more convenient.
This watch face is especially appealing to children, allowing them to have fun and explore the world of numbers directly on their wrist. With this digital design, you may enjoy the functionality and memory of a traditional calculator watch.
SummerTime Watch Face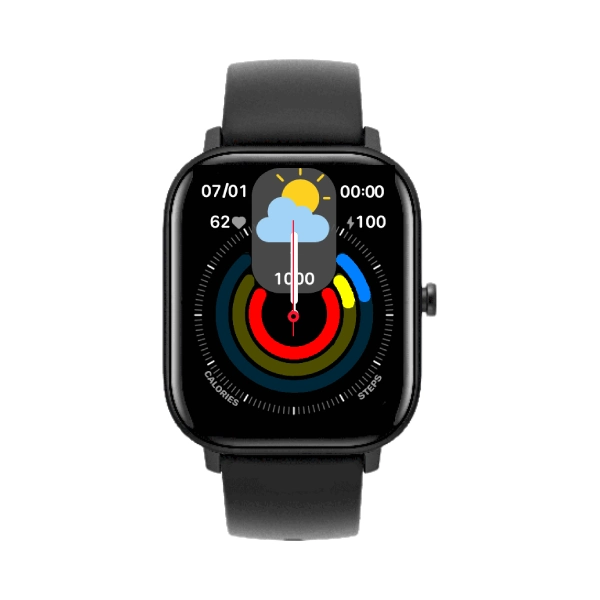 The Big Circles design by Apple which is known as SummerTime Watch Face. With its basic features, this attractive watch face fits functionality and style. The blue outside circle indicates your progress in steps, which keeps you motivated to meet your fitness objectives.
The amazing yellow central circle displays your calorie burn, while the red inside circle gives a bit of variety and may be changed to green if needed. Apple's sleek design is included on the analogue watch hands, ensuring a modern and attractive appearance.
Important information such as the pulse, battery level, total steps, digital clock, current temperature, and date may be found. Stay connected, set up and informed with this dynamic watch face, which is meant to improve your daily experience and give important information at a glance.
Hublot Green Watch Face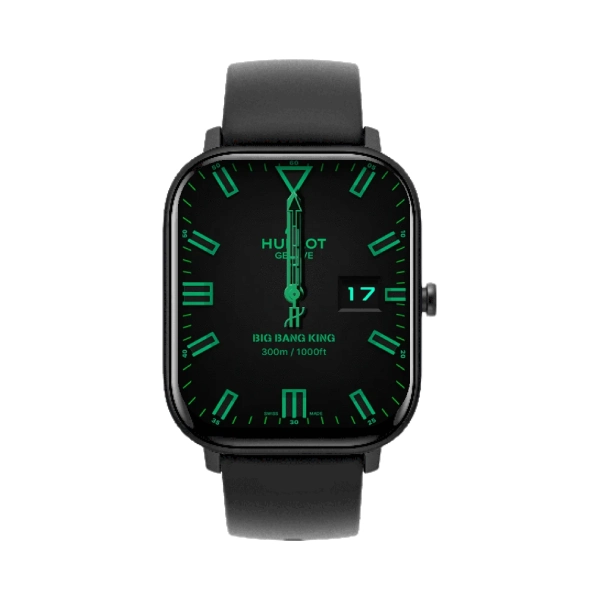 Hublot Green is a striking watch face that combines style and functionality. This watch face is a visual delight on your wrist with its stunning green colour design. The green watch hands pop against the black background, making for an eye-catching show.
Hublot Green has a variety of functions, including weather shortcuts for on-the-go updates. It also has a workout mode with step count and heart rate data to help you remain on track with your fitness objectives. The watch face features useful shortcuts for the date and other important functions.
Hublot Green's always-on display option allows you to easily check the time at a glance. There are other four versions available for download, including red, yellow, purple, and green options.
Nike Plus Amazfit GTS Watch Face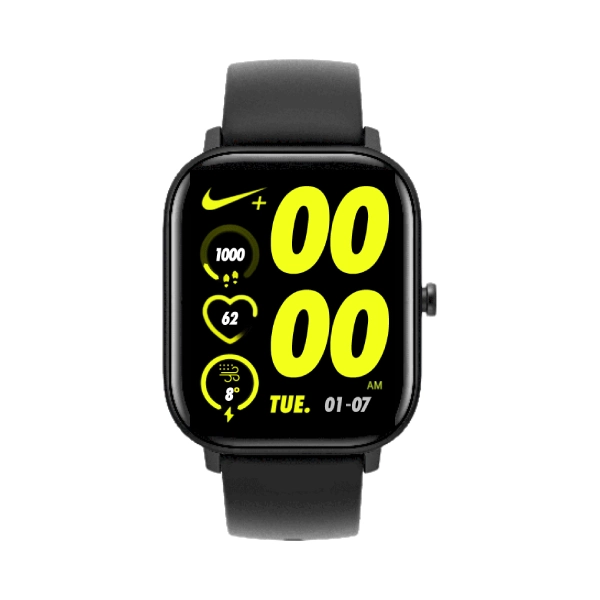 Nike Plus for Amazfit GTS is a beautiful watch face made to match your wristwear. This watch face, inspired by Apple's Nike Edition, perfectly combines beauty and use. Nike Plus displays a variety of data, such as step count, heart rate, weather updates, and the current day, date, and time.
This watch face comes a sporty and stylish vibe, thanks to the strong display of the distinctive Nike emblem at the top. To personalise your watch face and match your style, choose from three brilliant colour options.
Nike Plus, with its elegant style and extensive information display, is the ideal complement for your Amazfit GTS. Nike Plus is the perfect mix of looks and functionality. Improve your smartwatch experience and make a fashion statement on your wrist with this stunning piece.
Black Rolex Watch Face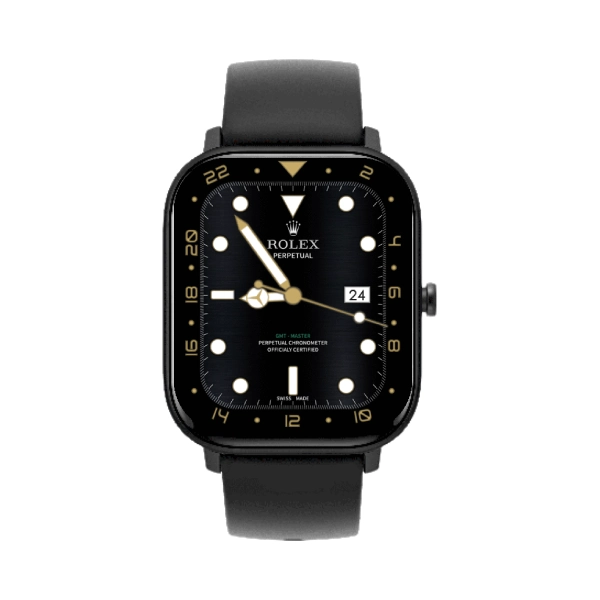 Black-Rolex, an attractive watch face that adds a touch of class to your wrist. This watch face stands out and attracts attention with its black and gold accents. Black-Rolex divides your watch from the crowd by providing a one-of-a-kind design that includes the famous Rolex emblem.
The connection with the iconic Rolex brand gives exclusivity to this watch face. With a classic interface symbolic of a Rolex timepiece, this elegant watch face provides basic information such as the time and date.
The beautiful design complements the overall design of your watch, presenting a timeless and refined appeal. Boost your watch experience with the Black-Rolex watch face, which is ideal for individuals who value both flair and simplicity. With this, you can make an impact on your wrist.
Seico Sports Watch Face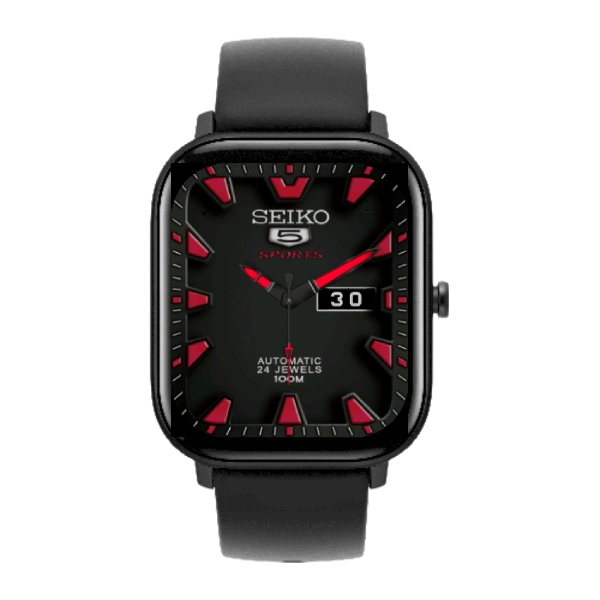 Seico Sports is a sleek and functional watch face that gives your wrist a sporty look. Seico Sports stands out and captures attention with its black and red colour design. This watch face presents the time and date in a clear way. The passionate visual impact is created by the black AMOLED display with bright red accents.
Seico Sports includes six customisable shortcuts that allow you to quickly access your favourite functions. The always-on display feature allows you to check the time without waking up the watch. Seico Sports has a don't disturb mode and a dark mode option for increased convenience.
The watch face can be modified in a number of colour, including blue, green, yellow, and red. Find the ideal balance of style and functionality with seico sports, and enjoy a sporty and dynamic look on your wrist.
Casio Spaceman Watch Face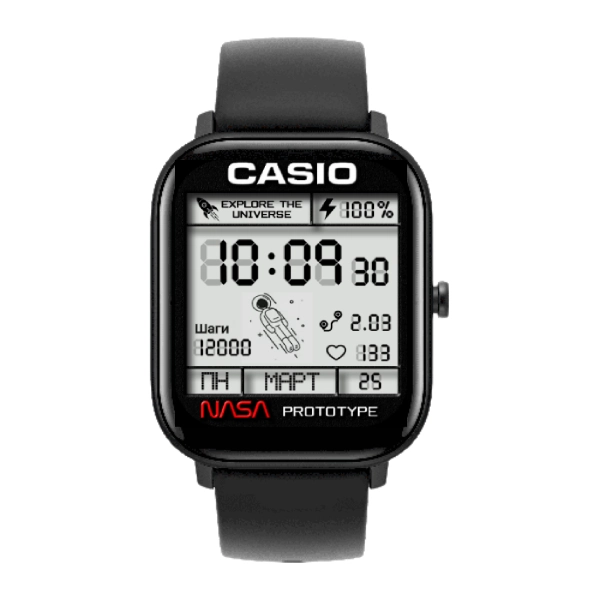 Casio Spaceman is a stylish and informative watch face that mixes form and function. Casio Spaceman is a standout pick for your smartwatch because to its minimalist appearance and abundance of important information. This watch face provides information such as the date, month, seconds, and battery level, keeping you informed throughout the day.
This watch face oozes durability and adventure, with the Casio brand prominently visible and the tagline "Space Resist." Casio Spaceman also has rapid access to weather updates, fitness mode, music player, and stopwatch features. Casio Spaceman features a simple yet impressive watch face experience that keeps you connected and stylish whether you're exploring the outdoors or going about your everyday routine.
---
Read More on Amazfit Watch