Amazfit T-Rex series smartwatches are rugged outdoor smartwatches that give you direction and time. Amazfit is a solid military-grade construction that ensures durability in harsh environments. The T-Rex features an always-on 1.3-inch AMOLED display and water resistance that can withstand 5 ATM.
As most rugged smartwatches look rugged inside and outside, Amazfit T-Rex has something interesting up its sleeve- watch faces. Yes! Despite being a military-grade smartwatch, it gives the option to use a variety of gorgeous watch faces that match your style.
And when in adventure, those watch faces can express your adventurous nature. Sounds about cool! How about if we suggest some of our favorite T-Rex watch faces to make it easier for you to make a choice?
Let's get straight into it.
Similar Read | 13 Best Amazfit Bip Series Watch Faces to Try!
How to Change Watch Faces On Amazfit T-Rex?
There are many built-in watch faces available in the Amazfit T-Rex series that you can choose from. Follow the steps to change them easily:
Swipe left and right to explore the available watch faces.
On your smartphone, open the Zepp app to see your Profile.
Select any watch style you want and click on the + icon and it will be activated on your smartwatch.
9 Best Amazfit T-Rex Series Watch Faces to Try
Fearless Week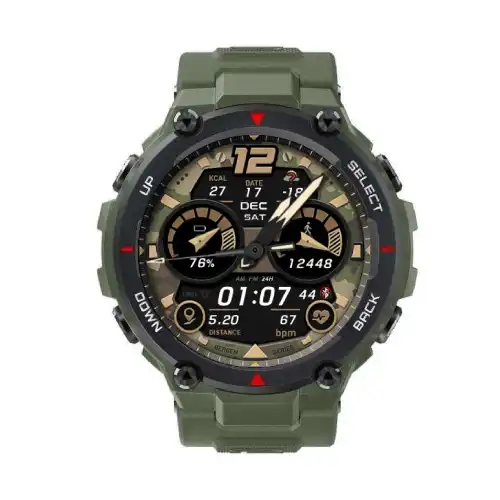 If you are adventurous, you are going to love this as the watch face compliments the smartwatch. Just like the military theme smartwatch, the watch face is also built on the same theme. But it has a catch as it changes its colors throughout the day and this watch face also supports Always on Display. To turn on Always on Display, you will have to animate the screen off styles to turn on the digital watch face.
AD_TCT Watch Face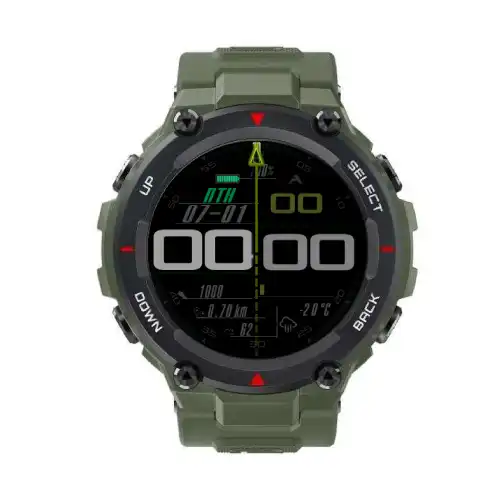 AD_TCT is a watch face that is well-organized data set with a contrast of light grey and red which makes the digits stand out. The left bottom of the watch face gives a traveled distance measurement and on the right of it, the temperature is shown. The light contrasting circular boundary makes this watch face broad as information in red stands out even when you are out in the sunlight.
Speedster Blackout 2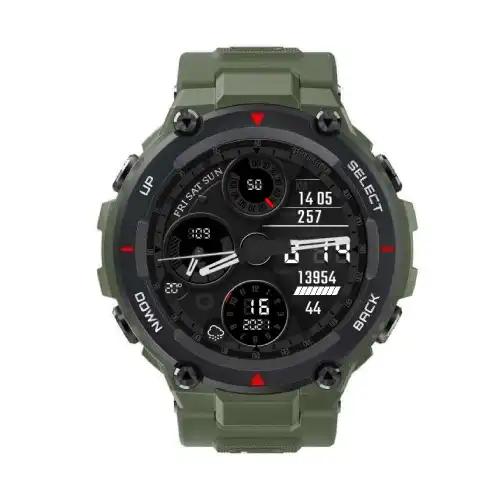 The developer of the Speedster Blackout 2 had earlier released the Blackout watch face, but it was much darker, and users had trouble reading information on a smartwatch. But this version is updated version as now the information is in white digits which is in nice contrast to the overall black theme of the watch face. It has three angular faces to show information and on the right side, time is shown in analog digits.
Trxalpine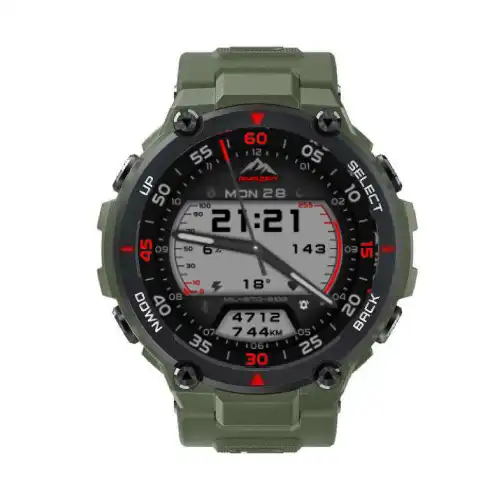 Traxlpine is the alpine mountain version and is compatible with the Amazfit T-Rex smartwatch. It has solid nontransparent dials. The black background has grey dials while the grey screen is supported by black dials. Both dials and numbers are solid for all the information such as steps, distance covered, weather forecast, battery percentage, and heart rate.
Ziplime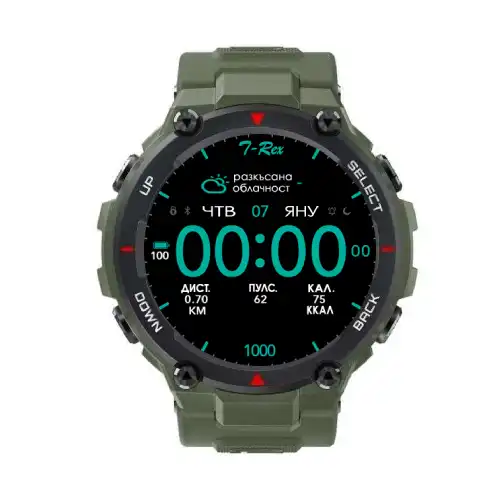 Ziplime watch face is a flat circular design that has a sunrise and sunset icon set in 12 Hour mode. For both timeframes, it has a plain black background and the only change that occurs on the watch face is of analog digits and other information as the day goes on. Information about the date, day, and weather is shown above the time digits while health-related information is shown below the time digits.
Clear Simple Digital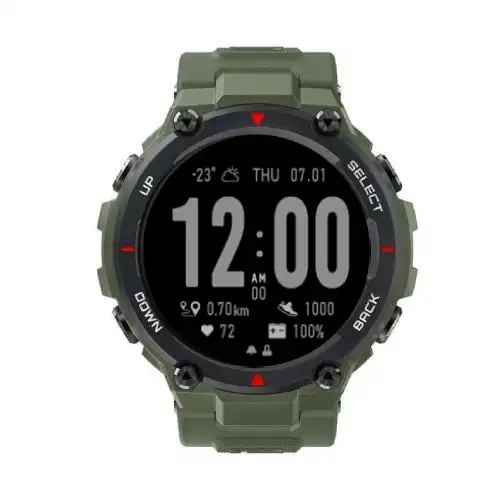 The clear simple digital watch face is simple yet intuitive as it is for those people who at first glance want to know the time. Therefore, it has large analog digits for time and when on Always on Display, only time appears on the watch's display. Clear Simple Digital has over 10,000 downloads on Amazfit Watch faces.
Above and below, all the other fitness freak data and weather data are shown alongside the battery health and other notifications.
Black Hawks X500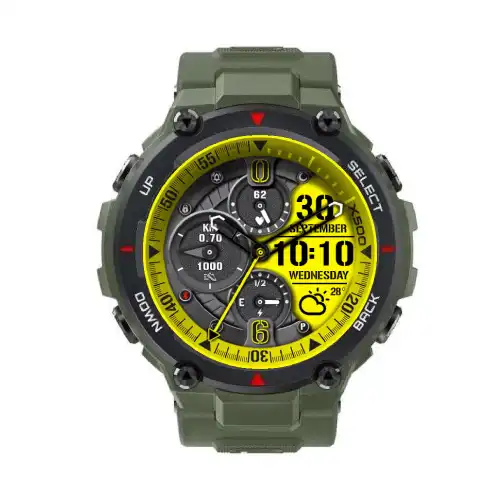 Black Hawks X500 is a unique watch face that is a modified version of FACER. It glows in multiple colors which are circular, and on the right side of the watch takes a sort of elliptical shape.
Green, yellow, turquoise, white, lime, and grey are the colors that glow over the smartwatch while the remaining area of the smartwatch just remains normal. Interestingly, time, date, and weather information are in glowing part as it is the very information that any smartwatch user glances at.
AD Digital Black PRO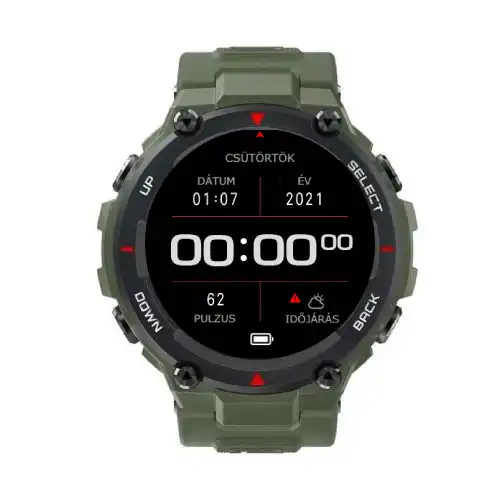 AD Digital Black PRO is a black and grey theme watch face that is compatible with Amazfit T-Rex Pro. Its unique design is a classic tribute to Casio watches. Its original version was for the Amazfit T-Rex so you can have the watch face for both smartwatches. It has a flat design and Time is at the center of the watch face in a rectangular box that reaches both ends on the left and right side.
Whereas the other information is confined in small grey boxes which are above and below the large rectangular box. The overall watch face is black, and information is displayed in grey boxes which makes it a minimalist yet interesting design.
Skagengray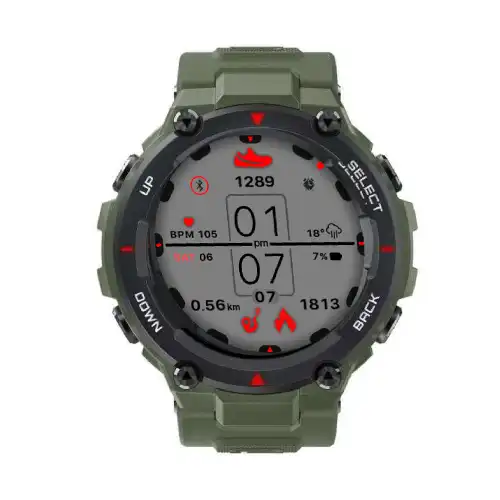 Skagengray is another simple watch face but with a twist when compared to AD Digital Black PRO as this watch face has three colors and the third one is red beside black and grey.
It has a flat material design with a black line at the center. All the regular watch features like time, date, battery and distance traveled are shown in black with a grey background while the related symbols are shown in red next to respective readings.
The watch face is suitable for battery-conscious people as it doesn't consume much battery life since it has a grey surface that can be easily glanced at even during the sunlight.
---
Read More On Amazfit