Can't get past the main screen of your Apple watch? Is it that you just bought a second-hand Apple Watch and can't unlock it? Well, it simply means that your Apple Watch activation lock is enabled. You need to get past it to use your Apple watch fully.
It happened once that I forgot the password for the Activation Lock on my Apple Watch. In any case, I had to bypass the Activation Lock to continue using my Watch.
In this article, I'll tell you about the use of the Activation Lock on your Apple Watch, as well as how it can be bypassed. Let's begin by explaining what Apple Watch's Activation Lock exactly is.
What Is Activation Lock on Apple Watch?
Apple gadgets are known for their high level of privacy. Along the same line, the Apple Watch provides several ways to keep your watch secure from any data breach. For this purpose, it comes with an option of Activation Lock to secure your data and avoid any unwanted person to use your Apple Watch.
By using activation lock, Apple Watch users can lock their smartwatch defying anyone from using it unauthorized. Anyone other than the owner of the Apple watch will be unable to go through any of the functions of the Apple watch without the owner's permission.
The Activation Lock prevents others from using your Apple Watch when it is stolen or lost. Authorization from the owner or password is required to get past the main screen of your Watch. 
But What if someone wants to bypass this Activation Lock? Is it possible?
Can Activation Lock be Bypassed on Apple Watch?
If you have access to the iPhone that the Apple Watch was paired with, you can simply unpair the Watch from the iPhone. As a result, it'll remove the activation lock, and you'll be free to use your Apple Watch features.
However, there may be instances where you no longer have access to the iPhone. The good news is there are still various methods to bypass the Activation Lock, including a few paid services. 
Below are some ways to bypass the Activation Lock no matter what scenario prevents you from doing so.
How to Bypass the Activation Lock on Apple Watch?
Recommended: Use of Paired iPhone
When Apple Watch is paired with any iPhone, Apple considers it to be owned by someone. To bypass the Activation Lock on your Apple Watch, you should have access to the iPhone paired with it. Once you unpair your Apple Watch from the iPhone, you'll get rid of the activation lock.
Because unpairing your Watch from the iPhone, revokes the previous ownership, making the watch free to use and pair with a new iPhone of your choice.
To do this, the original owner needs to follow these steps:
Step 1: Ensure that your iPhone and Apple Watch are close to each other.
Step 2: Open the MyWatch app on your iPhone. Click on All Watches

.

Step 3: Tap the 'Info icon' beside your Apple Watch and select Unpair Apple Watch.
Step 4: You'll be prompted for your Apple ID. Enter your iCloud credentials to unpair.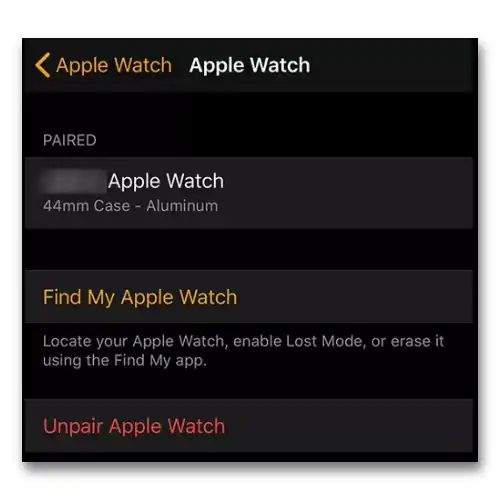 With this, the activation lock should be removed and your Apple Watch is now ready to be used freely.
This method is applicable when you have access to the iPhone paired with your Apple Watch. But there might be a case where you don't have that access. Or, the owner of the iPhone isn't available to help you. In such cases, there are a few other workarounds that will help to bypass the activation lock.
Use iCloud Activation Unlock (Trusted)
Among many online services, iCloud Activation Unlock is one of the most trusted platforms where Apple users remove their device from the previous owner's iCloud account permanently. This service can be used by people who have forgotten their iCloud password, or people who want to switch to a new device.
Please note that if your device has been marked as stolen, these services might not function for you. Additionally, you'll need to spend a good deal of money to unlock the Watch.
Most of these services require you to pay an upfront fee before unlocking your Watch. For this fee, their highly qualified technical team will perform the process to unlock your Apple Watch.
Here is how to use iCloud Activation Unlock to bypass the activation lock on an Apple Watch: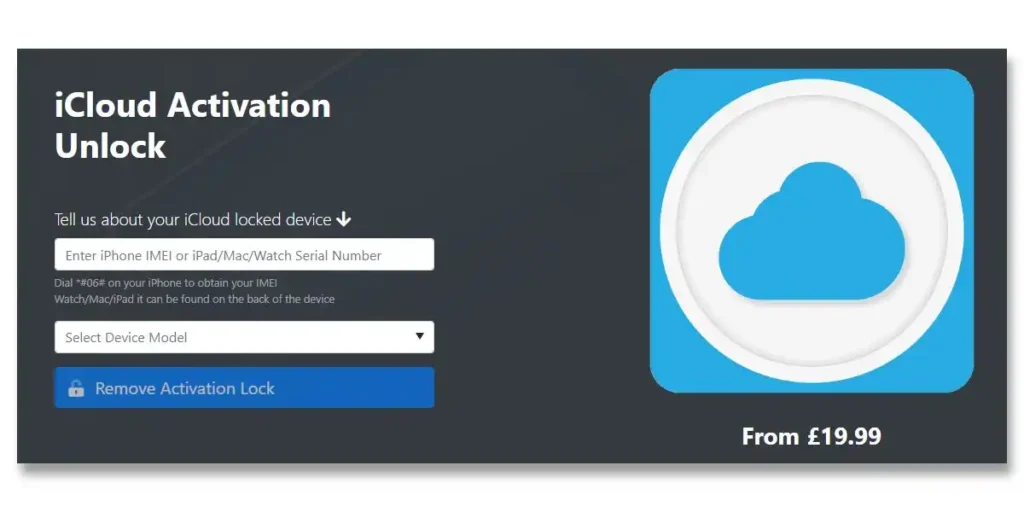 Step 1: Launch one of the browsers on your computer and visit the iCloud Activation Unlock website.
Step 2: Make a note of the serial number on the case of your Apple Watch.
Step 3: Enter the serial number on the site you have opened.
Step 4: Choose your Apple Watch from the dropdown menu, and click Remove Activation Lock.
Step 5: Finally, you'll receive your order confirmation as soon as you make payment.
Within a few days, you'll receive an email letting you know your Apple Watch is unlocked.
Wrap Up
The Activation lock is meant to protect against the unauthorized use of the Apple Watch. You just need to remember the password and enter it into your Apple Watch to unlock it every time. But in case you don't have access to the password, the Activation Lock won't let you use your Apple watch.
The only way to get rid of the Activation Lock is to bypass it.
Moreover, it is highly recommended not to use suspicious online services to bypass the Activation Lock. These are not genuine and reliable websites, which might even ask you to pay for their premium service.
In some cases, users had no luck bypassing the Apple Watch Activation Lock even after paying several bucks. Therefore, stay away from such services and use only the trusted ones listed above.  
---
Read More On Apple Watch