Apple brand has been known for its revolutionary innovations in all fields. With every new version of the Apple Watch, it comes up with something new and surprising for its users. You can enjoy the features of blood oxygen level measuring, ECG readings, Heart rate monitoring, Fitness tracking, and many more.
Every other smartwatch in the market introduces some unique features. This makes it natural to have high expectations from your favorite watch brand. One of those expectations of Apple Watch users is watching Netflix on Apple Watch. The question is, is it even possible?
Even I had this curiosity at one time, to stream my favorite Netflix content on my wrist.
Well, guess what, I found a way to do so! Let's Dive In!
Can you Watch Netflix on your Apple Watch?
Apple Watch has been offering exciting features to its users, from notifications to monitoring their blood oxygen levels. There has been a lot of curiosity about whether Netflix can be streamed on the Apple Watch, as users want to exploit every possible way to make the most of it.
Unfortunately, there isn't any official way to install or stream Netflix on your Apple Watch. However, Apple Watch users have found some loopholes (via live streaming method) to stream Netflix, Disney+, and other OTT platforms.
Let's get into the steps to watch Netflix on your Apple Watch.
The Nifty Trick to Watch Netflix on Apple Watch
For now, the most convenient way to watch Netflix on your Apple Watch is via the camera on your iPhone until Apple Watch comes up with a way to access Netflix from the watch.
Let's start with the steps to stream Netflix on your Apple Watch.
Step 1: Stream Netflix On A Device
First, open your Netflix account on the device where you have logged in with your credentials. And start streaming your favorite movie or show once you've logged in to your Netflix account on your TV, or PC.
Step 2: Position your iPhone's Camera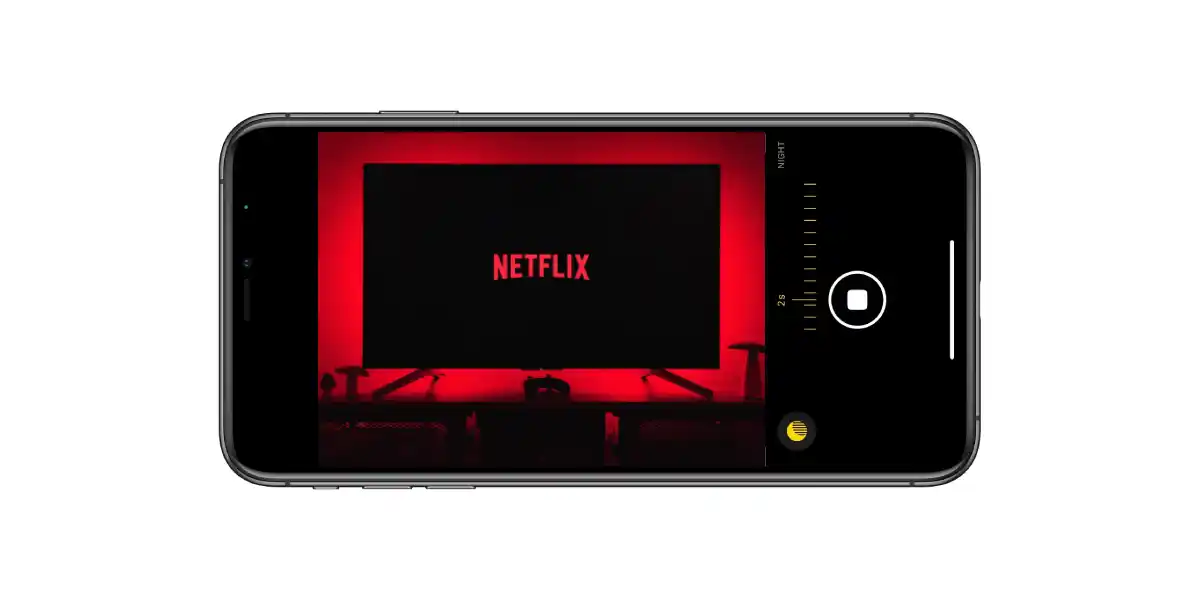 After the video started in the previous step, you need to position your iPhone's camera strategically. Keep the camera in such a way that it points towards the screen of the device streaming Netflix.
Step 3: Use Watch OS Camera to Watch Netflix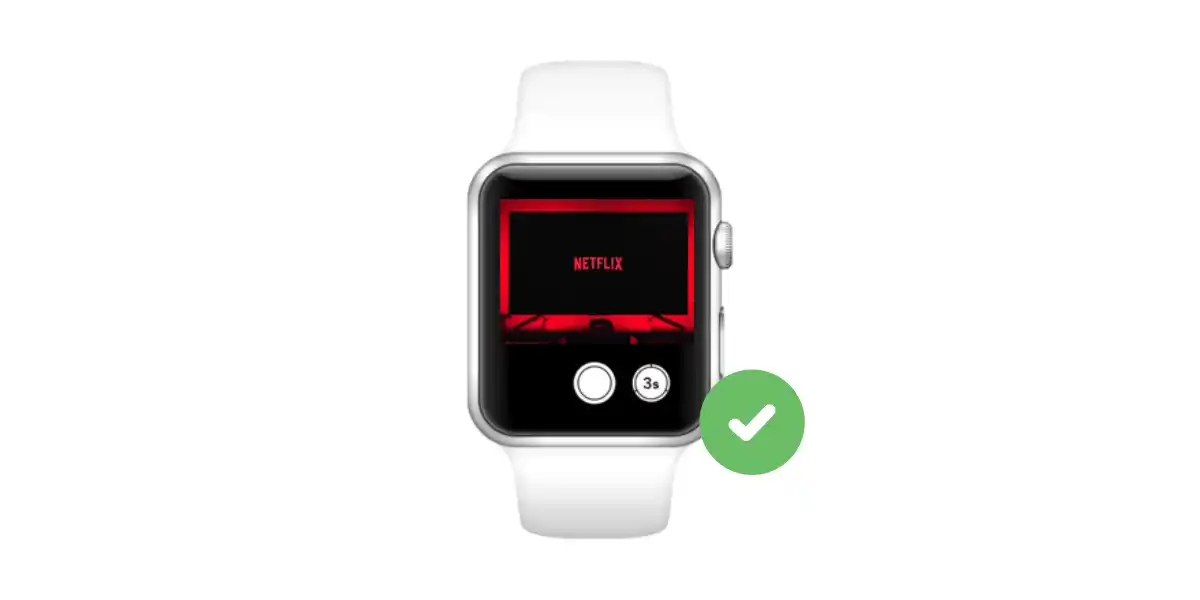 Finally, use your Watch OS camera app on your Apple Watch to see the video streaming on another device through your iPhone's camera.
Is It Possible to Watch Movies on Your Apple Watch?
The Apple Watch offers many services such as sending text messages, talk, face-time, and games, but streaming is not an option yet. At least not in an official way.
The only way to watch videos on Apple Watch is through iMessage or any other messenger app.
Although there are some restrictions to the length of videos on iMessage, still it is the only way to watch videos on Apple Watch. Here's how to watch:
You need someone to send a video or movie clip embedded with your text message. Or simply send a message to yourself with the video or movie clip attached.
Now, click on the video on your Apple Watch to watch the video.
As said, in iMessage, you cannot send a full-length movie. However, if the movie is available on YouTube, you can watch its full length without any concern.
Does YouTube Play on Your Apple Watch?
Apple Watch doesn't let its users officially install YouTube on their Watch and stream videos. However, Thanks to the developer Hugo Mason, there is now a new YouTube app called WatchTube for Apple Watch where users can enjoy YouTube videos flawlessly.
I'll mention two such methods while you read.
Method 1: Sending Embedded YouTube Video Link on Messenger
For the first method, you'll embed a link to your YouTube video on the messenger app. Here are the steps to access the YouTube videos on your Apple Watch via Messenger.
Open the video on YouTube on your phone.
Click the Share button given below it.
Copy the link address to the video.
Attach it to the message being sent on messenger.
Now, open the message on your Apple Watch and click on the embedded video to watch it.
Ensure that the video gets embedded with the link before pressing the send button. Simply sharing a link will not work.
Method 2: Using Third-Party Apps
WatchTube by Hugo Mason is one of the popular third-party apps that can play YouTube videos on your Apple Watch. The app is compatible with Watch OS 6 and higher. And it has been designed keeping Apple Watch's feasibility in mind.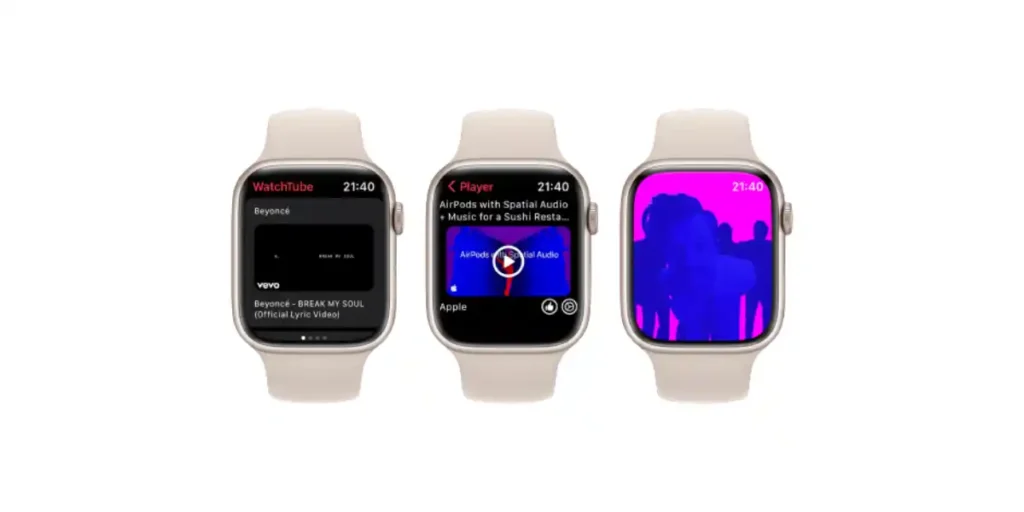 The WatchTube app can be downloaded for free from App Store and works the same way as YouTube except for the option of signing in with your Google account. 
You can find a few other apps too similar to WatchTube on AppStore.
FAQs On Watching Netflix on Smartwatches
Can I Watch Netflix on My Wear OS Watch?
As in the case of the Apple watch, likewise, Netflix can't be streamed over wear OS officially yet. Unfortunately, there has been no such feature provided by the wear OS. There are a few ways to stream YouTube videos on it but to watch Netflix no such direct method can be found for now.
Can I Watch Netflix on My Fitbit?
Watching Netflix on Fitbit is still a feature awaited for its users. Although, there have been some major developments in Fitbit, such as auto-pausing Netflix when you fall asleep.
Can I Watch Netflix on My Galaxy Watch?
Netflix offers several platforms to view its content including PC, laptops, Television, etc. But it has yet to launch any such feature to view its content over the screen on your wrist.
Galaxy Watch may have options to control the videos being streamed on your iPhone or TV but to watch Netflix content on Galaxy Watch is still not an option.
Similar Read | YouTube On Galaxy Watch – Here's How to Stream
Can I Watch Netflix on My Garmin Watch?
You cannot watch Netflix on Garmin Watch. Unless and until Netflix and Garmin make some developments in this direction Garmin users will be left with no other choice than to wait for such a feature to launch.
---
Read More On Apple Watch