YouTube is one of the most popular video-sharing platforms on the internet. You'll agree that most of our free time is spent watching YouTube videos from our favorite creators because it's fun to be entertained.
If you own a Galaxy Watch, there are several fascinating things that you can do with it. Wouldn't it be cool if you could stream Youtube from your watch?
The most obvious benefit of having youtube on your Galaxy watch is – you can stream videos from your favorite channels at any time from anywhere you are.
Let's first explore whether a Galaxy Watch is capable of streaming YouTube.
Can You Watch Youtube on Galaxy Watch?
The straightforward answer is Yes. Samsung's Galaxy Store contains apps such as Player for YouTube, GTube, Watch Viewer, etc., that you can use to stream YouTube videos on your Galaxy Watch. It will only work for Galaxy Watches that have a Galaxy Store.
Popular models such as the Galaxy Watch Active, Watch Active 2, and Galaxy Watch 3 support these apps to play Youtube Videos.
Things have got easier with the new Galaxy Watch 4.
With the release of the Galaxy Watch 4, Samsung introduced their first Wear OS watch. As you know Wear OS has similar functionality to Android, so watching YouTube videos won't be a difficult task here.
To watch YouTube on Galaxy Watch 4, Samsung has provided their internet browser pre-loaded with YouTube as a bookmark.
How to Stream YouTube On Galaxy Watch 3/Active?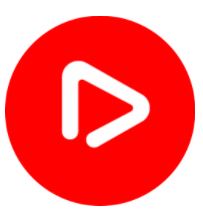 GTube – Player for Youtube
The application helps you search and play videos online. There are many useful functions and easy to use. This app required the internet to work.
To stream YouTube on Galaxy Watch 3 and Active Series, you'll need to install a nifty app called GTube from Galaxy Store. This paid app's features make it worth investing in. You can search your desired video, add it to your favorite list, control volume, change screen resolution, fast forward, etc.
Generally, you don't get these functions with free apps like Watch Viewer & Player for YouTube.
Here's How to Install GTube on your Galaxy Watch 3/Active:
From Smartphone
Install & Open Galaxy Wearable app on your smartphone.
Select Galaxy Store.
Make sure you've selected watch icon from the bottom tab.
Search for "GTube" from the search bar. And Install it.
From Galaxy Watch
On your watch, Tap on bottom right button to access menu.
Select Galaxy Store from menu.
Type "GTube" on the search bar and then install it.
How to Watch YouTube On Galaxy Watch 4 & Watch 4 Classic?
With the new Galaxy Watch 4, Samsung has made its internet browser by the name Samsung Internet Browser. If you've used any of the previous Galaxy Watch models, this browser was available on them as well but used to lack some features.
The updated Samsung Internet Browser allows us to get the most out of your Galaxy Watch 4. And this includes watching YouTube on the Galaxy Watch 4. If this browser doesn't come pre-installed, Go to Playstore > Search for Samsung Internet > Install it.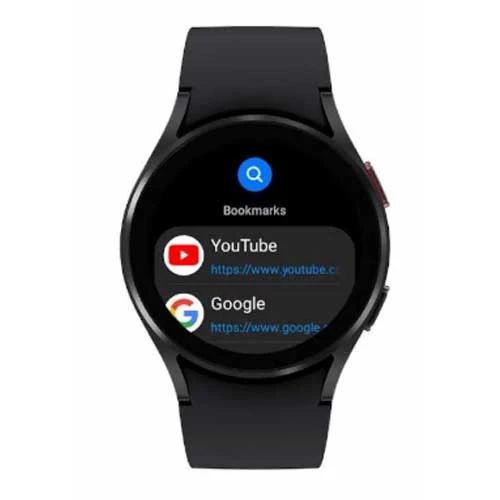 Once installed, open the Samsung Internet Browser and there you'll see the YouTube app pre-bookmarked in the list. Just tap on YouTube and start playing your favorite videos. It's that simple!
FAQs: YouTube On Galaxy Watch
Is There A YouTube App Available for Galaxy Watch?
There is no official YouTube app available for Galaxy Watches. But there is one significant exception – you can play YouTube videos through some third-party apps (like GTube) or use the Samsung Internet browser (only Galaxy Watch 4) to stream YouTube.
Can You Put YouTube Music On Galaxy Watch?
The good news is now you're able to access the playback of YouTube Music with the official YouTube Music app for the Galaxy Watch 4 & Galaxy Watch 4 Classic.
Read More On Galaxy Watch