Don't want to be a Whoop Member anymore? We can't say we blame you: There are plenty of reasons that might motivate you to part ways with Whoop. 
The good news is that you can cancel your Whoop Membership if you're looking to cut down on subscription fees or to align your spending more closely with your values. Even though canceling the membership is easy, there are a few things to acknowledge before discontinuing Whoop.
This article explains how to cancel a Whoop membership. And answers the most critical questions related to the cancellation policy. Let's Dive In!
Can You Cancel A Whoop Membership Early?
You may cancel your use of the Whoop Membership at any time. However, if you're looking for a refund, you must initiate the cancellation within 30-days upon receipt of your Whoop.
Canceling your Whoop membership after 30 days of the refund cancellation window will require you to pay the total cost of your commitment. Remember that you'll no longer be able to upload, collect, or analyze biometric data once the membership is terminated officially.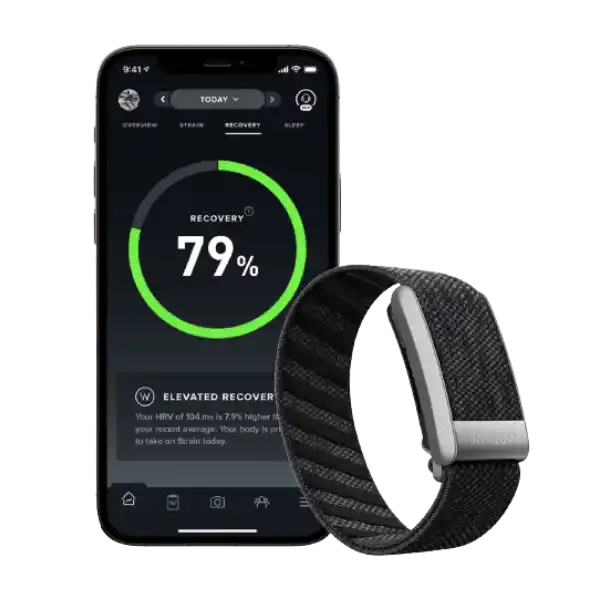 Don't Own A WHOOP Yet?
What are you waiting for? Join WHOOP for as low as $30 and get the new WHOOP 4.0 FREE with your membership.
How to Cancel Your Whoop Membership? (Steps to Follow)
Step 1: Locate Membership Option
First, visit Whoop's Official Website and log in to your account. Once you're on your dashboard, Go to Menu > Select Membership option (located below Settings option.)
Step 2: Initiate Cancellation
On this page, scroll down to locate the Cancel your Membership link.
Once you click on Cancel your Membership, you'll receive two options to select from, i.e Pay In full for the remaining months or Continue payments on your current schedule until the commitment period.
Step 3: Confirm Cancellation
After selecting, you'll receive a Cancellation Confirmation. Tap On Confirm.
Once your membership cancellation is confirmed, you'll no longer be billed and it'll automatically cancel at the end of your commitment.
Note: If you're canceling before 30-days of the return period, visit Returns Page.
Do I Need to Ship the Whoop Device Back After I Cancel?
Once the cancellation request is complete, you'll receive a mail from Whoop on your registered e-mail, letting you know whether you'll need to ship back the device. If it does, they will provide a return label consisting of the address to which you need to ship back the device.
On successful return to the address, Whoop will refund the original price by excluding the total shipping cost (both original and return.) Also, ensure that you own the receipt of your return shipment until your refund is credited. Now, What if Whoop doesn't ask you to ship back?
In such cases, you can gift your Whoop band to one of your friends or relative. Or get a refund of the original price by recycling it through the local electronics recycling option in your area. 
Will I Get A Refund from WHOOP After Cancellation?
As discussed earlier, Whoop initiates a refund if the cancellation is done within 30-days of receipt. Outside the 30-day window, you'll have to pay the full amount of your contract.
Hello,

You own the strap from the beginning! The only time you would ever need to return it is if you were returning for a refund in side the 30 day return policy. Yes you would need to continue to pay for a membership for the strap to keep working.

— WHOOP (@whoop) October 18, 2019
For example, if you cancel a one-year Whoop commitment after 6 months, you'll usually have to pay for the remaining 6 months. To make payment for the remaining months, you'll have two options:
Keep making payments according to your current schedule until your commitment ends.
Pay your remaining commitment in full.
Whoop's membership plans are typically pre-paid, which means, you must pay the full amount upfront to join. However, with a monthly membership, WHOOP will charge your credit card every month until your twelve-month commitment period ends. So, Is it a good idea to cancel after 30 days?
The answer is obviously no. Because in the case of canceling after 30 days, you still owe the remaining month, which means you're paying for nothing. 
However, before deciding to keep the membership active, I recommend chatting with a member of Whoop's support team about the real reason for your decision. They may cancel your remaining period and initiate your refund if you're lucky. This is something I discovered while browsing forums.  
What If 30-Day Window Is Closed? The Solution
If you were out of luck in getting your refund after contacting Whoop's support, then here are a few other solutions that could help:
Keep Using the Strap
Whatever the reason for getting rid of your Whoop Strap membership, you can always choose to keep using it. Because it's an excellent tool that tracks your cardiovascular strain, recovery, and sleep.
Moreover, if you're an athlete, Whoop is proven to be an excellent tool, especially for those who are training for endurance events like marathons or triathlons. The point is if you're looking for a device that has better tracking capabilities for your strain, recovery, and sleep, then Whoop won't disappoint you.
Gift It to Your Friend or Relatives
Gifting fitness trackers such as Whoop Bands to someone is like wishing them good health. It is a thoughtful idea to gift your loved ones the Whoop strap if you plan to no longer use it. As a result, you will save money this way instead of wasting it on membership cancellation.
Sell It At A Discount
If getting your money back is the primary reason for canceling the membership, then my preferred advice will be to sell your Whoop strap at a discounted price. Now, the question is Where Can I Sell?
Observing the market, I'd recommend two marketplaces for trading in your Whoop Strap:
Facebook Marketplace (Buy & Sell Groups)
A buy and sell group on Facebook is like a regular group, except members can list items for sale. I've found several Whoop members selling their Whoop strap (with active membership) at a discounted price. The fascinating part is people are also showing interest to purchase the device at that price.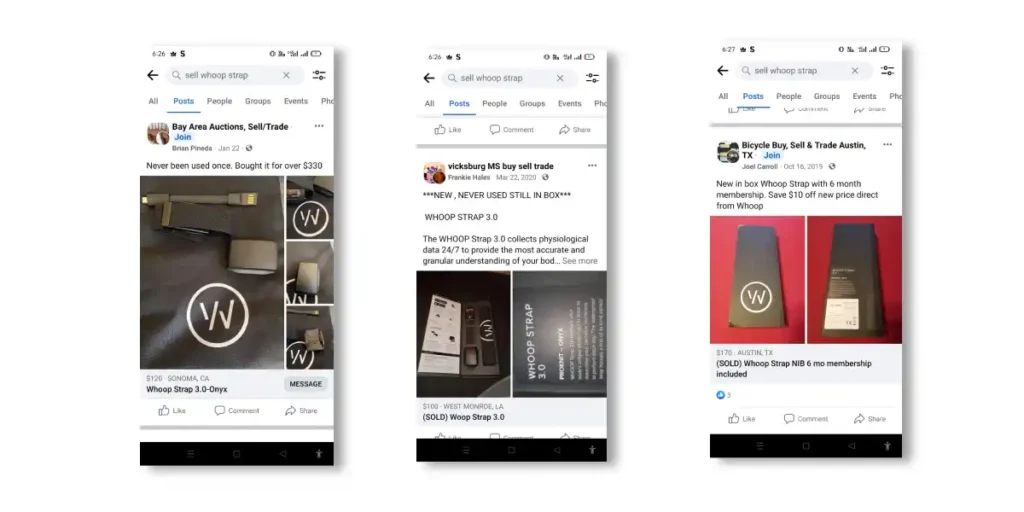 Here's how to find groups to sell your Whoop straps:
Open the Facebook app.
In the search section, type "Sell Whoop Strap"
From the top, select Posts.
On selecting posts, you'll find Buy & Sell Groups that have posted "Whoop for Sale" posts. And that's where you can trade your Whoop Strap for cash.
Swappa Marketplace
Swappa is a community of people who want to buy and sell used smartwatches, fitness trackers, laptops, smartphones, etc., with each other. They offer the most secure & convenient way to buy or sell your device because they don't charge any listing or seller fees.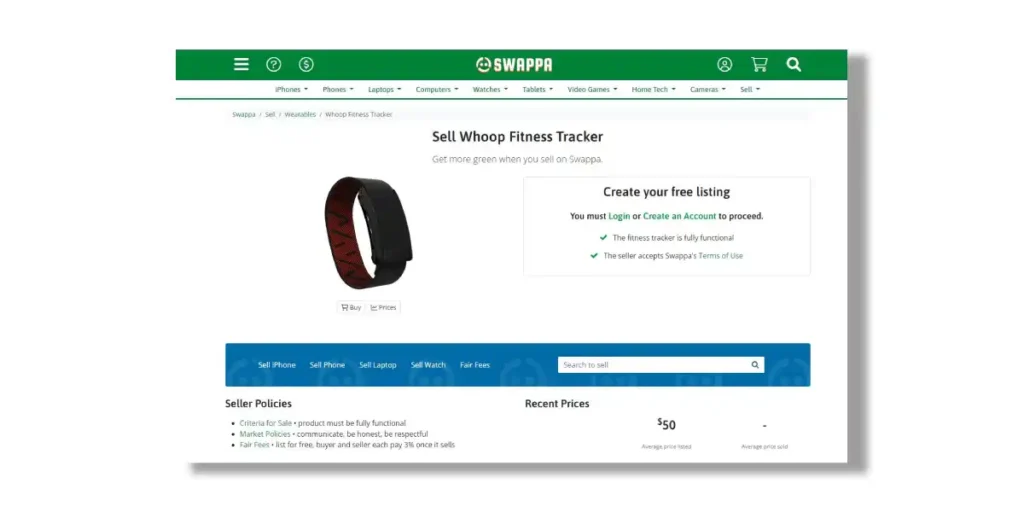 Thankfully, out of the wide range of products sold on Swappa, Whoop Fitness Trackers are one of them. Before listing your device on Swappa, make sure it is fully functional.
Here's how to sell your Whoop on Swappa:
Create an Account & Get started by listing your Whoop Fitness Tracker on Swappa.
Enter the device's details, upload some pictures, and choose a price.
Choose a price based on the color, storage size, specs, and market trends of recently sold Whoop.
As soon as you submit your listing, the Swappa team will review it to ensure that you have provided all the necessary information.
Upon approval, your listing is added to the marketplace where users can find affordable Whoop Strap.
FAQs On Whoop Membership Cancellation
Can I Still Use My WHOOP Without Active Membership?
Whoop bands are useless without an active membership. Once you cancel your membership, you'll no longer be able to upload, collect, or analyze your biometric data.
What Are Some Whoop Alternatives to Consider?
What Happens If you Stop Paying for WHOOP?
If any membership fees remain unpaid for more than three days, your Account will be deactivated. Since your account is inactive, it will not be possible to sync your Whoop strap's activity data with its app.
---
Read More On Whoop