Some people think that wearing a Whoop on the ankle is a normal thing. But, others think it is a weird and inconvenient way to wear a Whoop, compromising the accuracy.
Think about it this way! How would you feel if you had a watch you wanted to wear on your wrist, but your Whoop wouldn't let you? Wearing a watch and a whoop at the same time can be awkward.  
Many athletes prefer wearing their Whoop on their ankles as it can help them monitor their heart rate, track physical activity, and sleep. And for them, it is quite convenient in comparison to wearing it on the wrist.
But the common question still remains – Is it possible to wear a Whoop strap on the Ankle? Will there be any issues with data reading if worn? Read the article to know more about this.
Let's Dive In!
Related | 9 Advantages of Having a Whoop Strap In Your Life
Can You Wear Whoop Strap On Ankle?
Whoop recommends its users wear the strap on their wrist, upper arm, or outside of the bicep. However, some users claim that Whoop straps work fine wearing on the ankle.
Here's the official statement from WHOOP:
Currently we recommend just the wrist or upper arm.

— WHOOP (@whoop) October 2, 2017
While researching, I found some users say – "Wearing Whoop on the ankle may not be as accurate as a wrist." Then, I thought of trying it out on my own.
Having worn my Whoop strap on my ankle for the past week, I can say that it works the same way as wearing it on the wrist. The ankle reading was quite close compared to the wrist reading.
There has never been a direct statement from Whoop that their strap doesn't work on the ankle. Instead, they recommend wearing the strap on the wrist, upper arm, or outside of the bicep.
That's not a clear answer, Isn't it? I recall watching a podcast two years ago where one Whoop executive said, "many of the pro athletes wear the strap in different places during the games."
That's great validation there! Whoop probably doesn't want to market their straps as ankle bands. Perhaps that is why they are not open about it.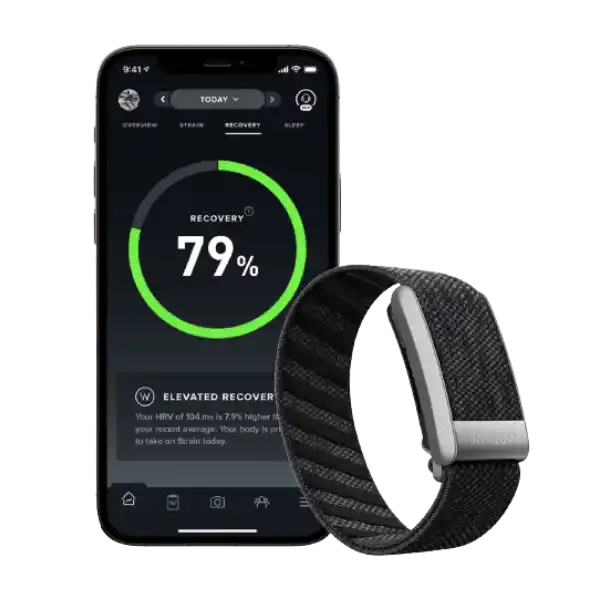 JOIN WHOOP
Looking for A Free Whoop Band? Join WHOOP for as low as $30 and get the new WHOOP 4.0 FREE with your membership.
Can You Wear Whoop Somewhere Other Than Wrist?
Whoop currently recommends wearing your strap on a wrist or upper arm. Other than the wrist, Whoop straps can also be worn on your bicep, forearm, ankle, or right hand.
Whoop is not only known for its wearable straps. There is another new line of enhanced technical garments called Whoop Body. It is a kind of apparel providing users with more placement options.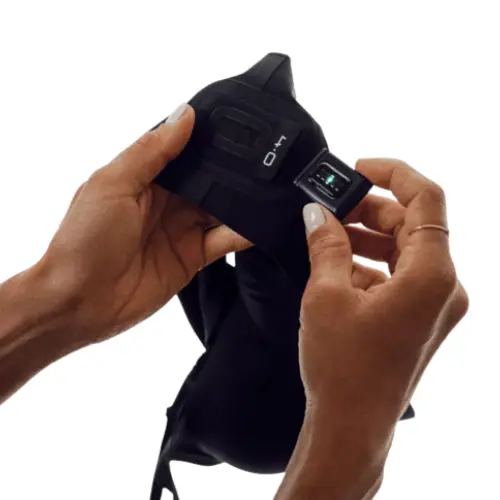 In other words, Whoop Body apparel offers "Any-Wear" technology that allows you to wear your device on the wrist, arm, torso, waist, and leg.
Here's how to wear Whoop Body:
Detach your Whoop device from the band by unlinking the strap and removing the clasp.
Insert the Whoop device into your Whoop Body apparel before your put it on. Ensure the LED is facing your skin.
Use the opening to insert the device and close the velcro.
Make sure that your Whoop Body apparel lays flat on your skin without any gaps or bunches.
FAQs on Wearing the Whoop Strap
Can I Wear WHOOP on My Non-Dominant Wrist?
Whoop can be worn on your non-dominant wrist. It is important to wear it correctly (not too tight or loose), with at least two fingers-width above the wrist bone for better data quality.  
Can you Wear Whoop Upside Down?
As far as you're wearing the Whoop strap on your wrist, you can wear it in an upside-down manner. Just make sure the sensors make solid contact with your skin for better readings.
Is WHOOP More Accurate on the Bicep?
According to Whoop, the strap results in accurate readings when worn on the wrist as well as the bicep.
For this reason, Whoop recommends purchasing their bicep band. Through its proper form and function, Whoop's bicep band facilitates supporting your muscles in this way.
Do I Need to Wear my WHOOP all the time?
Thanks to Whoop's 24/7 wearable technology, you can wear your WHOOP for as many hours of the day as you want. There are no restrictions on how often you should wear it.
Do I Need to take WHOOP off in the Shower?
Whoop straps are water-resistant, which makes them suitable for wearing in water activities like showering, rain, swimming, hand washing, etc. Make sure not to wear Whoop along with the battery pack as the battery pack is not resistant to water.
Read More On Whoop