Is your WHOOP's battery about to run out? Don't have the battery pack to charge? You might've left your Whoop's battery pack at home, or the battery pack is no longer working — quite apparent reasons to look for alternate methods to charge up the device.
I was in the same situation a few days ago, wondering whether WHOOP could be charged without the battery pack after it somehow stopped working.
In short, there are no other alternative methods to charge your Whoop without the battery pack. But before giving up all hopes, there are a few things to consider.
The ultimate intention of this guide is to help you understand why your WHOOP's battery pack stopped working, as well as what you can do to fix it. I hope this guide clears up any confusion you may have.
Let's Dive In!
Can You Charge Whoop Without Battery Pack?
The straightforward answer is No. Charging your Whoop strap requires the battery pack to slide onto your Whoop. That's the only way to charge your Whoop strap.
As discussed earlier, the most common reason you might search for alternate charging methods is that you've forgotten your battery pack at your place, or the battery pack is no longer working.   
Completely different scenarios, Right? Then, what's the solution?
Firstly, If you have left your battery pack at home, getting a hold of the battery pack is the only option. Because plugging in the battery pack is the only way to charge the device.
On the other hand, If somehow your battery pack suddenly stopped working, you might still be able to get it working again. However, you need to know a few troubleshooting methods to begin.
But, how can you identify if your Whoop Battery Pack has stopped working? The best way is to observe the LEDs on the battery pack. Using LEDs, the battery pack displays the remaining charge level. So if your battery pack has drained to 0%, then the LED will show no pattern.
Your next step is to connect the battery pack to the USB-C cable provided and let it charge. It's all good if the LED on the battery pack lights up. If it didn't, it's most likely that the battery pack is malfunctioning.
Let's explore what's causing your battery pack to not respond.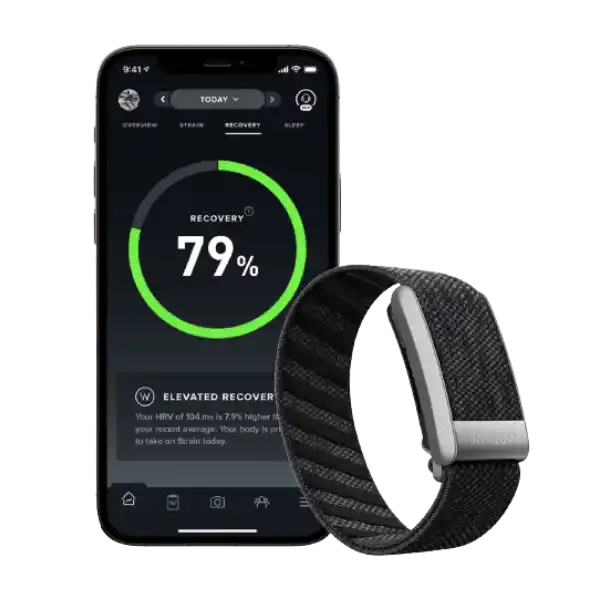 JOIN WHOOP
Looking for A Free Whoop Band? Join WHOOP for as low as $30 and get the new WHOOP 4.0 FREE with your membership.
Why Is your Whoop Battery Pack Not Responding?
Your Battery Pack Might've Come In Contact With Water
Getting your battery pack wet can be one of the reasons why it isn't responding anymore. You might have unknowingly brought your Whoop battery pack in contact with water, which is strictly not recommended.
Even though Whoop 4.0's battery pack comes with water-resistant capabilities, Whoop always recommends you not to wear your battery pack when involved in water activities like swimming in a pool or ocean, hand washing, showering, rain, etc.
Here's a statement by Whoop support:
"While the 4.0 battery pack can withstand a shower or handle getting caught in the rain, we do not recommend members participate in water-based activities while charging their WHOOP."

Whoop Support
Must Read | Can You Wear Whoop Strap In the Shower? (Answered!)
You Might've Received A Defective Battery Pack
In the case that you just bought your Whoop strap and are experiencing issues with it, it's probably a result of receiving a defective battery pack.
Many users have reported that the battery pack goes green, but doesn't charge when aligned on the strap. In that case, the only possible solution is getting a replacement.
Tips to Fix Whoop Battery Pack Not Charging
Plug-In Charging Cable Properly
It could be your USB-C cable, causing the Whoop battery pack not to charge. Most likely, the cable isn't plugged into the device properly – that's why you aren't seeing the signs of charging. This usually happens when you plug in the cable too lightly, or the cable has some issues.
It is relatively easy to resolve this issue by ensuring that the charging cable is tightly plugged into the battery pack and adapter. If that doesn't help, try connecting a different charging cable.
Clean Specks of Dirt Inside the Port
Over time, dirt or lint accumulates over the charging contact and blocks the battery connection, which limits a good electrical connection to pass through.
You can simply fix this by cleaning the contacts with rubbing alcohol and a q-tip. Alternatively, you can have a toothpick and wrap a small amount of cotton around it. Then, gently clean the battery pack's port.
Note: Strictly DON'T use water to clean the charging contacts.
Ensure the Charging Adapter or Outlet Is Fine
Sometimes, the Whoop battery pack may not charge because of a faulty outlet or adapter. You can switch to a different charging outlet to check if the issue persists.
To check if the adapter has any issues, try plugging it with other devices. If any other device didn't charge, you can conclude that the adapter is a faulty one.
Check for Water Damage
You can wear your Whoop strap for water activities, but having the battery pack on can be a bad move. Even though some of the battery pack comes with water-resistant capabilities, Whoop recommend its users not participate in water-based activities while charging their straps.
If you've unknowingly caused the damage by now, then you can try soaking the water particles present inside. To do this, use air blowers to soak up all water from the device.
There is no guarantee that this will work. However, I believe you should always attempt troubleshooting before purchasing new hardware.
Best Tip: Get Yourself A New Battery Pack
If nothing works, the most effective solution is to get yourself a new battery pack.
I know it might sound quite obvious. Because currently, this is the only way you can charge your Whoop, so purchasing a new battery pack will make sense.
Keep in mind that the 4.0 battery pack is not compatible with WHOOP 3.0. Likewise, the 3.0 battery pack is not compatible with WHOOP 4.0. Buy the Whoop strap that matches your Whoop model.
FAQs On Charging Whoop Without the Battery Pack
What Kind of Charger does WHOOP Use?
The Whoop strap uses a portable charger also known as the battery pack. Note that the battery pack is charged separately by plugging it in using the USB-C cable provided.
How do I Charge Whoop Without Battery Pack?
Currently, you can only charge your Whoop Strap using the Battery Pack. If your battery pack isn't working, then get yourself a new battery pack from the Whoop store.
Does WHOOP Need to be Plugged into Battery Pack to Charge?
Yes, you'll need to plug in the battery pack with your Whoop strap to charge the device.
Read More On Whoop