Watch faces are the most impressive element in smartwatches as it allows you to customize the watch screen with visually appealing dials.
Almost every smartwatch in the market features customizable watch faces out of the box. Garmin is one of them. Garmin's official app called Garmin Connect IQ store features a wide range of watch faces, widgets, games, and apps.
When choosing a watch face, you should take four things into account; presentation of data sets, visually appealing looks, battery consumption, and overall performance.
With a wide range of options, it gets challenging to find out the best. After research, here are the best Garmin Watch faces that you should check out.
Note: Listed watch faces work on most of the devices. If you find compatibility issues, check out compatibility by visiting the Watch Face page.
9 Best Garmin Watch Faces
Actiface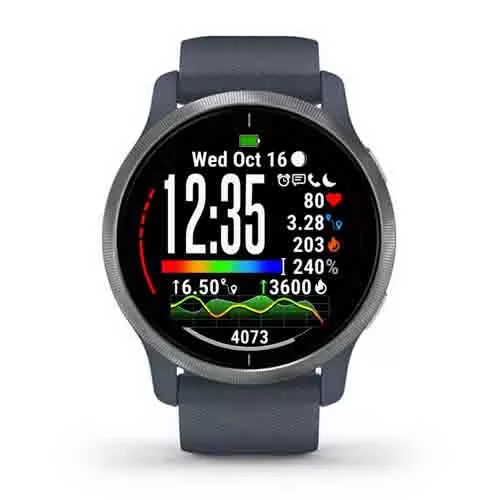 ActiFace primarily focuses on athletes and people who want to lose weight. You will notice the watch face loaded with lots of data set, but are arranged in a well-organized manner to make it visually appealing.
This busy watch face has got things like activity history, snapshot with calories, and distance. Moreover, it includes insights into daily goal progress, step count, and heart rate. You can expect the battery to be performing well even after all this crowded data.
Another thing I like about this watch face is that it can remind you of events. Whether it's your exam or attending a meeting, this watch face can show text below the current time field. All you need to do is set your event date and name in settings.
Crystal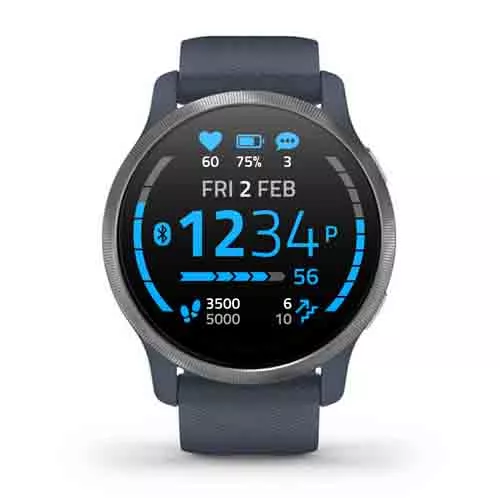 Crystal is an award-winning watch face at the Garmin Connect IQ developer awards. It presents data in a well-organized way without cluttering the screen.
At the top, you get data fields like heart rate, battery, and pending notifications. And below, insights into steps and distance can be found. This watch face also shows indicators indicating whether Bluetooth or alarm option is active.
The good part is all these data fields can be easily configured according to your preference.
Talking about the battery performance, I've been using this watch face for a couple of months now and I didn't find any issues with it. Overall, no complaints about what it has to offer and its performance.
Line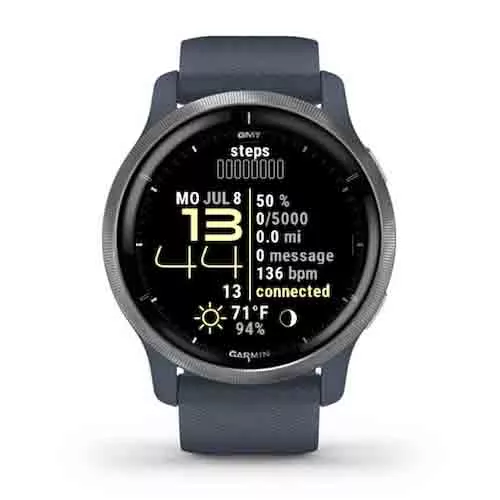 Looking for a more simple watch face? The Line is the simplest watch face you can find for your Garmin Watch. It can be the perfect choice for someone who has minimal taste in everything.
Talking about the watch face, it has got a line down the middle, dividing data sets into two parts. On the left, it consists of the day, date, and time. And on the right part, packed with information like battery, notifications, steps, distance, and heart rate.
Also, note that all these data fields are configurable. You can also customize the colors to suit your preference. Live above watch faces, Line gives you good performance in terms of battery due to its minimal nature.
NoFrills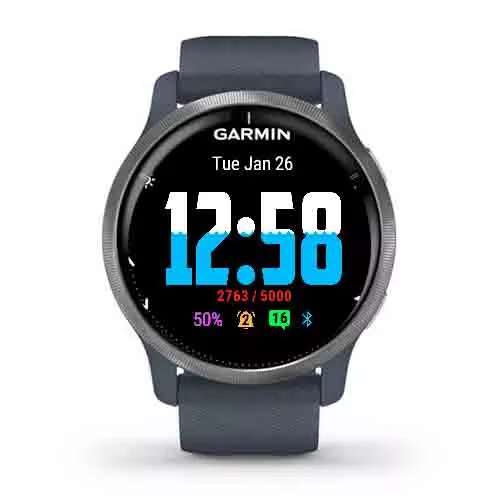 NoFrills has a clean and elegant watch face design for Garmin smartwatches. The time is displayed in large text at all times on the middle of the screen.
To the below, you get insights to step goals completion stats. And other data like calories, sunset, and temperature. However, it doesn't have lots of customization options but decently presents data.
One of the things you'll like is the digits on the watch face starts to fill up on completing goals. For instance, if you set up goals for calories burned, the digit will fill up as you progress with burning calories. How cool is that?
Overall, NoFrills is a decent Garmin watch face to go with.
Basic Analog Watch Face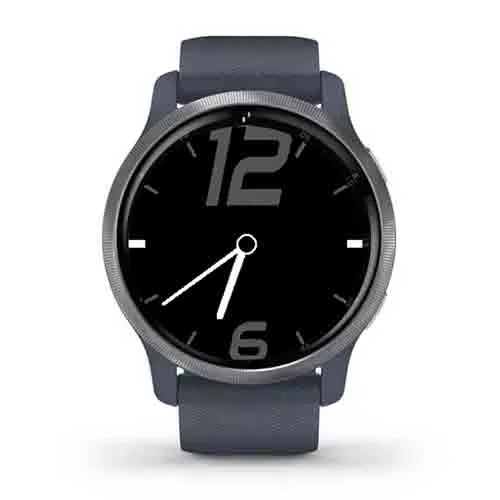 Analog watches can be worn on all kinds of events. If you want to give your Garmin a traditional look and feel, check out Analog by Folelse.
There is nothing special about this watch face, unlike other watch faces on this list. But it is more suitable for people who want an elegant look on their watch.
This watch face offers you the ability to change the size of minute and hour hand, but there is no second hand that ticks. Another ability is to change the color of the minute & hour hand as well as the color of the center circle's inner and outer.
Lineae Digital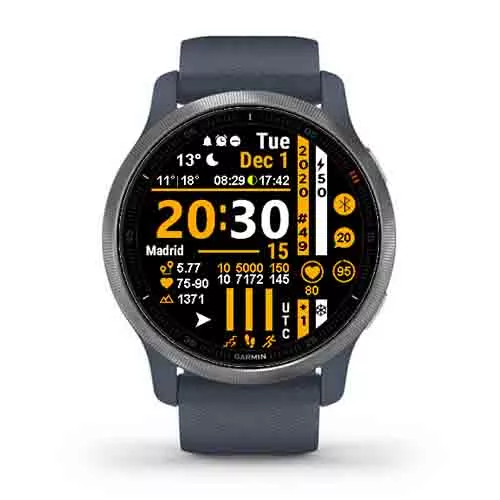 Lineae Digital is another super cool watch face with a whole bunch of information in it. For looks, this has a racing stripe line down the right, giving the watch face a sportier look and feel. In addition, this stripe is pretty much customizable, like you can change its position and color to your preference.
The information on this watch face is presented in a much more stylish manner. On the top, you have the day, date, sunrise, and sunset time. Below that, lies a large text indicating the current time, which is easily noticeable at a glance. At the bottom, you can check your altitude, distance, floors climbed, steps, and active minutes.
Lineae Digital is available as freemium. With the paid version, you can unlock some of these features below:
Shows Weather Data
Enable the sleep mode
Change the primary and secondary colors and the bar colors.
Change the simple and data layout orientation
Save and load up to 3 different property configuration and more.
Fusion
Fusion is another exciting watch face that offers you very informative data fields. You can tell the time quickly due to the large text located in the center. Unlike others, it has lots of customizable options and data fields.
As you take a look around, you'll find different zones filled with some information, including altitude, barometric pressure, distance, etc.
Having weather information on your wrist is useful, especially when planning your day. On the Fusion watch face, you can see weather details, which are rare on free watch faces. That's what makes this watch face a must-have.
Simple Watch Face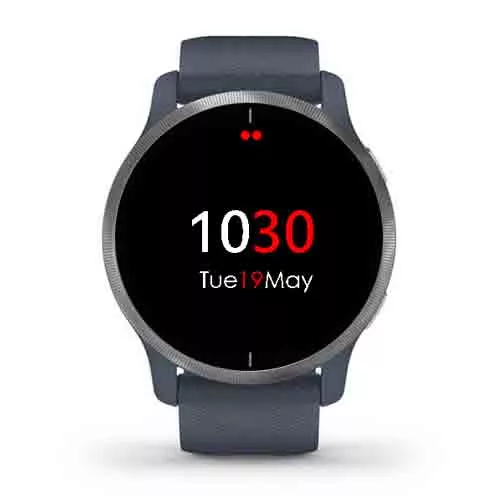 As the name suggests, this is the simplest watch face that only shows a few data such as time, day, date, month, and battery. And is not crowded with too many data fields, which is satisfactory for minimalists.
The dots on the top indicates the battery status of your watch.
Two red dots indicate battery life between 100% and 75%
One red and one white indicates battery life between 75% and 50%
One red dot indicate battery life between 50% and 25%
One white dot indicate battery life below 25%
Moreover, the color scheme can be customized with seven different colors, including orange, green, cyan, red, and yellow.
After using this watch face for a while, I can say that the overall performance is decent. You won't find any major impact on battery life.
EuroPilotPlus Diet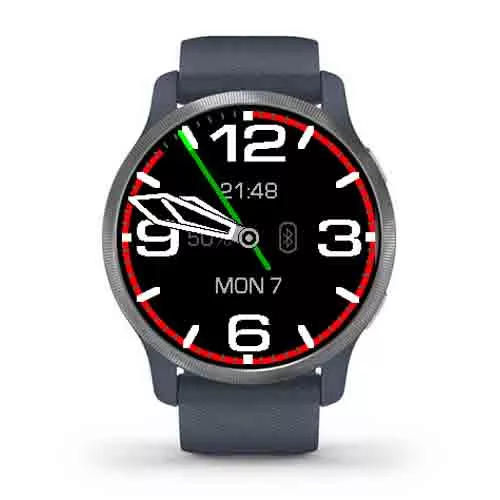 EuroPilotPlus Diet has a nice bold and clean design along with lots of data fields providing insights into data such as the battery, steps, altimeter, distance, etc. But you can only show four data fields at a time. Moreover, a red dot appears on the right that indicates unread notifications.
What makes this watch face more exciting is it has a traditional swiss watch look equipped with a minute, hour, and second hand. Usually, we don't get to see a second hand on an analog watch face provided by Garmin, but you got lucky with this.
Overall, EuroPilotPlus Diet is best for those looking for a more traditional watch face packed with helpful data fields, check it out.
Get More For Garmin