Widgets on Watch are brilliant. They are bits of information on the watch's home screen that are quickly accessible at a glance with few swipes.
Thankfully, Garmin Watch supports widgets too. You can use their official Garmin Connect IQ Store to explore various widgets, apps, watch faces, and games to download on your Garmin Watch.
In this post, you'll find some useful Garmin widgets to install on your watch. However, check for compatibility by visiting the widget's page.
The majority of Garmin series, including Forerunner, Foreathelete, Fenix, Vivoactive, MARQ, and Venu, works well for these widgets.
Are Widgets And Apps The Same Thing?
Some think of these two as the same, while others disagree.
But to break it down for you, widgets are apps that can be placed on your watch's home screen and they provide a shortcut to a particular function that keeps running in the background. For example, A Calendar widget on your watch's home screen provides a quick view of the upcoming events.
Apps are programs that have been downloaded from the app store and they offer a variety of benefits to the user. Once you exit an app, it clears up the process. For example, the Spotify app for music playback.
9 Best Widgets for Garmin Watch
Water Logger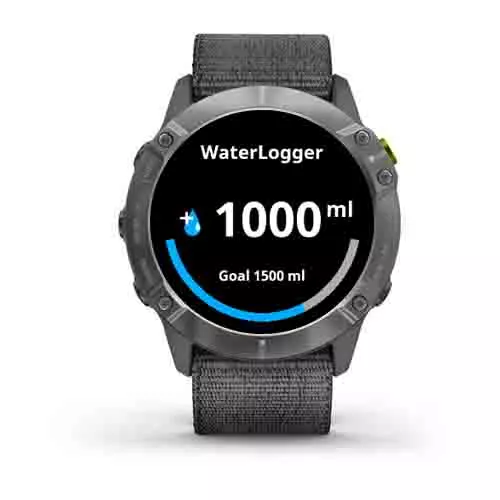 To stay hydrated & regulate body temperature, drinking water each day is crucial. What's more important is to monitor whether you're meeting your water intake goals.
The widget WaterLogger lets you track daily water intake with your Garmin Watch. More importantly, it reminds you when to drink water.
You can set goals from the screen itself, no need to visit Garmin Connect App to play with the settings. On the screen, you'll notice a blue bar that fills up when you drink water and shows how much Oz of water you've consumed for the day.
Since it's a Widget, WaterLogger will stay active on the screen. You can slide the widget section to view, which allows you to check your progress at regular intervals.
Torch Widget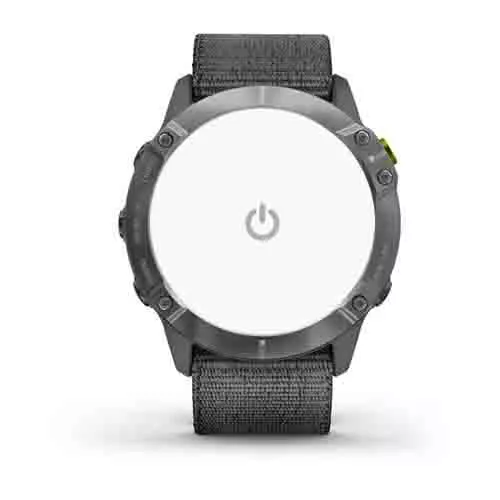 Suppose you're looking for some important documents, but suddenly there was a power outage. Keeping a flashlight handy will help you in emergencies like this. How cool it would be to use your Garmin watch as a flashlight?
You can install the torch widget on your Garmin Watch, and with one tap, turn it into a bright flashlight.
On tapping power on, the widget does its best to maximize the watch's screen brightness to the fullest, giving you enough lights to make things visible.
Maps Widget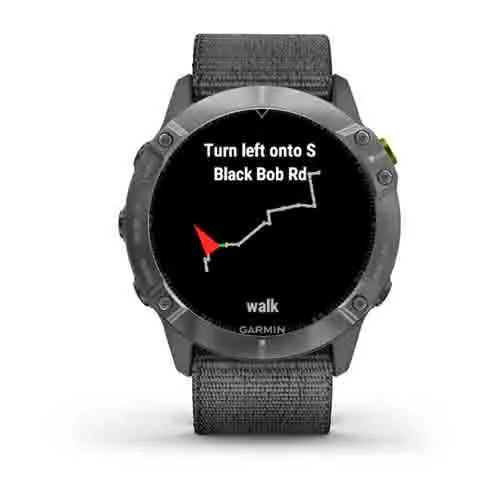 If you're trying to figure out a way to incorporate better mapping capability on your Garmin watch, then use a widget called Maps Widget.
While connected to your phone, this widget identifies your current location's coordinates and shows an actual map on your watch's screen. And once you start moving, it keeps updating your location, similar to Google Map on a smartphone.
Take a note that the watch must be connected to your smartphone with an active internet connection on your phone to work. Luckily, the Maps widget also has an additional feature to save routes and locations so that you can later use them offline.
Overall, An excellent widget for travelers looking for easy map navigation on their wrist.
Stopwatch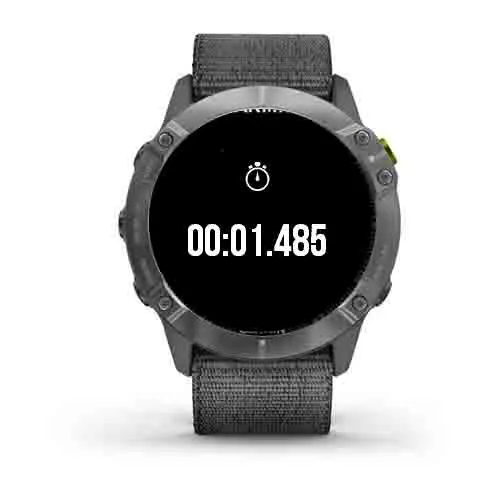 If you're an athlete who is much involved in activities like running or cycling, a stopwatch can help you determine the exact times of your performance.
Or in general, if you want to tell how long it took to perform a certain function, a stopwatch can come in handy. Therefore, keeping a stopwatch widget installed on your Garmin is worth it.
Here is the stopwatch control for your Garmin Watch:
Start / Pause / Resume: ENTER/ACTION key
Reset: Press and Hold UP/MENU key
Single Tap: Start / Pause / Resume (Touchscreen Devices)
Tap and Hold: Reset (Touchscreen Devices)
Currency Widget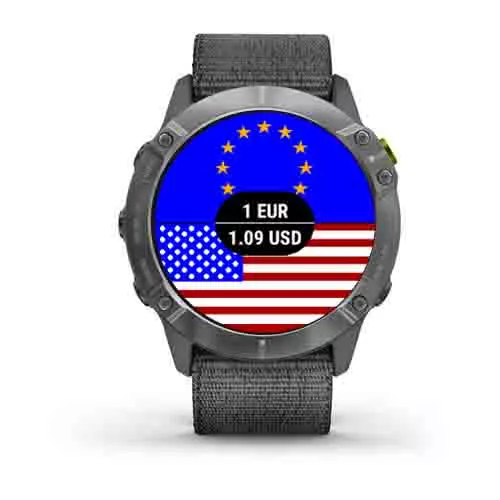 For people traveling abroad, knowing the currency rates for the destination country is important. Imagine traveling from the USA to India, and you don't know the currency rates in India for 1 USD.
It would be difficult to manage your expenses, Right?
Having a Currency widget at your wrist helps you convert one country's currency to another quickly. This will let you track your expenses and get an insight into currency rates at a glance.
In Currency Widget, you get to choose from 33 currencies to convert. Enter your current currency and one you're trying to convert, and leave the rest for the algorithm to calculate.
Talking about price, it requires a payment to operate. Its easy-to-use interface makes it worth investing in. However, you can try out a DEMO before purchasing.
To-Do Widget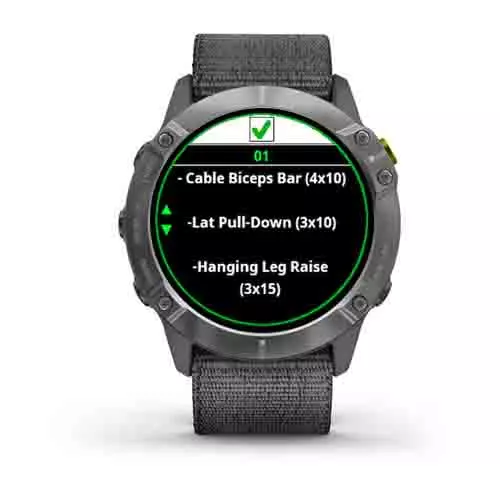 Sometimes organizing our day-to-day tasks can be tiring. It could be completing assignments, shopping, feeding your pet, going gym, etc. What if you can have all these well-organized at your wrist and reprioritize your tasks more efficiently?
The To-Do widget lets you add tasks and manage them right from your wrist.
You can add tasks in a queue and prioritize them to your preference. And once you complete them, use the checkbox to mark them as complete. In this way, you can keep an eye on the current day's tasks and remind yourself what you're missing.
The to-do widget is free to use. However, a message saying "Unlock PRO" sometimes pops up on the screen to show support towards the developer by contributing a small thank you tip.
Elevation Widget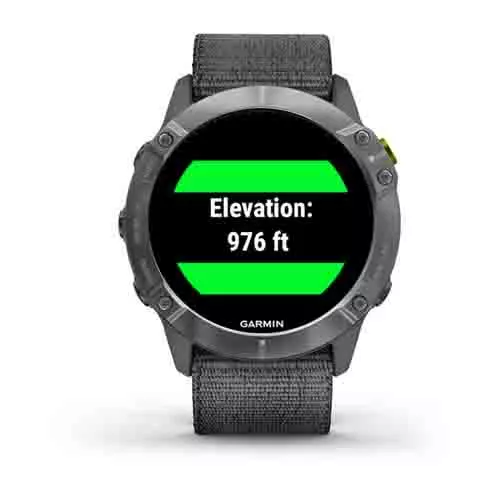 As an adventurer, having an elevation widget on your Garmin Watch can help you a lot. An elevation widget can help climbers, mountaineers, and hikers find the height above the surface level.
For example, if you're going on a hike or mountain climbing, then it can tell you the height of the peaks or mountains around you. Skiers and snowboarders use these widgets to determine where they should go based on how high the mountain is.
Weather Widget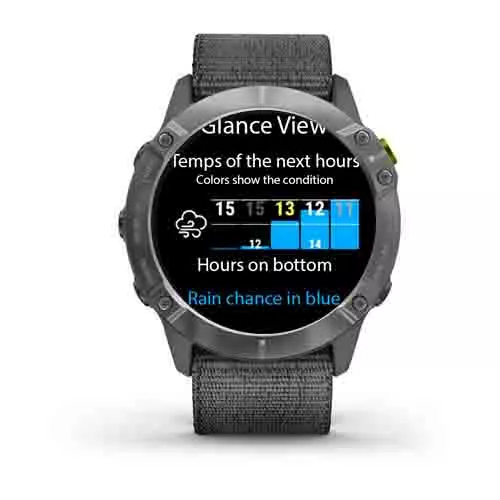 Weather by topcaser is a clean and simple weather widget for your Garmin Watch. The widget is beautifully designed to provide accurate weather conditions and hourly forecasts. What does it offer?
You get an early weather forecast for the next four hours to two days.
A blue mark indicates rain precipitation data.
Weather icon changes color depending on the weather.
Nightly icons indicating sunrise & sunset.
With Glance view support, you'll be able to see a graph with temperature predictions for upcoming hours. You'll love the way how every detail is organized. For customizable options, you get to set your preferred unit – whether it's celsius or Fahrenheit.
Remember that this widget uses your phone's internet connection to fetch weather details from Garmin. Ensure the phone is connected. As the widget runs in the background, you'll notice minor battery consumption.
Rain Widget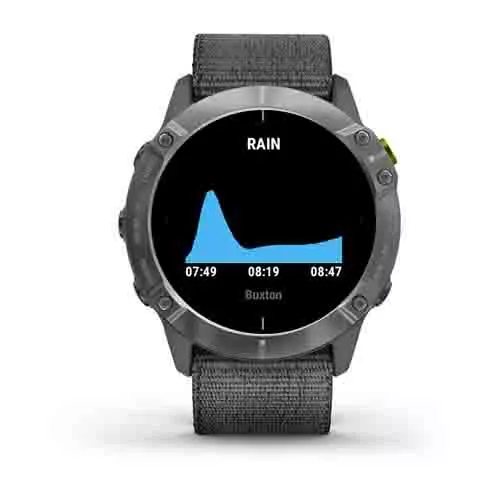 The weather widget above can inform everything about weather conditions. However, if you want something that specifically tells about rain, then install the Rain widget on your watch.
With the Rain widget, get a detailed graph with information related to upcoming precipitation. What's more useful is, it shows an early two-hour rain prediction.
Moreover, the widget tries to remember your locations and tries to update them in the background. The best part of the widget is you can tell everything at a glance due to its user-friendly interface.
Overall, if you're more into monitoring rain predictions, check out Rain Widget.
Read More