I do have a hectic schedule where I need to travel more. During these traveling hours, my brain gets drained looking outside the window.
Luckily, I own a Garmin watch which allows me to play a variety of Games and refreshes my mind from this hectic schedule.
If you also have a busy schedule or just want to try out some games on your Garmin Watch, then you are at the right place. These games not only keep you engaged but also kill your boredom.
Keep in mind that we are talking about playing games on a watch, so do not expect these Games to be high-graphics or some sort of advanced game.
In this list, you will find the seven best mini-games to play on your Garmin watch, created by skilled developers out there.
7 Best Garmin Watch Games (Must-Play!)
Maze Game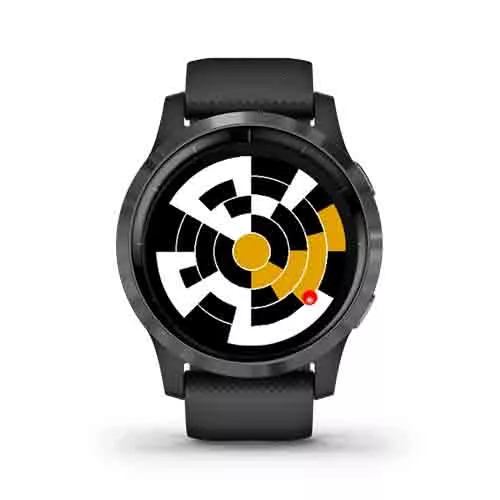 Maze by Garmin is an exciting game you can play on your Garmin watch. This game has 50 levels and 20 challenges, which get more difficult with each level you pass.
The game starts with a ball and multiple layers of white sections. You have to press the up and down button or use touchscreen gestures to rotate these layers so that when you get a continuous white path, you have to pass the ball through the maze.
After filling all the white sections, you'll reach the next level, which is going to be a little more difficult than the previous one.
Super Bird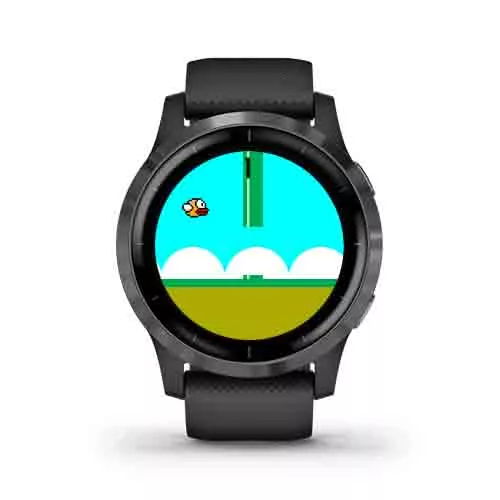 Do you remember that flappy bird we used to protect from being hit when it passed between pipes? If you want to experience that again, check out Super Bird by Garmin.
Super Bird is one such game that will keep you active and kill boredom. In this game, you'll control a bird that flies between green pipes.
All you have to do is protect the bird from being hit. The more you save the bird from being hit, the more points you earn.
Note that this game cannot be played on a touch screen. You'll be using buttons on the watch to control it.
Classic Tetris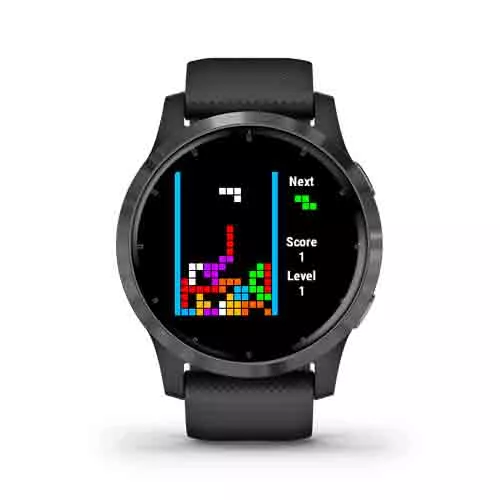 Tetris is one such game I used to play a lot during my childhood. I remember getting addicted to this game for a long time. Luckily, Garmin users can play this nostalgic game on their Garmin Watch.
In Tetris, you will prevent blocks from building a stack up to the top screen. For that, bring the blocks and position them in a way it forms a line. The line disappears, giving you space to stack up more blocks to keep going.
Talking about the features, this Classic Tetris game includes four levels, optional sounds, and gets faster after every ten lines are filled.
Below are the Garmin watch controls for playing Tetris:
Move Blocks: Down/Back Keys or Tap Screen Left/Right.
Change Block Shape: Select Key or Tap Screen.
Quit Game: Menu key or Tap&Hold Screen.
Color Memory Game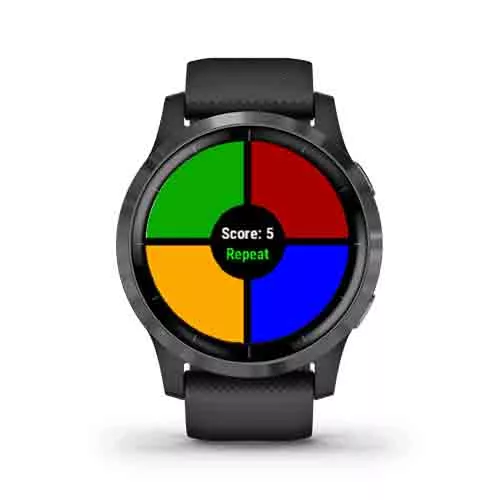 Do you want to play an addictive game and at the same time sharpen your memory skills? The Color Memory Game lets you sharpen your memory skills with its unique concept.
The game starts with a pattern of colors and sounds, which you need to remember. So that in your next turn, you can repeat the pattern as displayed earlier.
As you go on completing, these patterns and sounds get more tricky and lengthier. A pro tip, try to stay focused and calm while playing.
Tic-Tac-Toe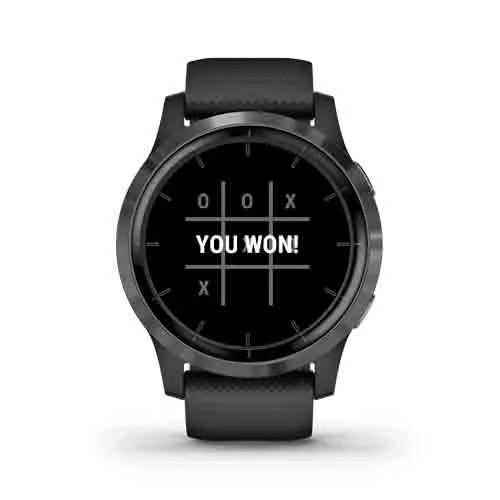 Tic-Tac-Toe is another nostalgic game you might have played with your friends during free hours. With Garmin, you can play Tic-Tac-Toe on your wrist and remember those old days.
If you don't know about Tic-Tac-Toe two players compete with each other by drawing either 'O' or an ' X.' The player who gets to fill three of the box in a row with the same symbol gets to win the game.
There's no need to worry if you have no one to play with; you can play independently with the system using AI (Garmin Watch vs You.)
You can choose between three levels (Easy, Hard, and Normal) on most recent devices, but old devices get two options (Easy & Normal.)
Below are the Garmin watch controls for playing Tic-Tac-Toe:
Set Level: Swipe Left
Set First Player: Swipe Up
Position Mark: Swipe Up/Down or Tap on Screen
Confirm Placement: Select
Quit Game: Back Key or Tap&Hold
PACMAN
The action maze chase game Pacman used to be one of the popular games back in the '80s. Years later, many people still love playing this game due to its interactive and addictive nature.
The concept is pretty simple, there will be a character named Pacman, your objective is to eat dots while traveling through the maze while preventing the character from hitting four colored ghosts (Blinky, Pinky, Inky, and Clyde.)
Your Garmin watch uses an internal accelerometer to make the Pacman move. Overall, this game is worth trying, you will have a lot of fun playing this game.
T-Rex Dino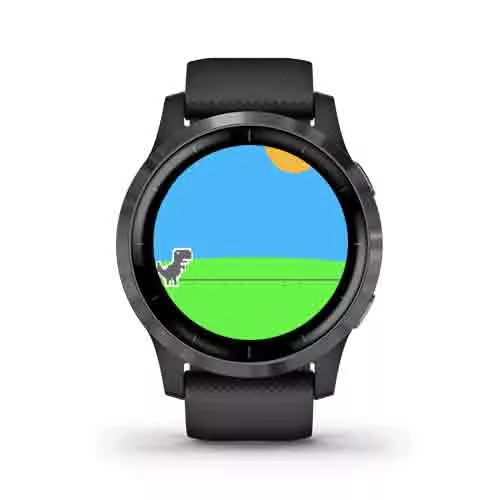 Remember a dinosaur game that pops up in chrome while having an inactive internet connection? Yes, I'm talking about the T-Rex. The fun fact is you can play T-Rex on your Garmin watch too.
The T-Rex is a popular addictive game for chrome users with an inactive internet connection. The game features a dinosaur known as Tyrannosaurus that keeps running across a side-scrolling landscape and avoids hitting obstacles to score.
A developer named AndriyZherdiy has re-created this game for Garmin users. To be honest, the game looks visually appealing, but the response time feels a little slow. However, I don't think it's a major issue as it could be fixed with an update.
Get More for Garmin