Until 2022, Oura dominated the small but growing market for intelligent rings. Oura's third-generation ring, which they first introduced in 2015, was released in the latter half of 2021, and it is still the best and most popular smart ring available.
It's recommended that frequent travelers purchase a replacement charger to carry in their luggage. The Oura's battery may be suitable for a few days, but you may extend its life by charging it often.
As the charger is compact, it may be easily stowed away in a suitcase or a purse. You can find a USB-C cable just about anywhere.
See Also | Can You Charge Oura Ring Without A Charger? (Here's the Truth)
Why Might You Need An Oura Ring Charger Replacement?
The Oura Ring is a wearable gadget that monitors vital signs, including heart rate, steps taken during the day, and hours of sleep. To keep working, it has to be charged often. You may have to get a new Oura Ring charger if your old one is broken or no longer works.
An Oura Ring charger replacement may be necessary due to breakage or wear and tear, which can hinder its ability to effectively charge your Oura Ring. The Oura Ring's battery may die early, rendering it useless. If you've lost your Oura Ring's charging dock, get a new port to keep using your device.
The charger may lose its efficiency over time due to normal wear and tear. You may need a new charger for your Oura Ring if it charges slower than it once did or isn't maintaining a charge for as long. Consider getting a new Oura Ring charger if your current one is lost, broken, worn out, or malfunctioning.
Does Oura Ring Support Wireless Chargers?
The Oura Ring does have compatibility with wireless charging. The battery of the Oura Ring may be recharged through wireless charging technology, which is included in the charging dock that comes packaged with the ring.
Just placing your Oura Ring on the charging dock and ensuring that the charging pins on the back are aligned with the charging pins on the dock is all required to charge your ring. It is expected that the Oura Ring will start charging on its own.
Where to Get a Replacement Charger for Oura Ring?
A replacement charging set may now be purchased on the Oura website, the company's official online retail location. Because the charger is intended to work with a particular size ring, it is essential that you purchase the correct size dock for your device.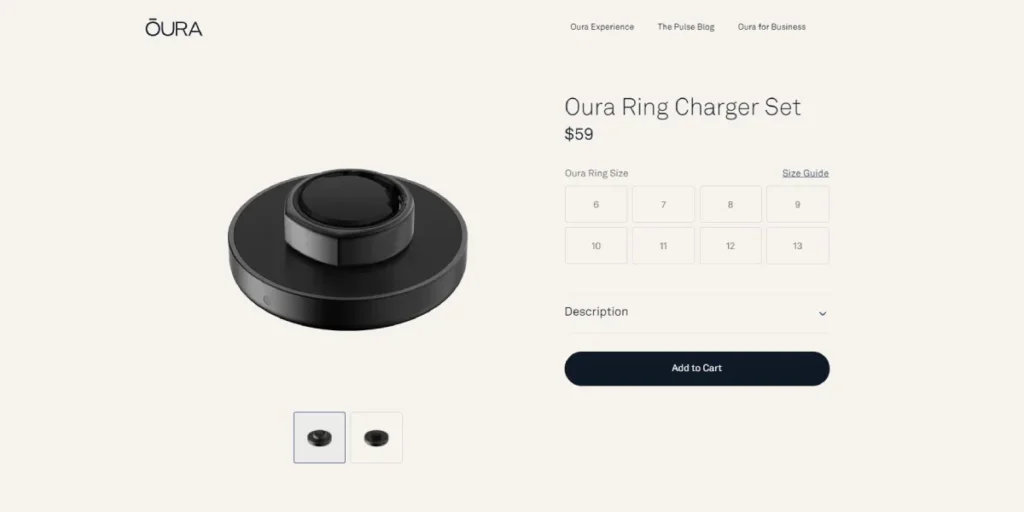 Although it is possible to charge a larger ring with a smaller dock, provided the ring is positioned appropriately, it is suggested that you acquire the dock that is the appropriate size for your ring.
How to Choose the Right Oura Ring Charger Replacement?
The Oura Ring may be charged in a dock designed exclusively for the ring. Recharging the ring's battery is accomplished through the use of wireless charging. Because using any regular wireless charging pad is impossible, you will need to get the official one that Oura offers.
The size of your ring may be determined in a few different ways. Every charger for the Oura Ring is designed to work exclusively with the particular size of the ring.
Note: You can cross-check the size of your charger by looking underside of it. While purchasing your replacement charger make sure you select the right size according to your Oura Ring. Your ring size is located on the inner band of your Oura Ring, just to the right of the QR code.
You may also slide left after tapping the battery symbol in the top right-hand corner of the Home page on your Oura App and then the icon that looks like a ring of batteries. It will be shown to the right of "Model and size," exactly beneath the image of the ring that you chose to purchase.
Recommended | Oura Ring Vs Apple Watch: Which Is Best?
Wrap Up
Oura rings require a charger to be charged. Two tiny wireless charging pads—one within the band and one inside the dock—are responsible for the power transmission.
When placed on a regular Qi-wireless charging pad or other wireless charging station, the ring will not charge. Hence, Oura recommends purchasing a new charger for your ring directly from their website.
---
Read More on Wearable