No matter how hard you try to tuck in the Fitbit bands, they just keep falling off. There is nothing more annoying than wearing a Fitbit band that constantly detaches from your wrist. In fact, I sometimes occasionally get my Fitbit band unlatched in my sleeve. So, What's the risk?
Such a condition increases the risk of your band falling off the ground and being damaged. Furthermore, if this goes unnoticed, it increases the possibility of losing your Fitbit body.
If you're reading this post, it seems you've not yet figured out how to fix it. Well, you're at the right place. This post will outline some of the possible causes of Fitbit bands detaching, plus solutions to fix them.
Let's Dive In!
Related | Are Fitbit Watch Bands Interchangeable? Let's Find Out
Why Does Your Fitbit Band Keeps Detaching?
According to Fitbit users, their watch band usually falls off due to looseness in sockets or the bands not being secured correctly with the Fitbit body. Moreover, the band may also detach if it has been pulled on too strongly, twisted, or caught on something while wearing it.
The watch band socket is the part of the watch that attaches to the band. Depending on the Fitbit model, the socket may vary because each Fitbit model uses a different socket fastening method. Typically, you'll find four types of fasteners for Fitbit bands, which include:

Pin-And-Tuck: Uses Quick Release Pin to hold the strap in the watch socket.
Snap-On Fasteners: Holds on the Watch Socket with a snap.
Metal Push Tab: Uses Metal push buttons to help it better clasp with Fitbit.
In-deformable Connector: Seamlessly Clasp without requiring any tools.
Here's the list of Fitbit models along with the type of socket it uses:
| Fitbit Models | Socket Fastening Method | Possible Cause for Detaching |
| --- | --- | --- |
| Versa, Versa 2, Versa Lite | Pin-And-Tuck | Damaged pins might have resulted in Loose Socket. |
| Versa 3, Sense | Snap On Fastener | Internal Socket Issue. Or Something Tiny might be Blocking the Band to Fit In. |
| Charge 2, Charge 2 Classic/SE | Metal Push Tab | Metal Tab might not be secured correctly. Or, the push tab might have malfunctioned. |
| Charge 3, Charge 3 SE, Charge 4 | In-deformable Connector | The plastic nub that sticks out from the Fitbit might be broken. |
4 Tips to Fix Fitbit Band that Keeps Detaching Itself
Replace Or Fix Damaged Band
If any component of your Fitbit band is damaged, you'll need to replace the band with a new one. It could be the damaged pins, metal push tabs, or band's end connectors, causing your bands to detach randomly.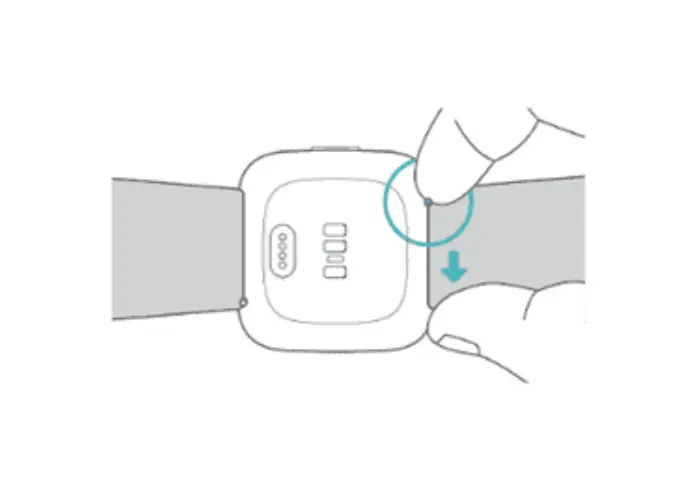 Moreover, it might not be necessary to purchase a whole new band for Pin-And-Tuck bands. Instead, you can purchase New Quick Release Replacement Pins online or from your local retail store and fix them at your home for a much lower price than getting a brand new Fitbit band.
Blow Air Into the Watch Socket
Your Fitbit's watch socket might have something super tiny stuck in it which is preventing the bands from latching properly. The best solution for such a scenario is to blow some compressed air into the socket so that the tiny object can come out, letting the band fit seamlessly.
This issue is primarily found in Fitbits using Snap-On Fastener and In-deformable Connector as their socket fastening method. Fitbit models include Versa 3, Sense, Charge 3, Charge 3 SE, and Charge 4.
Ensure Secure Connection of Bands
Incorrect securing of your Fitbit bands can also cause them to detach automatically. You must always ensure that the band is correctly tucked in through the socket opening so that it won't detach itself.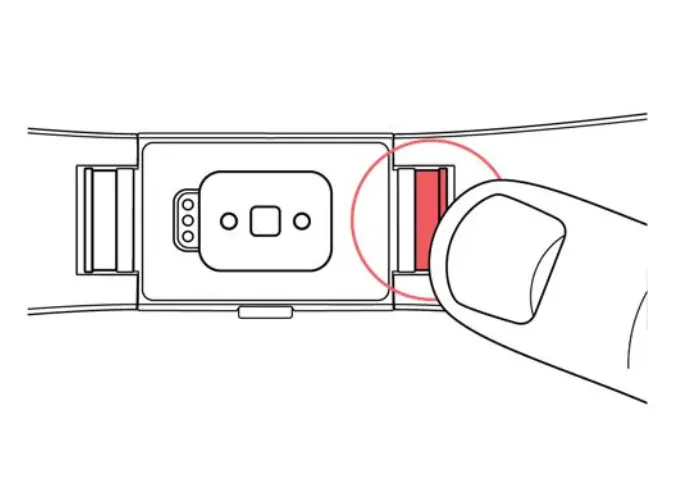 The majority of Fitbit users with Charge 2, and Charge 2 Classic/SE fails to secure their bands to the socket because of the complicated metal tabs. To ensure a secure connection, check the metal tab of the band, pulling this metal tab helps the band better clasp with the tracker.
Replace Damaged Watch Socket
If trying out different bands didn't fix the issue, it could be your faulty watch socket, causing bands to fall off on their own. In this case, I would recommend you to reach out to Fitbit customer support and check if they might be able to arrange a replacement.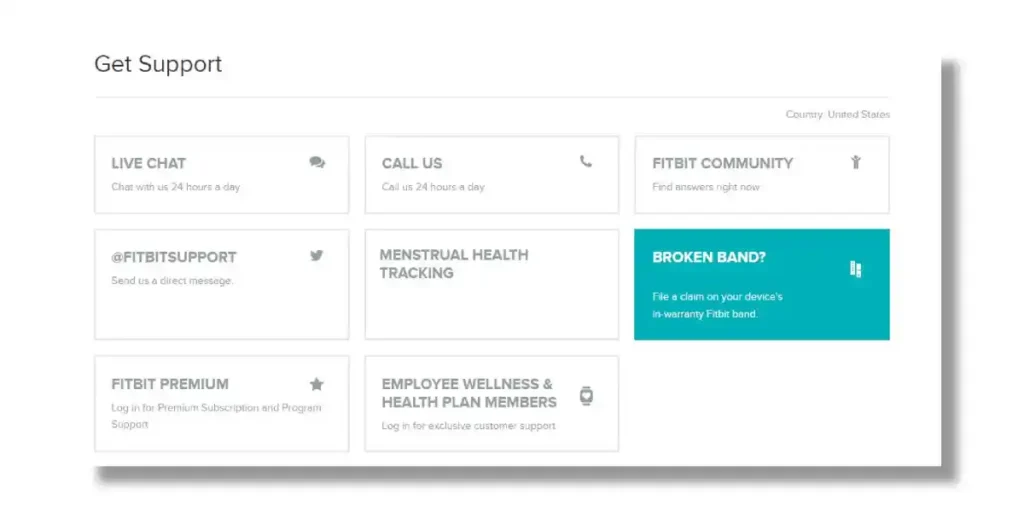 Keep in mind, in case of defective products or band issues, Fitbit authorizes returns and replacements within the applicable Warranty Period. If you're out of warranty, then you're out of luck too.
Best Fitbit Bands that Won't Detach or Fall Off
Getting your old band replaced with a new one is something you can consider right away. If you're planning to replace your Fitbit band, here are the top picks that assure your bands won't detach:
| | | | |
| --- | --- | --- | --- |
| | | | |
| | | | Versa, Versa 2, and Versa Lite |
| | | | |
| | | | Charge 2, and Charge 2 Classic/SE |
| | | | Charge 3, Charge 3 SE, and Charge 4 |
FAQs On Detaching Fitbit Bands Issue
How Long Should A Fitbit Band Last?
A Fitbit band that is carefully maintained last for about 5-6 years. But it all depends on the quality of the band, how much you use it, and the intensity of your workouts.
Can I Glue A Fitbit Band that Keeps Falling?
Super glue can be applied to the socket opening to keep the band from falling off. However, it works only to a certain extent, when the glue loses its strength over time, the band will fall off again.
Do Fitbit Replace Bands Under Warranty?
Fitbit offers a one-year warranty for all of its products, including the bands. This warranty is valid for one year from the date of purchase. If you are experiencing a problem with your Fitbit product, I recommend that you contact customer service.
---
Read More On Fitbit